Advantech Expands the UTC-500 All-in-One Touch Computer Series for Service and Workflow Management
5/25/2023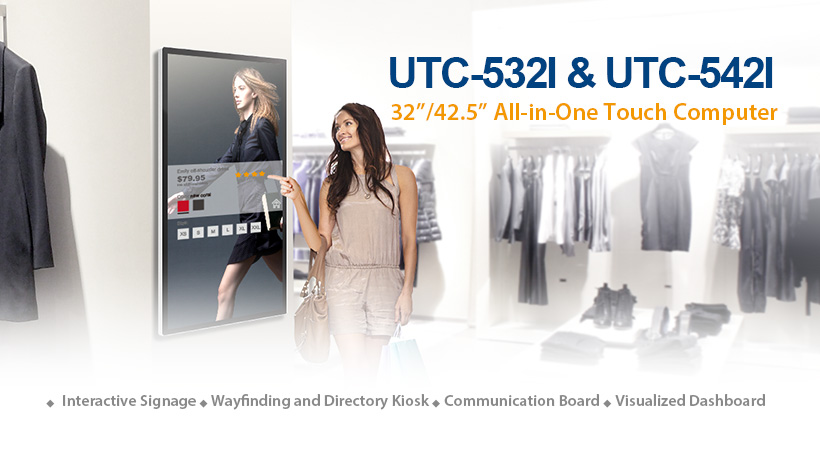 UTC-542I
Taipei, Taiwan, 25 May 2023 — Advantech, a leading provider of service automation solutions, is pleased to announce two new models in their highly regarded UTC-500 series of touch computers: the UTC-532I and UTC-542I. These all-in-one computers come with 32-inch and 42.5-inch touchscreens respectively. Building upon the prestigious industrial design and proven reliability of the UTC-500 series, these new additions feature the powerful 11th Gen Intel® Core™ i5-1145G7E processor. With 4 cores, 8 threads, and a maximum frequency of 4.40 GHz, this processor offers a significant boost in processing power. Moreover, these all-in-one touch computers support up to 64 GB of memory, ensuring unparalleled performance to meet the growing demands of intelligent interactive applications. Some examples of such applications include smart interactive signage, wayfinding and directory kiosks, touchscreen communication boards, and visualized dashboards.
The UTC-532I and UTC-542I have been specifically designed to maintain reliability in demanding environments. They are equipped with an IP65-rated front bezel, providing protection against dust and water ingress. Additionally, these models incorporate a fanless cooling system, housed within a rugged aluminum enclosure. This combination of features ensures that the touch computers can operate continuously, 24/7, even in harsh conditions.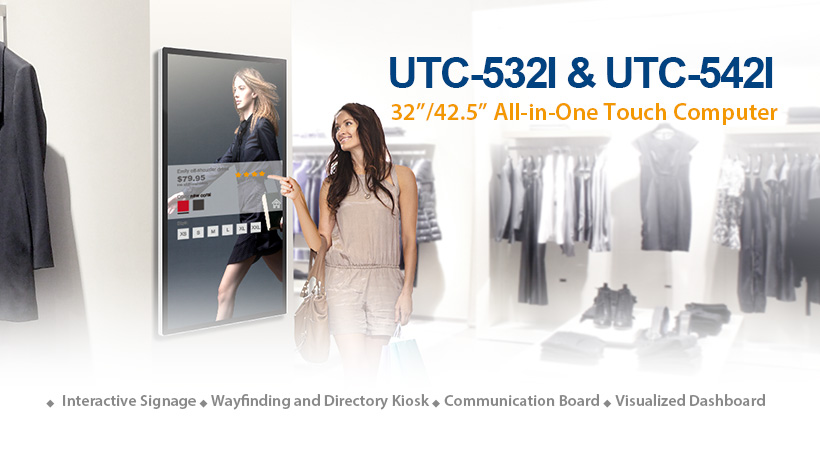 Enhanced Serviceability
The UTC-532I and UTC-542I models showcase an enhanced design that simplifies service and maintenance processes. They feature a separate service door at the back of each unit, allowing customers to easily replace the SSD/HDD without the need to remove the entire back cover. This innovative design element enables IT personnel to effortlessly maintain and upgrade the system as needed. Additionally, these models are equipped with the DeviceOn/iService remote device management service, providing system integrators and IT professionals with a centralized platform for deploying, managing, and updating thousands of computers. This powerful service enables convenient remote management, allowing for optimization of productivity, security, and serviceability throughout the product lifecycle. Both business owners and service providers can leverage DeviceOn/iService to ensure efficient operation and support.

Broader Level of System Compatibility and Security
The UTC-532I and UTC-542I are powered by the high-performance 11th Gen Intel® Core™ i5-1145G7E processor, providing exceptional computing power and productivity. This makes them well-suited for demanding computing applications that require robust performance. Furthermore, these models feature TPM 2.0 hardware encryption technology which enhances data security by providing greater crypto agility and protection against software vulnerabilities. This ensures that sensitive information remains secure. In terms of compatibility, the UTC-532I and UTC-542I support multiple operating systems, including Windows 10/11, IoT Enterprise, and Linux Ubuntu. This broad compatibility allows them to seamlessly integrate into modern IoT infrastructure and diverse ecosystems.

Reliability Meets Harsh Environments
Thanks to their fanless cooling technology, the UTC-532I and UTC-542I ensure uninterrupted service even in challenging ambient conditions. This design helps minimize the accumulation of dust and debris that can lead to downtime and system issues. Additionally, the IP65-certified front panel ensures protection against water and dust, making these units easy to clean and perfect for industrial and public-facing environments.

IoT Connectivity
The UTC-532I and UTC-542I models are equipped with dual Gigabit Ethernet ports, offering abundant bandwidth for seamless Internet connectivity. This ensures smooth and reliable networking, supporting the integration of industrial-standard IoT devices. Moreover, these touch computers have an M.2 slot that allows users to install a Wi-Fi or 4G/LTE module. By doing so, the system can be deployed in remote areas where wired connections may be challenging or unavailable. This wireless capability enables easy connectivity to IoT networks without the need for additional electrical installations, expanding the flexibility and reach of the touch computers in various deployment scenarios.

Adaptable to a wide variety of functional peripherals
To enhance system functionality, the UTC-532I and UTC-542I can be connected to a range of functional peripherals. These peripherals include a camera, magnetic stripe reader, NFC/RFID reader, and barcode scanner, allowing users to customize according to their specific requirements. Furthermore, an optional dedicated rear I/O cover ensures the protection of connectors and cables, resulting in a secure and reliable solution adaptable to a wide variety of applications.

Key Features
11th Gen Intel® Core™ i5-1145G7E processor with 8G RAM
Capacitive/resistive touchscreen, operable using gloves
32" (UTC-532I) and 42.5" (UTC-542I) 16:9 widescreen display with Full HD resolution
Low power consumption and fanless design with IP65 protection on the front panel
Detachable SSD/HDD door for quick maintenance or system upgrades
I/O ports include 2 Gigabit Ethernet ports (supports Wake-on-LAN), 2 COM ports, up to 4 USB 3.2 ports, 1 USB Type-C, and 1 HDMI port
Supports Windows® 10/11 IoT and Embedded Linux Ubuntu
Advantech's UTC-532I and UTC-542I all-in-one touch computers are available for order now. For more information about this or other Advantech products, contact your local sales support team or visit our website at www.advantech.com.