Advantech Launches ESRP-AWS IoT Greengrass Series for Intelligent Edge Computing
8/3/2020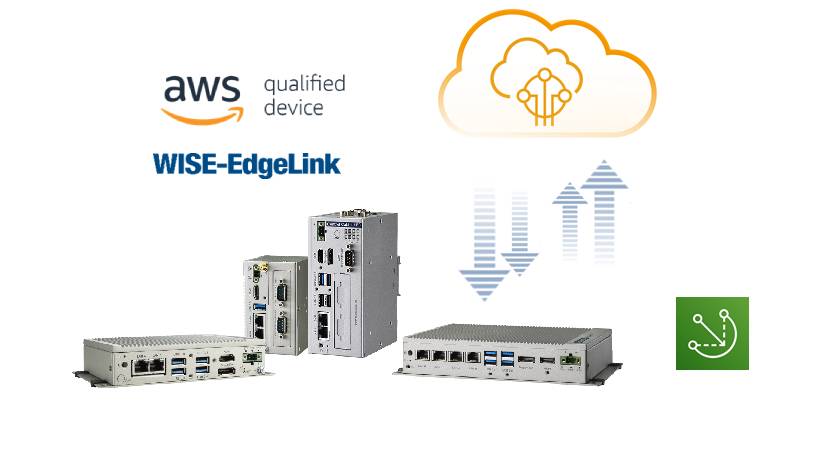 Taipei, Taiwan, August 2020 – Advantech, a leading provider of automation technology, is pleased to announce the release of its ESRP-AWS IoT Greengrass series. With industries trending toward conducting more processing at the edge, Advantech has developed its ESRP-AWS series of edge intelligence platforms that feature AWS IoT Greengrass gateways to facilitate the deployment of IoT services to local devices. Considering the importance of scalability and compatibility, the ESRP-AWS series platforms are equipped with edge container technology. Provided as an execution environment image on the container-type virtualization technology, AWS IoT services are packaged as decentralized computing resources located as close as possible to the edge devices. Thus, the ESRP-AWS IoT Greengrass systems streamline processing operations and help bridge the gap between OT and IT. Moreover, these platforms are embedded with Advantech's WISE-EdgeLink software to enable easy and reliable data collection from field equipment.
Extends Cloud Intelligence and Analytics to Edge Devices
The ESRP-AWS series platforms are able to extend cloud capabilities to local devices. Equipped with AWS IoT Greengrass, customers can use AWS Lambda functions and prebuilt connectors to create serverless IoT solutions, including stream analytics, machine learning, image recognition, and other high-value AI applications that are deployed from the cloud to the edge for local execution. With ESRP-AWS solutions, devices securely communicate on a local network and exchange messages with each other without having to connect to the cloud. AWS IoT Greengrass provides a local pub/sub message manager that can intelligently buffer messages if connectivity is lost to preserve inbound and outbound messages to the cloud. Secure authentication and authorization are conducted to ensure the unique device identification and local network connectivity between devices and the cloud are secured.
Enables Container-Based Engine Solutions
The docker engine in Advantech's ESRP-AWS IoT Greengrass series provides a developer-friendly and enterprise-ready managed service for running highly available clusters. As IoT applications have become increasingly complex, container-native cloud services are considered standard because they can be easily deployed and executed on edge devices. With container technology, Advantech's ESRP-AWS IoT Greengrass platforms enable AWS AI computing to be integrated with third-party container-based applications.
WISE-EdgeLink Supports 200+ PLC Devices
Advantech's WISE-EdgeLink software is aimed at collecting data from downlink devices and can support more than 200 PLC devices. The software also features plug-and-play functionality, which dramatically reduces programming and ensures easy development. The uplink connectivity services, including AWS, OPC UA, Modbus Server, and SimpleMQTT, can be deployed simultaneously using EdgeLink Runtime. The provision of EdgeLink Studio offers an intuitive user interface for configuring all services and applications. To further enhance the user experience, the ESRP-AWS IoT Greengrass platforms are installed with EdgeManager for managing device tags to facilitate the development of comprehensive edge-to-cloud IoT applications.
AWS Greengrass Core 1.10.0
AWS Greengrass Core SDK Node.js 1.6.0
Docker-CE 19.03.06
EdgeLink-Linux 2.5.4
EdgeManager r4364
Advantech's ESRP-AWS IoT Greengrass gateway series platforms are available for order now. For more information about this or other Advantech products, contact your local sales support team or visit our website at www.advantech.com.
Founded in 1983, Advantech is a leading provider of trusted, innovative products, services, and solutions. Advantech offers comprehensive system integration, hardware, software, customer-centric design services, embedded systems, automation products, and global logistics support. We cooperate closely with our partners to provide complete solutions for a wide range of applications in diverse industries. Our mission is to enable an intelligent planet by developing automated and embedded computing products and solutions that facilitate smarter working and living. With Advantech products, the number of potential applications and innovations made possible becomes unlimited. (Corporate website: www.advantech.com)
Amazon Web Services (AWS) is the world's most comprehensive and broadly adopted cloud platform, offering over 175 fully featured services from data centers globally. Millions of customers—including the fastest-growing startups, largest enterprises, and leading government agencies—are using AWS to lower costs, become more agile, and innovate faster. (Corporate website: https://aws.amazon.com)