Advantech Welcomes Customers and Partners to IBC 2022
9/5/2022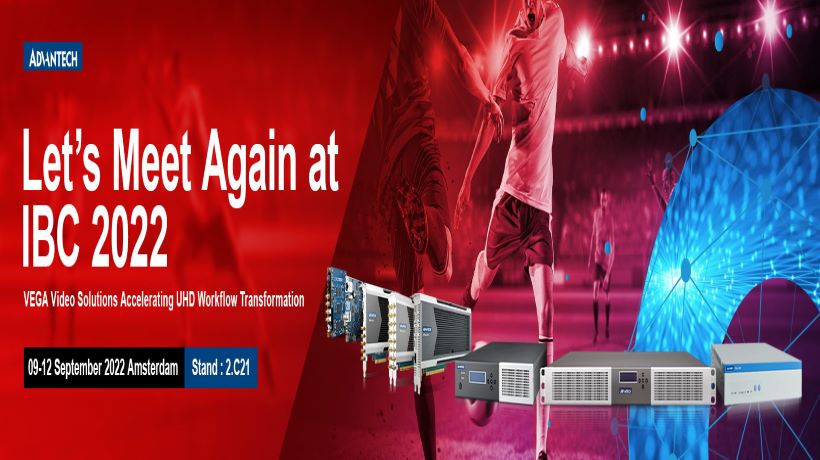 Amsterdam, The Netherlands, September 9th to 12th, 2022
As a trusted global leader in innovative embedded and automation products and solutions, we at Advantech welcome back our customers to this year's event. We will present our latest video solutions to the world at IBC 2022. Our Video Solutions Division offers a range of high-quality, low-latency video capture and encoding products that are well-suited for live broadcasting applications.
"Online and over-the-top video content will dominate in the following years and we can see how key players in the media, telecom, and internet industries are positioning themselves in this direction," said Ted Feng, Director for Video Solutions at Advantech. "Accelerating this new online video era is in our nature, and so we will be at IBC to show companies how we can help them catch the video wave in a cost-effective and timely manner".
Advantech will display a full range of video encoding acceleration cards and systems, and will give several live demonstrations:
Live Demonstrations
Multi-Protocol 4Kp60 Video with Simultaneous Encoding and Streaming
Live streaming of smaller events and eSports is a driving force of today's video networks. As remote production grows in importance, manageability and ease of deployment linking with established ProAV setups such as SDVoE and NDI are essential. Advantech, along with NETGEAR will present a multi-protocol 4Kp60 video with simultaneous encoding and streaming in tandem with SDVoE and NDI in a live demo. It will feature Advantech's VEGA-2000 series devices, which are small form factor capture, encoding, and streaming modules that support live video up to 4Kp60. This extends the benefits of reduced bandwidth using HEVC to allow to portable video applications. Also supported are the latest reliable streaming protocols, such as SRT, NDI, and Zixi. Others, like VEGA-1200, with SDVoE functionality, support NDI and SRT linking protocols. These features eliminate the need to integrate multiple technologies. This allows users to easily scale up their streaming capabilities.
8K Live Collaboration
Together with LightMatrix, Advantech's VEGA-3304 and VEGA-8300 Live 8K Streaming Solutions demonstrate the ability of these technologies to drive immersive experiences in a broad range of scenarios — including 360° free viewpoint video, live OTT broadcasting, and medical applications. VEGA-8300 offers full live 8Kp60 4:2:2 encoding and streaming, and can be paired with decoder options for contribution links. The 8K resolution can convey intricate detail and enables users to zoom in on individual elements without compromising image clarity.
The Next Generation of Video Accelerator Cards
Advantech is also showing its latest video acceleration cards. These cards are used by OEMs to reduce development risk when developing new video processing equipment. Advantech's improved video processing technology will feature throughout the VEGA product portfolio, including an update to VEGA-3311 and the totally new VEGA-3500. The VEGA-3500 is a Multi-Channel Video Accelerator Card based on Intel® 11th Generation CPUs and Xe GPUs. This allows for the offloading of more than just video encoding—it helps video equipment manufacturers efficiently cope with the complexity of the latest codecs and equips them with a powerful tool to accelerate next-generation OTT and Edge video solutions.

The VEGA-3311 4K Broadcast IP Video Encoding Card is tailored for professional media processing and can perform contribution-grade 4Kp60 4:2:2 encoding from SDI or ST2110 inputs at less than 35W power consumption. An update to this card is coming later this year and will offer improved ST2110 ingress using 25G Ethernet ports. Advantech professional PCIe video cards continue to deliver highly efficient video acceleration to IT-based infrastructure platforms.

Advantech will be showcasing their latest solutions in IBC booth #2.C21, from September 9-12, 2022 in Amsterdam. For more information and to book an appointment, please visit: www.advantech.com/solutions/video-solution.