Advantech Launches Embedded Platforms with 13th Gen Intel® Core™, Pentium® Gold, and Celeron® Desktop Processors
1/4/2023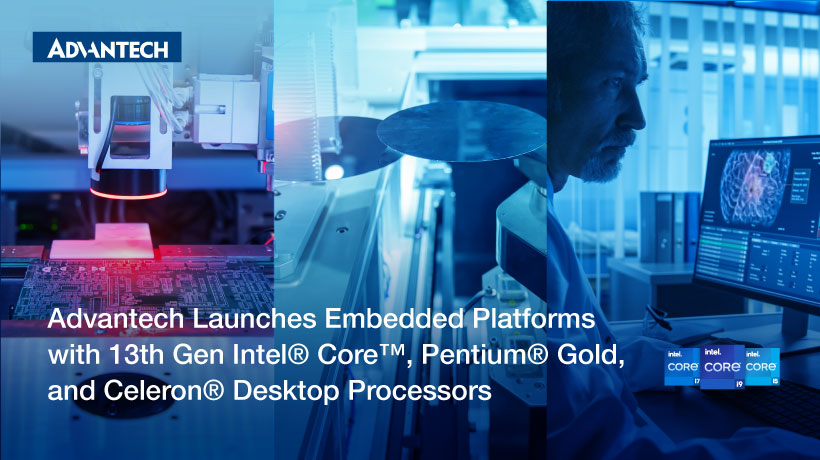 Taipei, January 4, 2023 - Advantech (TWSE: 2395), a global leader in Industrial IoT, is proud to announce a range of embedded computing solutions featuring 13th Gen Intel® Core™, Pentium® Gold, and Celeron® Desktop Processors. These comprise the SOM-C350R computer-on-module, the AIMB-588-B1, and AIMB-278-B1 industrial motherboards as well as the MIO-4370R 4-inch single-board computer, the EPC-B5588 edge intelligence system, the ARK-3533, and ARK-3534 embedded computers. This selection of embedded boards and systems delivers high computing performance to machine vision, data-intensive healthcare, and high-speed testing equipment while providing factory automation, and AI computing platforms.
Outstanding Performance and Innovative Technologies

These embedded platforms leverage Intel® performance hybrid architectures that combine eight Performance-cores (P-core) and sixteen Efficiency-cores (E-core) into a single die. They also support up to 24 processor cores and 32 threads. In addition, these CPUs use DDR5 memory and PCIe Gen5 to deliver superior performance and next-generation connectivity. This combination of I/O and high computing power make the Advantech solutions listed above excellent choices for applications that require breakthrough performance.

High-Speed Industrial I/O Augment Computing Performance

This selection of solutions provides 2.5Gb Ethernet with TSN for real-time analysis in an effort to engender high stability and support the stable transferring and/or uploading of data. In addition, these solutions support up to 13 x USB ports for high expandability and workload versatility. Likewise, they meet demands for flexible and scalable AI computing capabilities while supporting collaborative control via multiple COMs and CAN. In sum, these embedded solutions provide diverse industrial I/O expansion options that augment computing performance.

Empower Devices via Embedded Design-in Services and 24/7 Management

Advantech's Embedded Core Design-in Service seeks to address the technical requirements of IoT solution developers. This service comprises a series of hardware and software add-on services designed to help developers integrate their systems and reduce time to market. Additionally, using Advantech WISE-DeviceOn software — an intelligent networking solution for device monitoring and predictive maintenance — delivers stable operation and convenient remote management to IoT devices.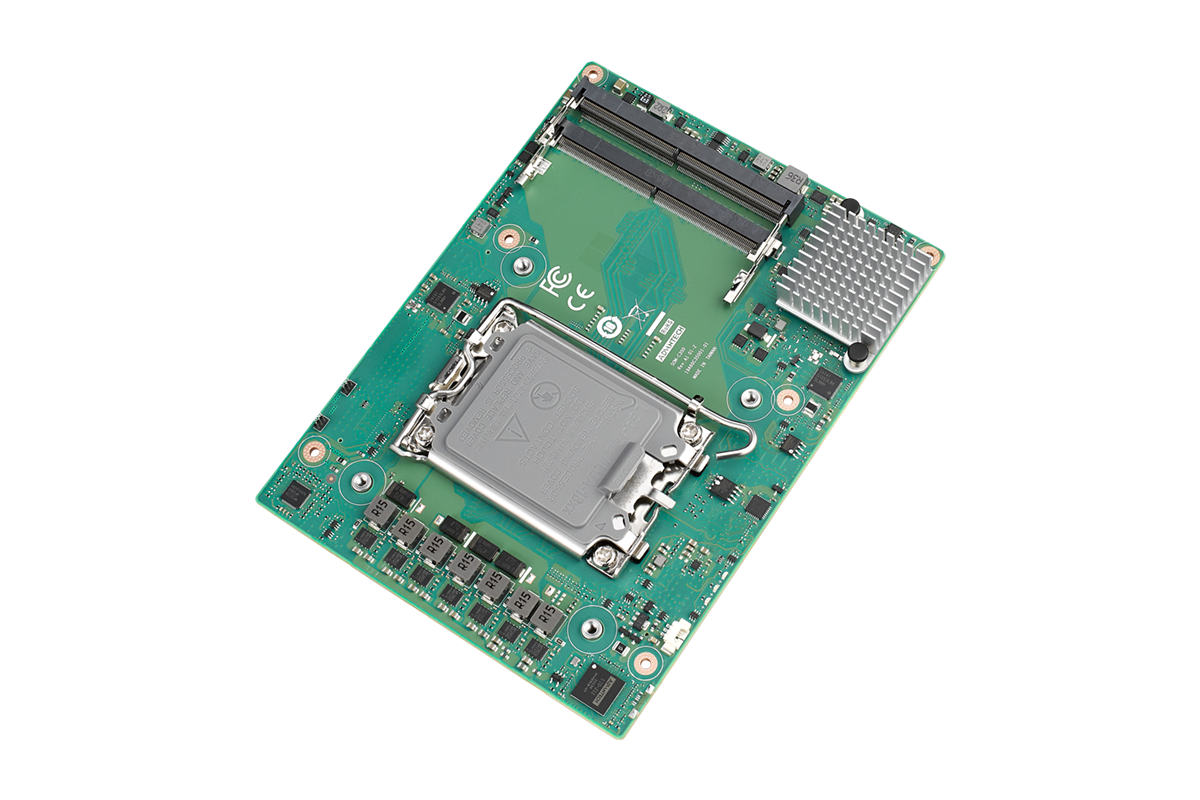 SOM-C350R
1rst COM module with Intel® Core™ i9, DDR5, & PCIe Gen 5
Powerful CPU Computing with Intel Desktop Solution with COM-HPC® client module size-C (160 x 120 mm)

DDR5 memory solution with 4 x SODIMMs w/up to 128GB support

PCIe x16 Gen 5 and 4 x PCIe x16, and 10 x PCIe Gen 3 for data transmission and bandwidth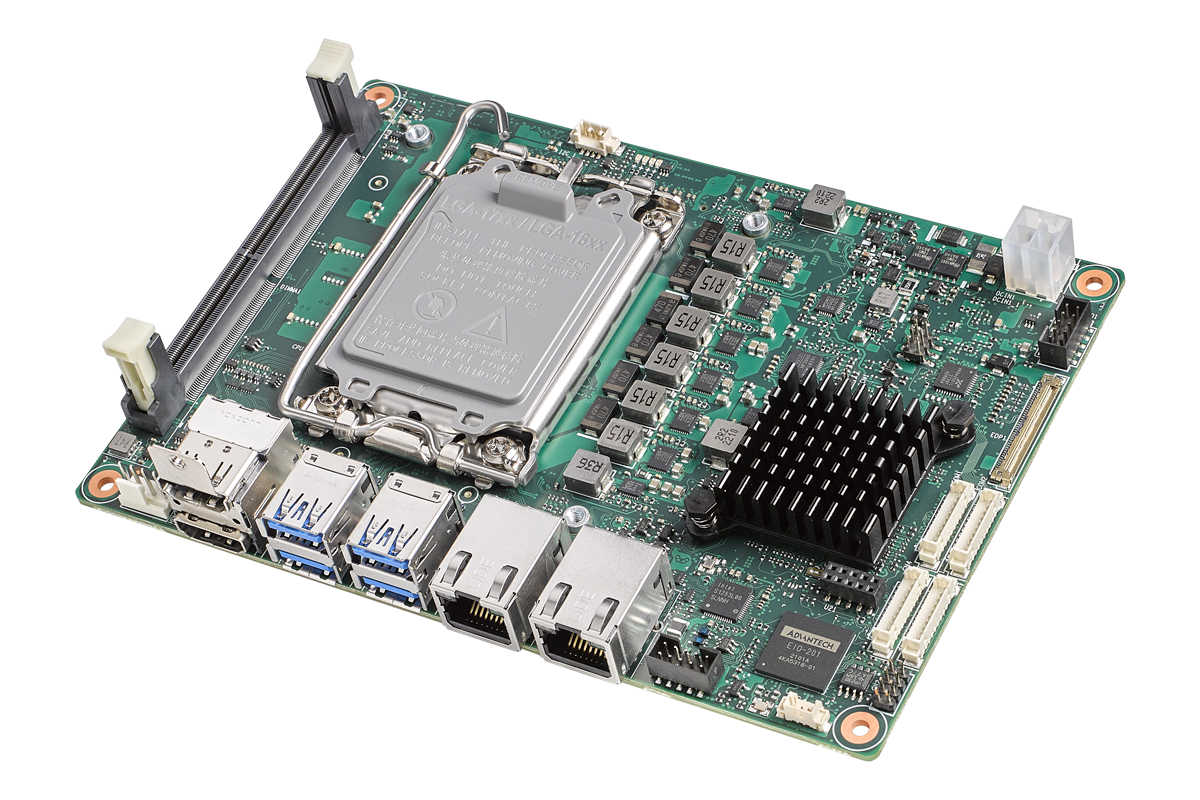 MIO-4370R
Scalable & Flexible AI Computing Platform

Scalable AI from Built-in Xe GFx to M.2 PCIe x4 Gen.5

3 x M.2 with Dual M.2 2280 for NVMe storage & AI expansions

Dual 2.5GbE w/ TSN, 6 x USB, 2 x UART, & CAN

AIMB-278 B1
Designed for Graphics Demanding Applications
DDR5 up to 64GB delivers double bandwidth performance



4 x independent displays up to 4K for graphics-demanding applications

High-speed connectivity via dual 2.5GbE LAN and 6 x USB 3.2 Gen 2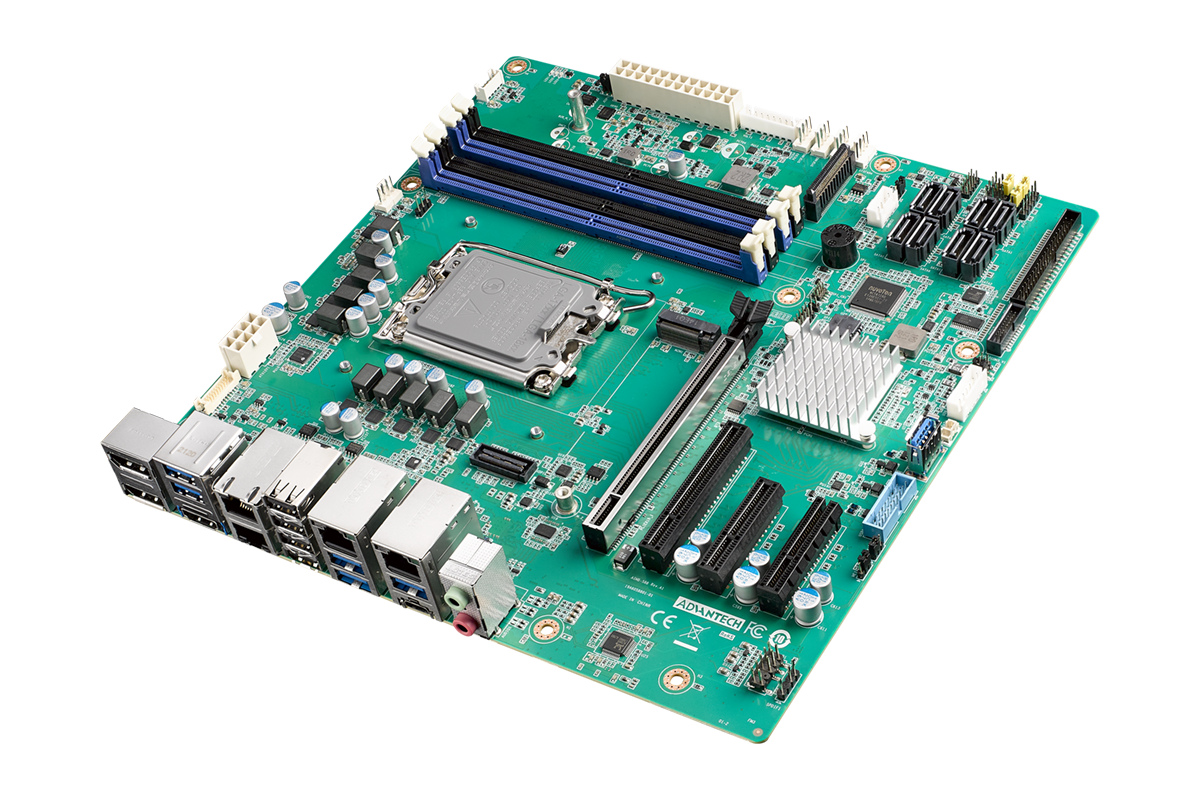 AIMB-588 B1
For Next-Generation Data-Intensive Applications
High-speed technology with PCIe Gen5 and DDR5 for GPU-accelerated applications

Up to 4 x Ethernet ports for machine vision and smart surveillance applications

Up to 13 x USB ports offer high expandability for versatile workloads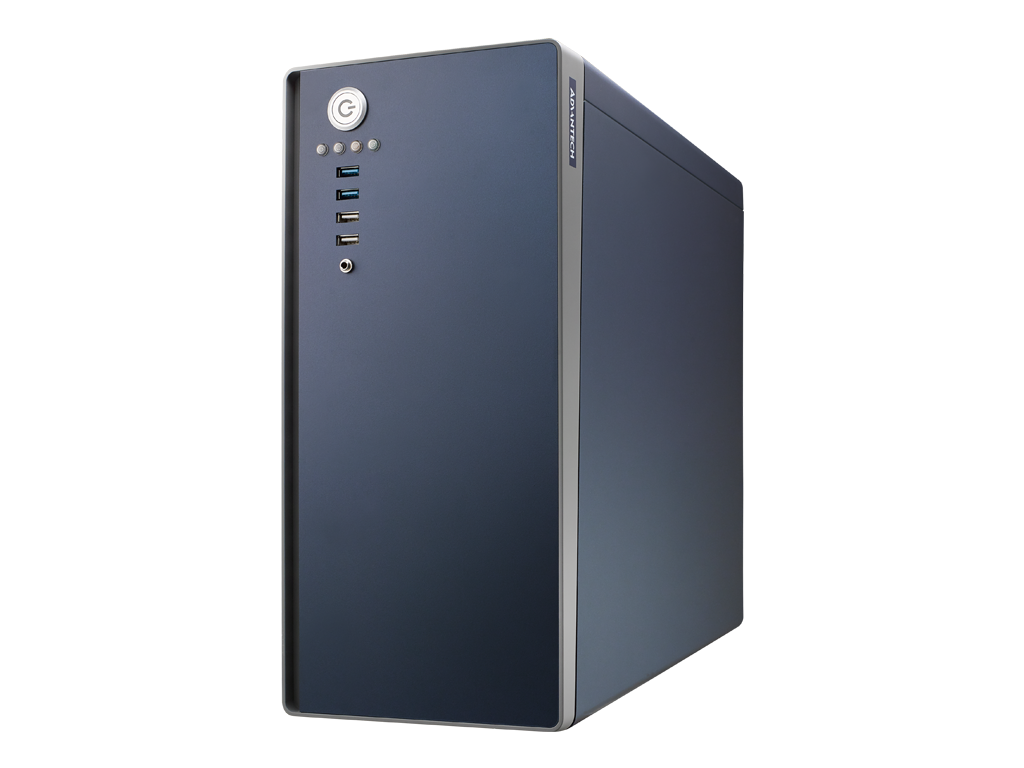 EPC-B5588

High-Performance Edge PC for Intensive Vision AI
Industrial-grade EMC and safety protection

Up to 1200W system power supply with 80+ GOLD level efficiency

Integrated NVIDIA A6000-level GPU card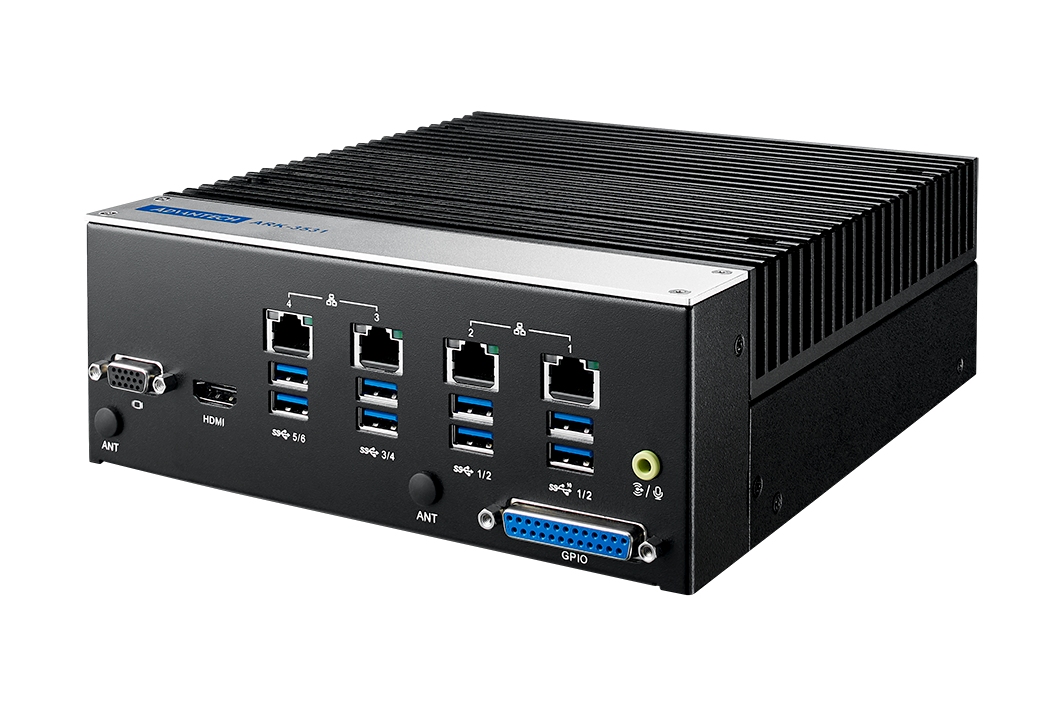 ARK-3533
High-Performance Edge Computer for Robotic Arms
Up to 16-core 35W CPU computing power, and dual-channel DDR5 memory

Up to 3 x 2.5 GbE, 1 x GbE, 8 x USB, 8 x COM, 2 x CANBus and 16bit DIO

Supports harsh environments with 9 ~ 36VDC power input and -20 ~ 60 °C operating temperature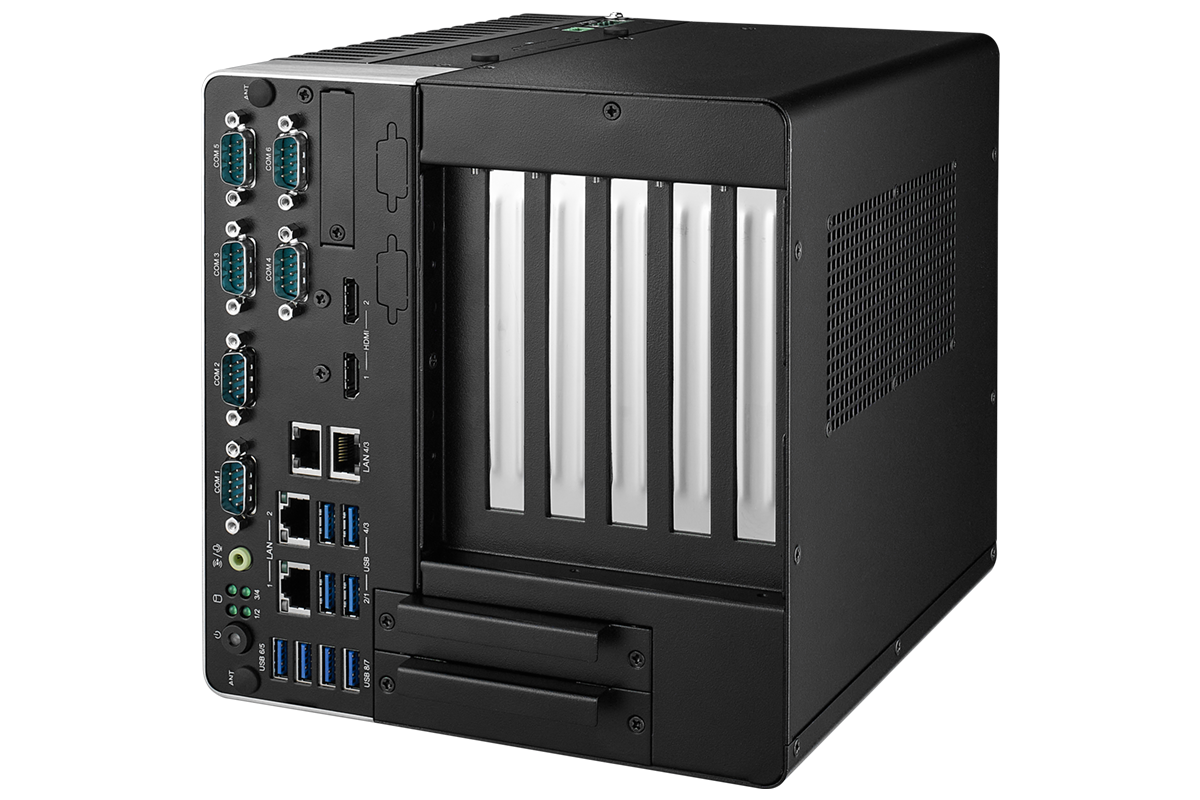 ARK-3534
High-Performance Edge Computer for AOI Inspection
Up to 16-core 65W CPU computing power, and dual-channel DDR5 memory

Up to 3 x 2.5GbE w/ TSN, 1 x GbE, 8 x USB, 8 x COM, & 2 x CANBUS, 16bit DIO, and PCI/PCIe expansion slots

NVIDIA Tensor A2/A2000 add-on support for real-time AI analysis

Advantech's complete product line will be available between Q1 and Q2 2023. For more information regarding Advantech products and services, please contact Advantech's sales support team or visit our website at www.advantech.com.