Advantech Releases MIO-5152 3.5" and MIO-2363 Pico-ITX SBCs, Upgrading IoT Devices at the Edge
7/29/2021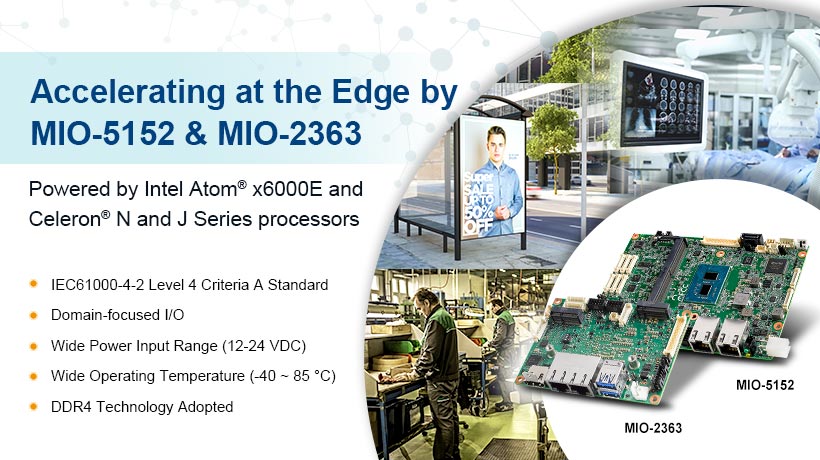 July 2021, Taipei, Taiwan - Advantech, a leading global provider of intelligent IoT systems and embedded platforms, is pleased to release two single board computers (SBC) — the MIO-5152 3.5" and MIO-2363 Pico-ITX. These industrial grade SBC solutions are powered by Intel Atom® x6000E and Celeron® N and J Series processors (Code name: Elkhart Lake) and are applicable to diverse applications. MIO-5152 adheres to strict safety standards (IEC61000-4-2 Level 4 Criteria A standard), and empowers retail and medical applications using diverse I/O. Conversely, MIO-2363 uses advanced features that empower rugged, outdoor applications — including a wide DC power input range (12 ~ 24 VDC), an all-in-one onboard memory/storage design, and support for broad operating temperatures (-40 ~ 85 °C/-40 ~ 185 °F).
Excellent computing performance accelerates IoT application deployment
The new Intel Atom® x6000E series and Celeron® series processors support up to 4 x cores with 3.0 GHz turbo frequency. Compared to previous generation solutions, these deliver 50% better CPU performance and double the graphic processing capabilities. In addition, these embedded and industrial processors are buttressed by 15-year long life cycle support. MIO-5152 and MIO-2363 use these powerful computing features to deliver stable operating environments to diverse medical applications.
DDR4 sets new standard for data transmission technology at the edge
Major DRAM manufacturers have shifted focus towards the production and development of DDR4 and DDR5. This shift has caused a dramatic increase in the price of DDR3 since Q4, 2020. This in turn is forcing the IoT market to adopt DDR4 technology as its primary data transmission method. Correspondingly, Advantech's MIO-5152 and MIO-2363 are the first Intel Atom® based embedded SBCs that leverage DDR4. DDR4 compatible systems are capable of transmitting more data with less power while engendering more reliable lead times and market price stability.
MIO-5152 meets safety standards that empower medical devices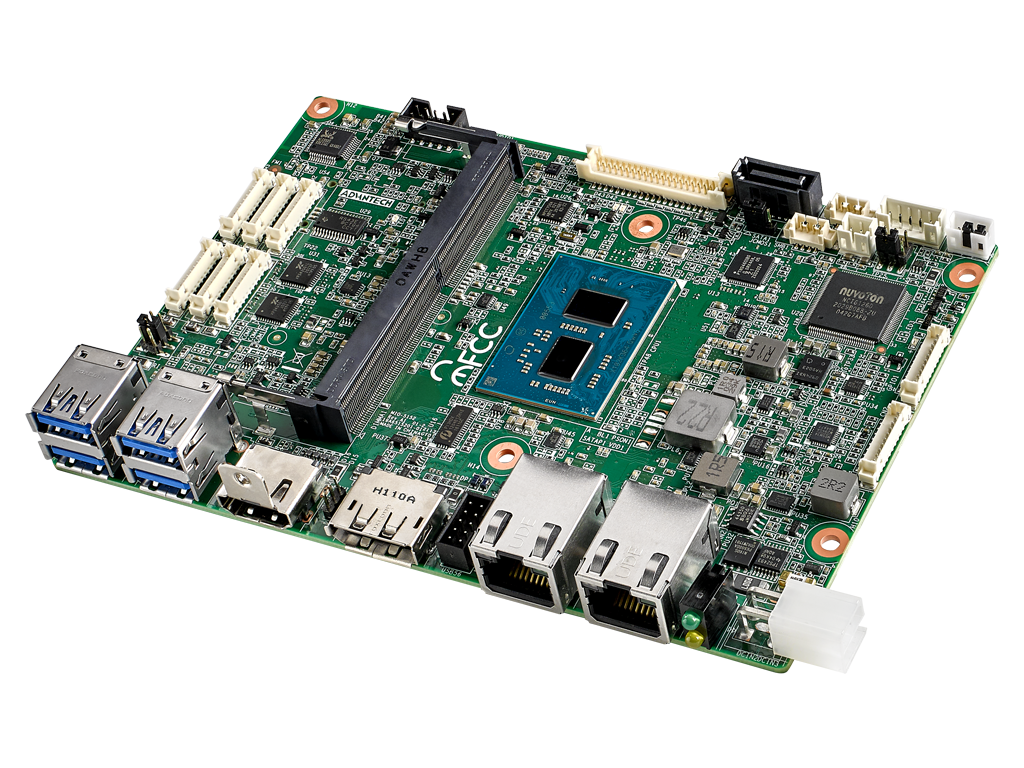 Devices that meet IEC61000-4-2 Level 4 (contact 8kV and air 15kV) Criteria A standards are guaranteed protection from malfunction caused by human touch. This protection extends to electrostatic discharges generated in sensitive environments like hospitals and factories. Advantech's MIO-5152 meets these standards while providing diverse I/O — 6 UART, 6 USB, dual LAN, and M.2 sockets to enable network connections with storage solutions, cameras, and sensor nodes; while yielding uniquely felicitous solution for retail and medical applications.
MIO-2363 all-in-one onboard design empowers compact systems
Advantech's MIO-2363 provides onboard LPDDR4x-3733 with IBECC and eMMC 5.1 up to 128GB. It supports a wide voltage range (12 ~ 24V) and a Pico-ITX form-factor that saves space for additional DC converter power modules and external HDDs. MIO-2363 meets industrial I/O demands by providing dual GbE LAN ports up to 1Mbps baud rate. This SBC utilizes a single M.2 E-Key for Wi-Fi/Bluetooth module connection. An additional M.2 B-Key SATA/PCIe supports connection to 2242 SATA storage module or 2242 PCIe RS-232 module to enable expansion. This collection of features makes MIO-2363 an excellent choice for automation applications in robotic arms or mobile measurement solutions.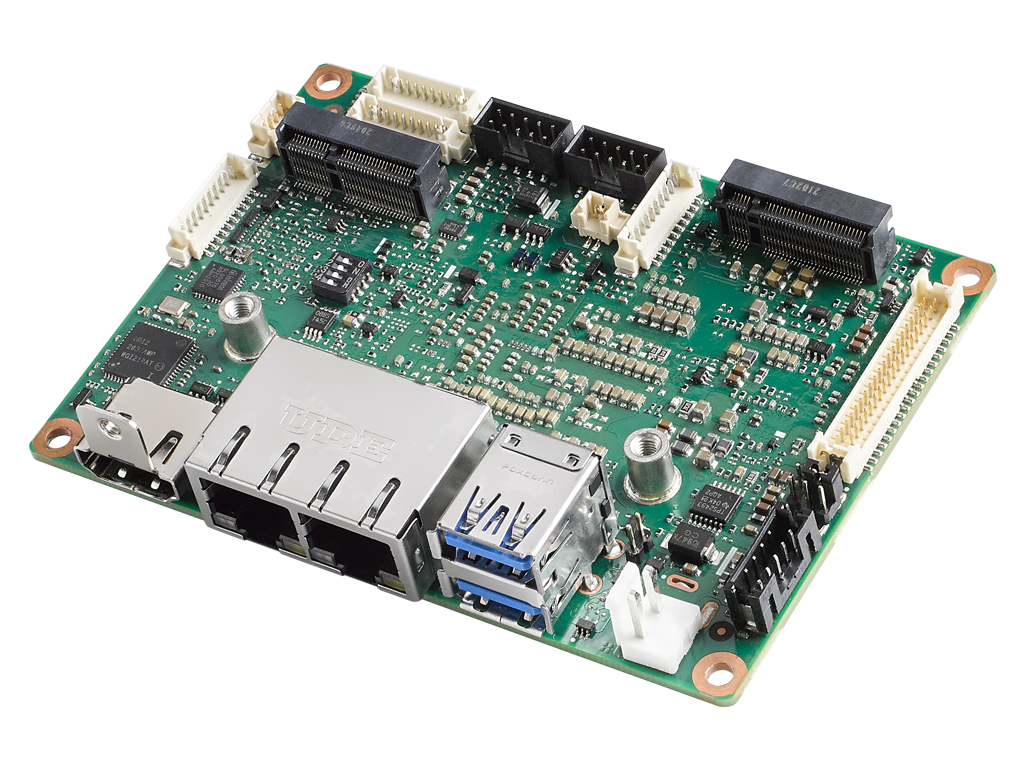 Advantech WISE-DeviceOn for IoT remote control and management IoT 24/7
Advantech's MIO-5152 and MIO-2363 OS are bundled with WISE-DeviceOn IoT management software. This software delivers an integrated package to embedded IoT devices that is capable of overseeing the status of hardware, software, and peripherals simultaneously. The over-the-air (OTA) BIOS system ensures remote BIOS updates while providing a backup recovery mechanism. These features help avoid maintenance costs accrued by unexpected system malfunction. This software package adds value to Advantech's MIO-5152 and MIO-2363 by easing the upgrading of IoT devices at the edge.
Support 3 independent displays via LVDS, DP1.4, and HDMI 2.0 up to 4K@60Hz

Dual GbE, 6 x USB, 6 x UART, and TPM 2.0

Supports Windows 10 LTSC and Ubuntu 20.04 LTS, embedded software APIs, and WISE-DeviceOn
Advantech's MIO-5152 3.5" and MIO-2363 Pico-ITX SBC are available in Q4, 2021. For more information regarding MIO-5152, MIO-2363, or other Advantech products and services, please contact your local sales support team or visit our website at www.advantech.com.