An Upgradation in Audio Monitoring System of Radio Driven by Advantech IoT Edge together with ACE
2/7/2022
With the advent of the Internet of everything and the 5G era of high bandwidth and low latency, edge computing provides unprecedented connectivity for the IoT, meeting the needs for agile connectivity, real-time services, data optimization, application intelligence, security and privacy protection, etc. The contemporary radio broadcasting and control system is no exception. Digitalization is the most basic design requirement, and the use of IoT technology to build an intelligent broadcasting and control system requires considerations on the needs of all aspects of production, broadcasting, transmission and exchange, to ensure not only the safety and reliability of the whole system, but also the innovation and accessibility of the system.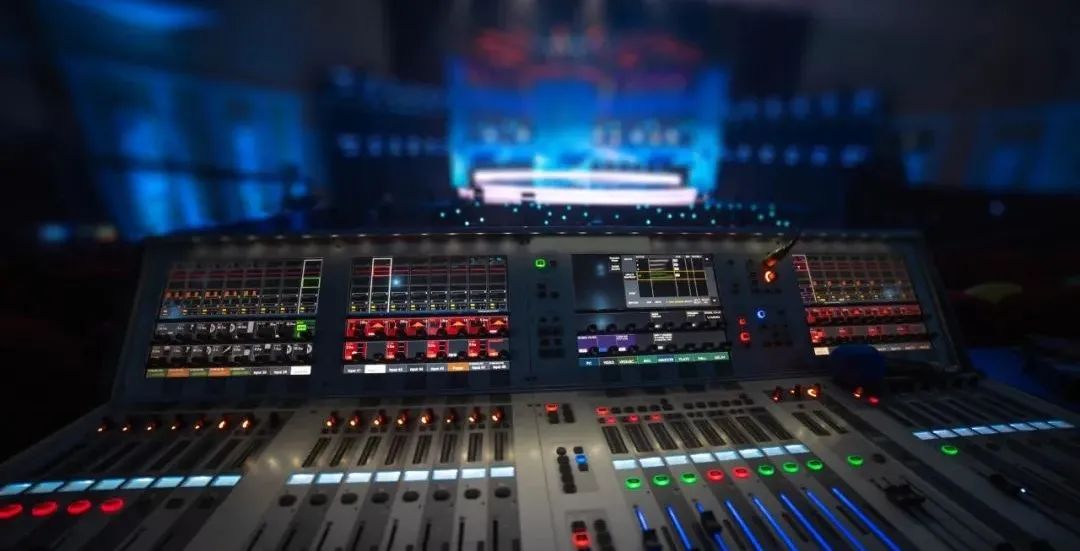 ACE was established in Hong Kong in 1982 as an engineering company to provide services to the professional audio, video and lighting industry. Since its establishment, it has become one of the largest professional equipment suppliers and system integrators in mainland China, Hong Kong and Macau. It has been working closely with the leading international audio and lighting manufacturers for more than forty years. Moreover, with its strong system design, integration and service capabilities, it has completed numerous domestic first-class large projects with international influence in various fields such as broadcasting, film and TV post-production, live show, fixed installation, live-action performance, grand celebration and education.
ACE provides a wide range of system design and integration services for customers, involving many different brands, functions and system architectures. More and more products adopt IP technology and architecture, including mixer, matrix, signal transmission system, distributed interface, switch, etc. Different devices have different data protocols and monitoring software, which is not convenient for centralized management and monitoring of the system. Therefore, during the communication with the project leader of ACE, they expressed their expectation to have a set of services that could collect and connect the data of various types of audio devices, establish unified equipment management, abnormal alarm notification, and device data that could be connected to visualization services. Based on this, a large data screen of the audio monitoring system can be established to ensure the stable operation of various live streaming systems, including the broadcasting and control system, the TV production system, etc.
After full communication of requirements and product research, ACE chose to carry out in-depth cooperation with Advantech to jointly create industry protocol packages and the audio monitoring system. The system adopts the edge computing streaming data processing service of WISE-IoTSuite/IoT Edge, which enables unified access and management of audio devices by developing industry protocol packages for audio devices to access data from all types of audio devices, and build audio device models and visual templates. It is convenient to build system devices and status monitoring, dynamic link system monitoring of machine room, program transmission system monitoring, and general control audio system large screen of a 3D display. The introduction of this solution will greatly improve the accessibility of the system control, the visual monitoring capacity of signals and device working status, and the unified management and control capacity of devices.
The edge computing streaming data processing service of WISE-IoTSuite/IoT Edge allows users to access, collect, calculate and forward data near the edge side of terminals or data sources, meeting the basic requirements of the industry in real-time business, application intelligence, security and privacy protection.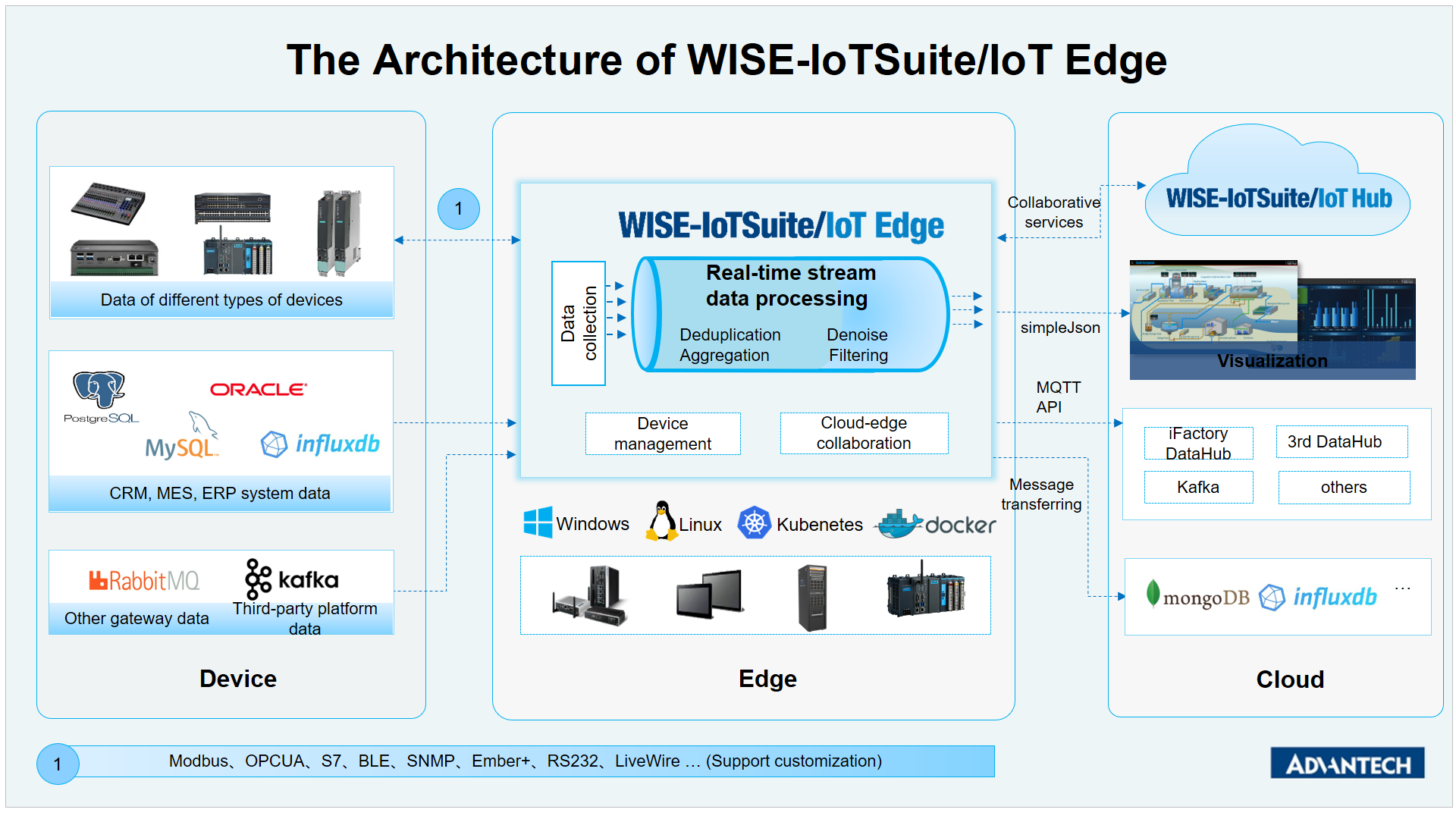 After preliminary research, customers indicated that they chose IoT edge mainly because of the following beneficial features:
IoT Edge uses an open protocol plug-in architecture. The support for various protocols can be achieved by importing protocol plug-ins, making the IoT Edge more decoupled and lightweight. In addition to the protocol plug-ins developed by Advantech, it is also very easy for SI and customers to develop their own protocols and package them into industry agreement packages for distribution. Advantech and ACE have jointly developed protocol packages for the audio industry to collect and control data for this industry. Advantech also expressed its hope to develop the protocol plug-in ecosystem with partners by leveraging internal and external strengths.
2. Complete data services
IoT Edge supports one-stop data services at the edge, from data collection access, to data processing and visualization. The data acquisition part supports data access for IT and OT and is capable of data fusion. It can help ACE to collect data from all kinds of devices and other original systems; it has the ability of streaming data processing, which can de-duplicate, reduce noise, aggregate and filter the data, and connect the processed data to the visual tool to generate a large screen for monitoring all kinds of broadcasting and control system devices. It can also be connected to 2D and 3D screens to display in real-time whether the status of the system is normal.
3.Cloud-edge collaboration
Cloud-edge collaborationIn large broadcasting and control systems where data collection is scattered in various locations, such as different studios and data centers, the unified management and control of scattered devices can take advantage of the cloud-edge collaboration features of the IoT Edge. Multiple IoT edge data are uniformly forwarded to the IoT Hub (device access and management center), which can be paired to enable cloud-edge collaboration and unified management of multiple terminals on the cloud. Data, models and forwarding rules can all be managed collaboratively.
4. Device model library, visual template library
IoT Edge supports both the device data model and the display model. There are many different types of audio devices in the broadcasting and control system. IoT Edge enables ACE to build device models for each type of device to be managed and create visual templates for the device models. This allows implementation in new case sites by simply importing existing device models and visual templates, enhancing greatly the availability of implementation and speeding up the launch of projects.
5. Flexible data forwarding rules
The data collected by IoT Edge can also be connected with third-party systems or platforms by defining various forwarding rules. Customers, as integrators, do not want to be targeted by a single platform out of cost or various project integration while providing an integrated cloud-edge solution. With the flexible and open data forwarding rules of IoT Edge, customers can define forwarding rules on their own to connect to different third-party systems and platforms.
For the broadcasting and control system of radio stations and TV audio production system, ACE has carried out in-depth cooperation with Advantech. Meanwhile, for audio protocol packages, Advantech and ACE have entered into long-term strategic cooperation by signing an exclusive industry agency agreement. With its flexible and open architecture, the edge computing streaming data processing service of WISE-IoTSuite/IoT Edge hopes to connect all kinds of partner data, build jointly an ecosystem of IoT data access and enhance the capability of edge computing.