Advantech Edge Computing Solutions Help Semiconductor Equipment Upgrades
10/15/2021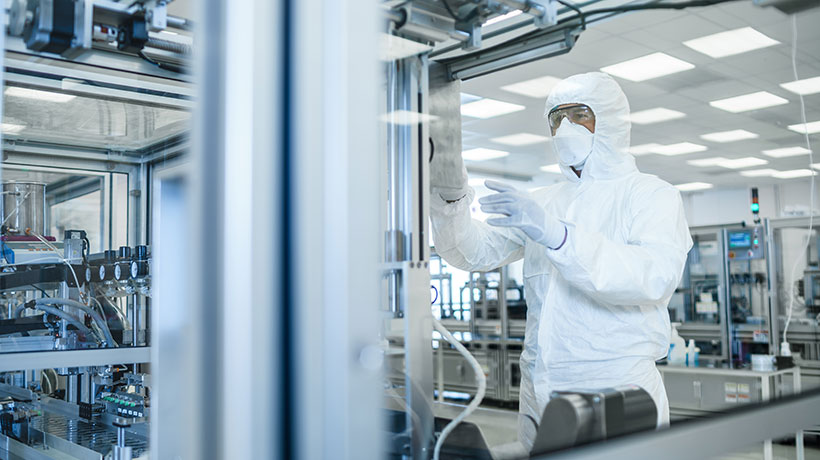 Semiconductor chips are the brains of modern electronics. Indeed, they empower highly advanced technologies in communications, computing, retail, healthcare, and transportation applications. Global semiconductor sales increased by 6.5 % in 2020, leading to increased demands for the manufacturing equipment needed in their production.
A leading Japanese semiconductor equipment manufacturer is developing a new semiconductor lithography machine for 300 and 200 mm wafer advanced packaging. Semiconductor lithography systems are designed to handle fan-out panel level packages (FOPLP) in semiconductor packaging processes. This new semiconductor lithography system required multiple, reliable high-end edge computers. These computers needed to be capable of upgrading their equipment performance and enabling high-speed and high-precision imaging.
In addition, these edge computers needed to be fanless, provide high computing power, be cost competitive, and feature the interfaces needed for installing add-on cards. Moreover, since there are multiple computers, serving different functions, installed within one lithography machine, the customer needs a flexible IPC capable of supporting the installation of different CPUs and peripherals.
The new lithography machine is equipped with multiple Advantech ARK-3532 edge computers. One serves as main controller, another as a motion control PC. Others function as data PCs. The ARK-3532 adapts a socket type CPU design that instills greater flexibility, enabling users to choose 10th Gen Intel® Core™ processors according to their application and/or computing power requirements. Moreover, the ARK-3532 features diverse I/O and PCIe/PCIex4/ PICex16/PCI interfaces for multi-function expansion. ARK-3532 supports the installation of different add-on cards. In this case, the main controller needed to connect to 4 x high-definition cameras, therefore a USB card and a customized optical transmission card were installed via PCIex4. The data PCs in this case used optical interconnection technology for data communication; the ARK-3532 leverages LAN cards installed via its PCIex16 interface for high-speed data transfer capabilities. Similarly, it provided 4 x SATA interfaces for SSD/HDD installation and ECC via the mSATA socket. ARK-3532 also supports Intel® Software RAID (0,1,5,10,) that enables users to back up their data.
Advantech's excellent lifecycle management and revision control leads many semiconductor customers to choose our industrial PCs. Indeed, semiconductor equipment manufacturers adopting "Copy Exactly" models seek solutions that minimize drastic equipment changes and deliver expanded service life. Advantech accommodates strict revision management on products and key components. We provide a 5-year warranty and ensure a 7-year product supply. In sum, Advantech's reliable product service ensures customer equipment longevity.