Advantech IoT Device Management Software Enables Lights-Out Manufacturer to Conduct Smart Manufacturing
4/1/2021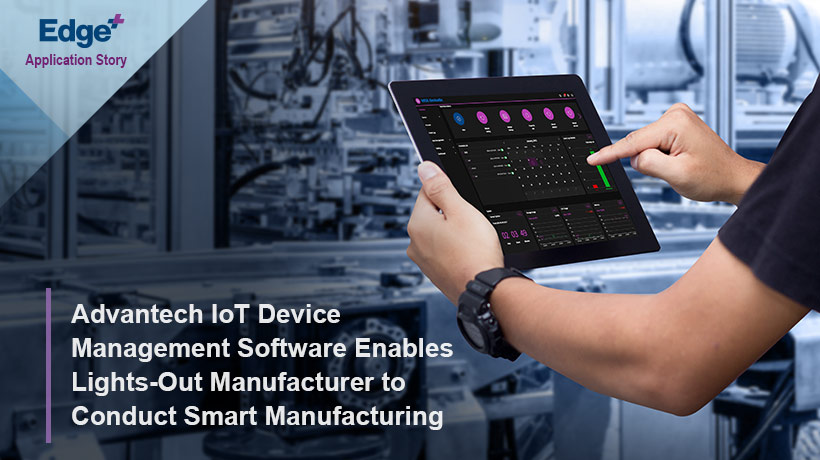 A well-known Taiwanese electronics company adopted Advantech's WISE-DeviceOn software for the establishment of a lights-out manufacturing facility. Using Advantech's solution, they achieved remote monitoring and control, smart/predictive maintenance, remote application updates, and enhanced information security. As a result, the company was able to bolster its IoT device management capability while greatly expanding the use of smart technology.
AI and 5G are accelerating the grow th and development of IoT applications, which are on the increase. A report by the research firm Gartner demonstrated that the number of IoT devices reached 5.8 billion in 2020. This number is expected to grow to 75 billion by 2025. This suggests numerous vertical industries are adopting IoT to create smart applications — a trend that will become more evident in the future. Software solutions that can manage thousands, or even tens of thousands, of IoT devices are therefore of utmost importance.
Yeh Jih- sheng, Senior Sof t ware Manager at Advantech, elaborated on the electronic company's decision to establish a lights-out factory. To implement lights-out production, the company had to quickly adopt large amounts of IoT equipment and gain an accurate understanding of how such equipment increases production line utilization. This presented many IoT device management and maintenance challenges. The company decided to adopt a factory control system embedded with Advantech's WISE-DeviceOn IoT device management software to meet these challenges. This ensured that the factory would run smoothly without staff on site and avoid financial losses associated with production halts.
Five key functions empower factory IoT device management
Advantech Sales Manager Hung Chien-ya stated that the electronics company initially only wanted to perform diagnostics on the IoT devices in its factory. However, the company discovered some of the more useful core functions of the WISE-DeviceOn solution including, over-the-air (OTA) remote software updates, the ability to bring devices online quickly, remote power on/off, and remote debugging. As these functions offered the company a chance to create smart processes in all aspects of its lights-out factory, it decided to adopt WISEDeviceOn as a complete, one-stop solution. The company was thereby able to strengthen lifecycle management and the safety mechanisms of its factory equipment.
According to Yeh, the remote monitoring function helps users get an overview of system CPU and memory status while monitoring important indexes such as temperature, fans, and peripheral data. Similarly, the smart prediction and analysis function enables monitoring and control of key IoT hardware parameters. If the hardware experiences issues, such as unstable voltage or malfunctioning hard disk drives, the system will identify the problem before it occurs using the builtin edge intelligent algorithms. IT staff are thus able to conduct predictive maintenance and updates for the equipment. The third key function is remote control, which covers power on/off and debugging mechanisms. When the system crashes or experiences other problems, IT staff can solve these issues remotely. This greatly reduces staff management workloads.
The fourth key function is OTA updates, which allows IT staff to perform remote software and configuration updates. When key production processes in the factory require updates, the system can install software remotely over the air, eliminating the cumbersome process of installing software in-person for individual pieces of equipment. Strengthening information security is the fifth key function. To this end, WISE-DeviceOn integrates third-party security software — McAfee & Acronis — with a whitelist feature to ensure that the equipment only runs secure software. Any unauthorized software is considered a malicious attack. If threats do arise, such as the encryption of data by ransomware, the system can quickly detect and restore data through backup files, thereby preventing the loss of important production data. Yeh stressed that with these functions, WISEDeviceOn can help the company expand to thousands of IoT devices and achieve IoT device management across different factory sites. WISE-DeviceOn enables the quick installation of new IoT devices and optimizes management tasks.
Meets diverse requirements via support for multiple cloud platforms
WISE-DeviceOn has been widely adopted in a range of vertical industries. For example, some of Taiwan's world leading companies are using WISE-DeviceOn for preventive maintenance and data security protection in semiconductor manufacturing to empower packaging, testing, and high-precision processes. WISE-DeviceOn has been widely adopted to manage equipment and conduct data aggregation and analysis in traditional industries such as CNC (computer numerical control) machining and injection molding. In these cases, it sends data to the cloud for smart applications. Likewise, there are demands for the accelerated mass deployment of IoT devices in smart city applications. One example is the installation of smart street lamps. These often require over ten thousand devices that make the remote monitoring and OTA functions on WISE-DeviceOn increasingly important. Many enterprises in the retail and transportation sectors are focused on multi-location IoT device management. WISE-DeviceOn can help retail chains that operate numerous domestic and international stores conduct remote monitoring and control.
Hung added that IoT device management across locations requires a high level of integration with cloud platforms. To meet customer demand for different types of cloud models, WISE-DeviceOn operates on the WISEPaaS platform and supports customers' private clouds. It even works with public cloud platforms like Microsoft Azure, Amazon Web Services, and Alibaba Cloud. As IoT edge devices play a critical role in creating smart environments, IoT device management, predictive maintenance, and information security are key priorities for vertical industries seeking to deploy smart applications. The constant innovation of functions and services offered through the WISE-DeviceOn software helps industries deploy smart applications that operate smoothly.