Advantech's EPC-B3588 Embedded PC Ensures the Reliability and Stability of an AI-driven DWS System
10/20/2022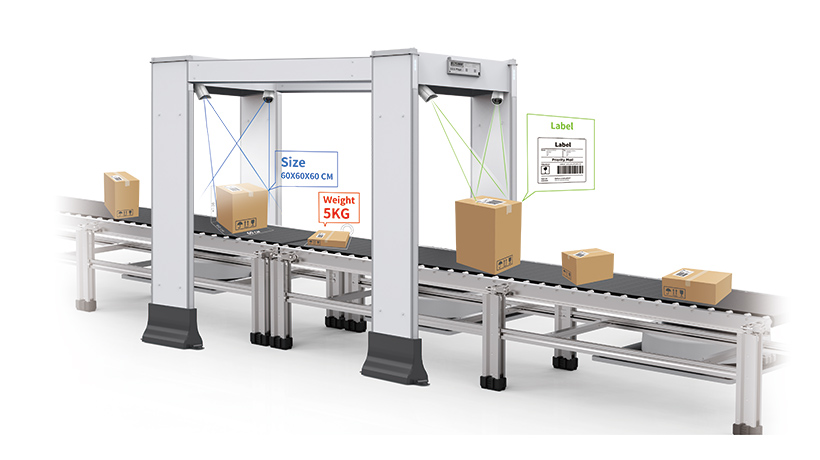 Growth of global IoT revenue in the logistics market is dependent upon the expansion of the e-commerce industry across the globe and rising demand for increased efficiency in logistics operations. This has made warehousing and logistics fiercely competitive where minutes saved can translate directly into profits. An intelligent system with capable hardware is the key to achieving fast and accurate shipping results.
Competition has shifted consumer delivery expectations from one week to next-day or even same-day delivery. Developers and service providers continue to work toward AI-driven solutions to shorten processing times.
To ensure the reliability and stability of AI-driven solutions, SIs often need industrial-grade embedded computers with powerful GPUs for fast AI execution. They also need to take into account that modern warehouses and distribution centers operate for long hours daily and are usually equipped with a great deal of electronic equipment such as conveyors, robots, and AGVs. This creates hazardous electromagnetic impact on computers and can easily cause irreversible damage.
Advantech's SI partners that specialize in smart warehousing and logistics solutions have developed various AI-driven solutions to perform dimension and weight measuring and label scanning in unmanned facility. These solutions in general are called (DWS) system. Each system should consist of an embedded PC for carrying the AI software, HD IP cameras for feeding 1D/2D barcode images and handwritten information to the PC, and a scale and optical sensor for measuring the dimensions and weight of each package.
The AI-driven DWS system improves parcel distribution and tracking
To accommodate all kinds of shipping label designs, the AI-driven DWS system reads barcodes of different orientations and conditions and also digitizes text and handwritten information, allowing for smooth and efficient parcel distribution and tracking. In addition, since shipping label read rates have a great impact on both labor costs and parcel processing time, the system's AI solution recognizes distorted/damaged/misplaced barcodes and unclear/blurred handwritten information within the limited time given by conveyors.
Advantech's EPC-B3588 is the perfect solution for intensive AI operations in various warehouse environments
Utilizing a powerful 12th Gen Intel® Core™ processor and featuring the NVIDIA RTX A4500 (NVIDIA accreditation) for intensive AI operations, the EPC-B3588 Embedded PC was chosen by the SI. It leverages numerous PCIe expansion slots to support the AI-driven DWS system's multitasking workloads. For example, PCIe x16 Gen 5 transfers high-speed signals between the processors and the add-on graphics card. The embedded RTX A4500 accelerates graphics processing to avoid AI operational lag and degradation of service quality.
A certified system with well-thought-out design for modern warehouses
The EPC-B3588 was developed based on Advantech's years of experience in industrial solutions. It has a well-thought-out design for heat dissipation to ensure smooth operation with a combination of an Intel® Core™ i CPU and an NVIDIA RTX GPU. Another reason for the EPC-3588 to be selected is EMC/ESD protection. It supports operation in EMC conditions for both industrial (IEC 61000-6-2, 6-4) and residential environments (IEC 61000-6-1, 6-3), and is capable of withstanding IEC level-4 standard ESD (contact 8kV, air 15kV), making it the perfect solution for various warehouse environments where massive visual computing tasks are performed.
Faster label read rates lead to reduced labor costs
The collaboration between the SI and Advantech enabled the development of a complex hardware platform so that the SI could focus on business development and avoid cumbersome system maintenance and delays. Furthermore, improved shipping label read rates helped customers of the SI reduce labor costs.
Due to the rapid expansion of the global e-commerce industry, all operations and workflows in almost every warehouse will become digitally connected and enhanced by AI-driven solutions in the future. To explore more business opportunities in this huge and rapidly growing market, Advantech is ready to invest more to further improve the efficiency of smart warehousing solutions with the EPC-B3000 series of high-performance computers.