Monitor Semiconductor Production Air Pressure in Real Time
4/1/2021
Advantech's DeviceOn/iEdge Industrial App has been adopted by a global semiconductor company to enable monitoring of equipment air pressure in real time. By ensuring the immediate reporting of emergency events, the App can effectively reduce system downtime resulting from abnormal air pressure conditions.
Staff of a packaging plant operated by a global semiconductor company were having a monthly meeting in the centralized monitoring room when the chief engineer's mobile phone suddenly received an emergency notification. He checked the phone and found a text message that read, "Urgent! Irregular air pressure detected for machine 3 on production line A." Before he could contact production line staff, he received a message from the production line manager that read "A production line abnormality has been detected. I'm on the way to fix it." Because the equipment air pressure meters had been fitted with additional sensors, and Advantech's DeviceOn/iEdge Industrial App had been deployed, plant managers were able to determine the real-time air pressure conditions on production lines. This allowed them to monitor air pressure changes and avoid equipment downtime and production interruptions.
Four functions enable real-time monitoring of production line air pressure
Sammy, product manager at Advantech, pointed out that semiconductor manufacturing equipment is extremely varied and fixed air pressure levels are required to support diffusion equipment. Accordingly, semiconductor plants typically use a centralized air delivery system for each production unit, which can result in less than ideal air pressure levels. Moreover, although each machinery set can be monitored independently whether sufficient air pressure is provided cannot be accurately determined, which eventually results in low yield rates.
To address this issue, the semiconductor company contacted Advantech and Mirle for an effective solution. Mirle installed pressure sensors capable of detecting various gases, such as argon, oxygen, and nitrogen. These sensors were coupled with an edge intelligence server featuring Advantech's DeviceOn/iEdge software for intelligent edge management. By enabling realtime air pressure monitoring and immediate warning notifications, this solution effectively reduced the risk of equipment downtime, while boosting production capacity and improving yield rates.
Sammy explained that Advantech's DeviceOn/iEdge solution has four major features that address typical factory pain points. First is the communication protocol and data integration function, which facilitates the digitalization of analog air pressure data for convenient collection and visualization. Second is the edge computing and analysis function, which enables prompt air pressure detection at the edge without transmission to the cloud. Third is the remote control and centralized management function, which allows air pressure data processed at the edge to be accessed throughout the entire plant. Fourth is a pre-loaded instrument panel management interface, which enables easy development of instrument panels with minimal editing and rapid deployment. Sammy asserted that although most semiconductor plants conduct a high degree of intelligent manufacturing, some traditional facilities still use sensors to support monitoring and management. Thus, Advantech's DeviceOn/iEdge provides a solution that integrates software and hardware for comprehensive intelligent manufacturing.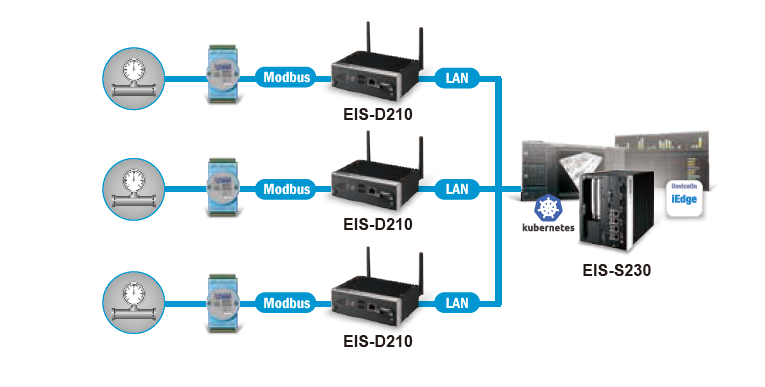 DeviceOn/iEdge deployed in diverse vertical industries
Besides semiconductor manufacturing, DeviceOn/ iEdge has been widely deployed in various vertical industries. For PCB factories, it can be used to collect hotair oven data, automate oven temperatures, and integrate collected data with manufacturing execution systems to accelerate intelligent production. For the CNC machine tool industry, DeviceOn/iEdge can be used to monitor and analyze CNC machine data via servers equipped with the OPC-UA communication protocol. It can also be used for real-time detection of consumables to enable preventive maintenance.
Because different IT segments have varying environment needs, DeviceOn/iEdge is flexible. It supports private edge-to-cloud solutions and allows users to scale up deployment through public clouds such as Microsoft Azure and AWS Marketplace. Additionally, because vertical industries have differing requirements for smart applications, Advantech has collaborated with many domain focused solution integrators (DFSIs) to ensure DeviceOn/ iEdge can be adopted by many industries. Looking to the future, Advantech plans to continue partnering with DFSIs to accelerate intelligent manufacturing across a wide range of vertical industries.