NCTU's Real-Time Wireless ECG Solution Improves Cardiology Services
4/1/2021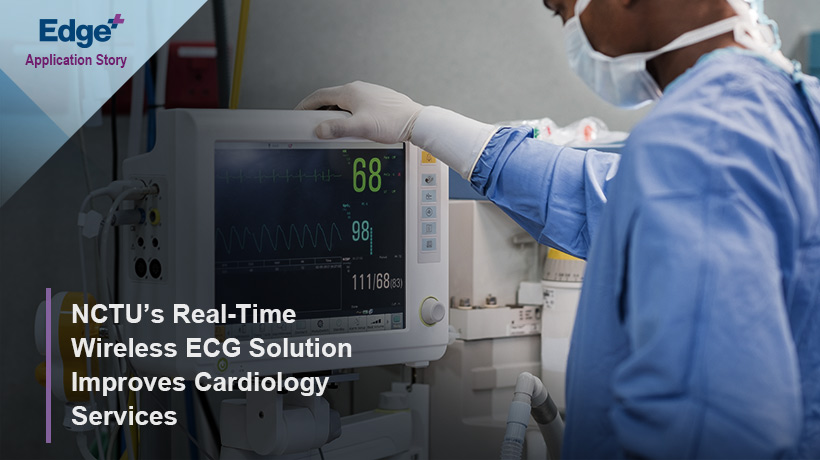 Advantech collaborated with National Chiao Tung University (NCTU)'s medical IoT team to create a real-time 12-lead wireless ECG solution using the WISE-PaaS IoT software platform. Successful clinical trials at Shin Kong Wu Ho-Su Memorial Hospital demonstrated that the system improved the cardiology ward's efficiency, services, and safety while reducing operational costs.
Data from a UN World Population Prospect study suggests one in six people will be older than 65 (16% of total projected population) in 2050 — up from one in eleven (9%) in 2019. Analogously, cardiovascular disease (CVD) is the leading cause of death for individuals older than 65, and is subject to increasing treatment costs. This inflating number of CVD patients is causing medical resource and personnel shortages in many hospitals. To address the issue, recent advancements in IoT technologies and sensor design have enabled precision telemedicine and efficient telehealth. These advancements improve patients' quality of life while reducing workload and financial liabilities accrued by hospitals that provide CVD treatment.
Advantech helps implement medical IoT solutions
CVD conditions comprise arrhythmia, heart attack/ failure, and coronary artery disease. CVDs which do not require surgical procedures are treatable through lifestyle changes, pharmaceuticals, or nonsurgical procedures. Coronary care units and cardiology wards provide postsurgery and intervention care, as well as rehabilitation after a heart attack or before patient discharge. These inpatient services require medical personnel capable of using costly vital sign monitoring machines and stress Electrocardiogram (ECG) testing machines. This yields substantial financial and human resource burdens for hospitals. Accidents or symptoms — including chest pain, abnormal ECG, or low heart rate — often arise after surgery. Despite this, there are no fail-proof 24/7 patient health monitoring solutions.
Under the patronage of the Ministry of Science and Technology's innovative medical equipment program, NCTU's Electrical Engineering and Computer Science departments collaborated on the development of a wireless ECG solution designed to improve cardiology services and lessen the strain created by the growing number of CVD patients. After developing the wireless ECG system and its AI algorithms, they approached Advantech for the IoT platform used in the prototype. Professor Sau-Hsuan Wu of NTCU's Elect r ical Engineering department pointed out, "Advantech has remained devoted to the development of industrial IoT platforms for many years, and has an established reputation for quality and reliable products. Advantech provided consultation for our proof of concept project and helped us find a system integrator partner. This helped hasten the clinical trial of our wireless ECG and patient monitoring system. At the time, Shin Kong Wu Ho-Su Memorial Hospital — who were determined to transform themselves into the leading cardiovascular center in Taiwan — agreed to participate in the clinical trial. They were hoping to introduce the next generation of cardiology services by investing in medical IoT R&D."
Innovative wireless 12-lead ECG solution improves medical efficiency and safety
NCTU's wireless ECG system facilitates seamless data collection using three ECG sensor patches, a BLE transceiver, a fall detection/location sensor, and a 9-axis motion sensor. Professor Wu elaborated that the most innovative features are the acquisition of ECG signals and a truly wireless 12-lead ECG device. Compared to similar solutions, such as single lead wireless ECG devices, Holter ECG monitors, and 12-lead ECG monitors, NCTU's wireless ECG system provides 12-lead ECG data through the application of three thin cable-free patches on the patient's upper body. Its compact, wireless patient-centric design makes it easy to collect 12-lead ECG data at any location or time. This eases nurses' workloads, provides comprehensive inpatient monitoring, alerts medical staff remotely, and enables prompt, precise CVD diagnosis.
BLE transfers patient ECG and motion trial data to Advantech's WISE-PaaS platform using several EIS-D210 Edge Intelligence Gateway servers installed in the cardiology ward of Shin Kong hospital. WISE-PaaS transformed ECG raw data and kept it in the database for further AI analysis from NCTU's server. Professor HsiLu Chao of the Computer Science department in NCTU said, "The real-time health information system we developed for clinical trials allows nurses, cardiologists, and doctors to check patients' ECG, heart rates, respiratory rates, blood pressure and blood oxygen saturation simultaneously from various fixed or mobile devices in the hospital." The system also integrated a floor plan to help locate patients, ensuring their safety and prompt treatment.
Due to low costs, connectivity, and mobility, the NCTU team suggested that the 12-lead wireless ECG could replace older Holter monitors in the future. This would allow patients to upload ECG data to the hospital system from their personal devices, instead of taking Holter monitors to their doctors. Moreover, hospitals will be able to provide tele-cardiology services, which hasten the discharging process, reduce costs, and make cardiac rehab and follow-up more convenient. Additionally, when using the 12-lead wireless ECG and initial AI diagnosis in response to cardiac conditions, emergency medical technicians can deliver accurate assessments and treatment immediately to increase recovery and survival rates.
Most hospitals in Taiwan are adopting IoT medical solutions. NCTU's wireless ECG system can replace bulky, expensive machines and ease transitions into medical IoT. The NCTU team is confident that it will advance the development of medical IoT in Taiwan.