[Video] Far East Machinery accelerates digital transformation through WISE-PaaS smart manufacturing solutions
4/18/2019
Far East Machinery, which is celebrating its 70th anniversary this year, is one of the few comprehensive steel manufacturers in Taiwan. With capital reaching NT$2.2 billion, it has nearly 800 employees.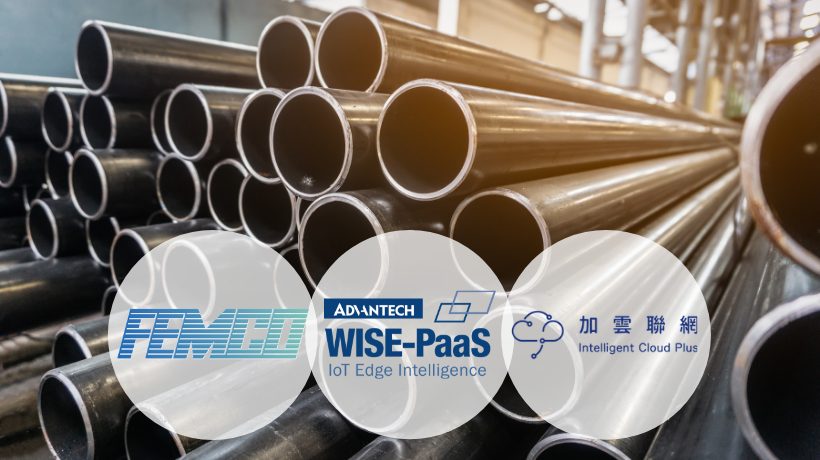 Recently, Far East Machinery has been actively implementing smarter machinery and is working together with Advantech and Intelligent Cloud Plus to establish an Industrial Internet of Things (IIoT) platform that accelerates its digital transformation.
Even though Far East Machinery has always kept a low profile in terms of marketing, its steel quality is well known in the industry and has extensive product applications: the Kaohsiung National Stadium, the pier structure at Taichung Power Plant, oil pipes for CPC Corporation, and underground sewage pipes for local governments, among others. Due to the company's long history, however, it has encountered bottlenecks due to the aging machinery used in its manufacturing processes. Using smart machinery to aid its digital transformation and improve business performance has become an imperative for Far East Machinery to achieve corporate sustainability.
Gaps in professional competencies and insufficient data: How to resolve the pain points?
Far East Machinery currently has two main pain points. The first is the difficulty of passing on experience; steel production is a "traditional" industry where most specialized knowledge and experience is in the hands of senior technicians. It is never easy to pass on this knowledge and experience. Moreover, Taiwan has suffered from severely low birth rates in recent years and younger generations are less interested in factory work. This combination of factors has raised concerns over emerging gaps in specialized knowledge.
The second pain point is the inadequate immediacy and representativeness of data from on-site equipment. While the steel industry utilizes an extremely wide range of technologies, overall most processes use the same parameters: electric current, voltage, and power output for high-frequency welding or submerged arc welding (SAW). All of this data relies on senior employees making adjustments based on past performance. Furthermore, even though the quantity and quality of products can be determined by related processes, operators still manually fill out paper forms on site. This approach has two main disadvantages: first, if there is a discrepancy in the data, the mistake has already occurred — management only becomes aware after reading the reports and then conducts a review afterward; and, second, when manually filling out forms there are frequent omissions leading to data that is unable to represent the actual situation.
Far East Machinery sought out Advantech and Intelligent Cloud Plus in the hope of using Advantech's IIoT cloud software and services platform, WISE-PaaS, to resolve these pain points. Because Advantech offered a complete product line and professional experience in system integration, Far East Machinery chose Advantech and had great confidence in their technologies. This created a unique opportunity for cooperation in implementing smarter machinery.
The first smart manufacturing production line built by Far East Machinery was for the steel tube process that had been in use for over 50 years. Due to its long history, the production line was still not fully controlled by electronic components. Despite replacing production line equipment over the years, it only had the standard equipment of switches, relays, and digital headers. Far East Machinery hoped to establish an IIoT framework using sensors to gather data on voltage, electric current, and other signals at each end-point. It hoped to use characteristics of the PLC for determining and sending signals on the network of system gateways. Advantech's WebAccess and WISE-PaaS/EdgeSense software were used to summarize related data which provided the foundation for the situation room. The system is currently online and in use — allowing Far East Machinery to monitor the status of equipment on the production line in real time.
The steel tube process included a rolling machine, forming machine, cutting machine, sizing machine, and end trimming machine. The proximity switch was installed on the rolling machine and started the entire process. Sensors were installed in the steel coil forming stage and subsequent high-frequency welding stage to detect equipment malfunctions and the electric current and voltage of the DC motor. The sensor in the end trimming machine kept track of the total number of steel tubes produced each day.
The deployment of communications consumed the most time and energy in the entire implementation process. In terms of transmission quality, cable transmission was the most stable technology but it had to follow the equipment cables at the manufacturing site. The ground needed to be dug open to bury cables belonging to different factory buildings and management offices. Considering the amount of trouble in the construction process, wireless communication products were selected. However, wireless communications also had difficulties that needed to be overcome. Since steel factories use heavy machinery, large motors generate electromagnetic waves and the large amount metal at the site reflects radio waves. All of these environmental factors interfere with wireless communications. Intelligent Cloud Plus, which was responsible for system implementation, tried out the products of all major brands in the market over the course of two months and still could not resolve the issue. It then sought the assistance of Advantech and utilized the company's complete measurement mechanisms and years of experience to complete deployment in two weeks. The production line was now able to stably transmit signals without interference — allowing Far East Machinery's back-end IT department to collect front-end data for analysis.
Advantech and Intelligent Cloud Plus work together to realize smarter traditional industries
Far East Machinery began planning its smart machinery in early 2017. Construction began in August, and the first phase of implementation was completed in October. The seamless cooperation between Advantech and Intelligent Cloud Plus, with each utilizing its own expertise, was an important reason why the system was successfully launched after only two months. With a wealth of experience in the industry, including a complete software and hardware product line, Advantech relied on the edge intelligence server (EIS-D110), Wi-Fi AP/Client (EKI-6332GN), WebAccess/SCADA and WISE-PaaS industrial IoT cloud platform for this collaboration. The situation room's WISE-PaaS/Dashboard provided visualized information on the layout and was recommended and designed by Advantech. Intelligent Cloud Plus, a system integration partner that worked closely with Advantech, also had a wealth of experience with manufacturing systems in Taiwan. The two companies jointly developed Far East Machinery's smart system.
After implementing the new system, Far East Machinery visualized the information from the equipment at its manufacturing site. The management department can now remotely monitor on-site operations and the equipment maintenance department seamlessly accesses equipment data — especially DC motors, which are an important source of the production line's power. The entire production line comes to a stop if the DC motor malfunctions. Preventive maintenance is performed based on data displayed through the network of sensors before the motor deteriorates. This approach reduces the quantity of maintenance supplies, lowers inventory costs, achieves stable production, and increases the production line's utilization — optimizing the production line's efficiency. Before implementation, the monthly output of Far East Machinery's production line fluctuated between 2,000 and 2,500 tons. After implementation, it increased to 3,000 tons. This not only increased output by 33% but also helped the sales department commit to a delivery date when negotiating purchase orders with customers. Product quality was stable and overall business performance improved.
Steel manufacturing is, in many ways, "unique" compared to other traditional manufacturing industries. Hence, the number of suitable IT systems is very limited and smart manufacturing requires a highly customized design. With assistance from Advantech and Intelligence Cloud Plus, phase one of the smart machinery system at Far East Machinery was launched successfully and phase 2 has already begun. Going forward, the range of sensor deployment will increase and equipment data analysis capabilities will be strengthened for the company to continue its ongoing digital transformation.
Structure of the WISE-PaaS Solution for Far East Machinery