Advantech and NXP Join Arm's Project Cassini to Simplify Product Development and Enhance Product Security
12/29/2021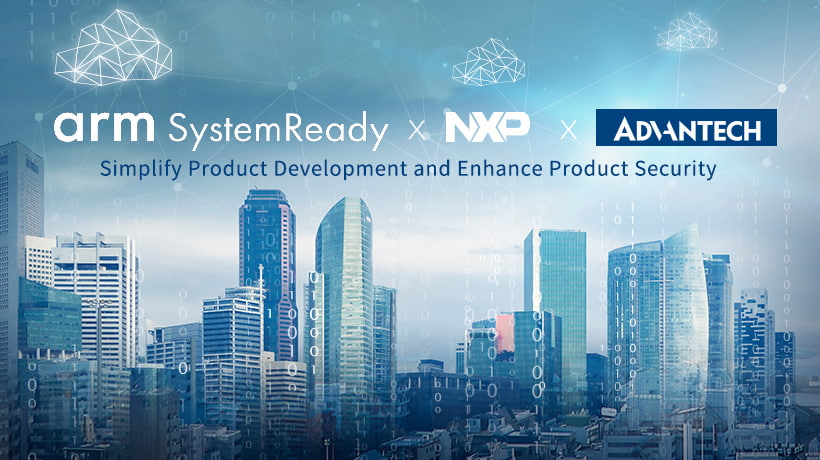 To prepare customers for the tremendous IoT growth, NXP® Semiconductors and Advantech have become affiliated with Arm's Project Cassini, which helps simplify the product development process and reduces development time and cost.
Olivier Bernard, director of High-Performance IoT at Arm; Justin Mortimer, Global Marketing Director of Edge Processing for NXP Semiconductors and Aaron Su, Vice President of Embedded IoT Group at Advantech discuss the benefits of Project Cassini.
Tremendous growth in IoT has led to many organizations acquiring massive amounts of data from many sources. According to a forecast by Statista, the total number of installed IoT devices worldwide will reach almost 31 billion units by 2025, a sharp jump from the 13.8 billion units from 2021.
For years, the IoT industry has deployed IoT solutions using the model of transmitting raw sensor data throughout IoT infrastructure. However, to increase the value of services, businesses are demanding more immediate responses and more immersive experiences at the point of service. Edge computing and AI solutions address this need and allow decisions to be made based on insights in real time near the source of data generation. Thus, the IoT industry must embrace cloud-native software principles, consistently and securely, enabling distributed compute models from the cloud to endpoints, and deploying intelligence at the edge.
Project Cassini tackles IoT roadblocks
Arm technology plays a critical role in edge computing, with the Arm ecosystem providing compact, low power SoC solutions for a range of different vertical applications from industrial to smart home. However, the lack of hardware and firmware standardization between different SoCs has led to considerable overlap regarding development time and cost, hindering the deployment of edge computing applications.
Mr. Bernard, director of High-Performance IoT of Arm highlighted two major roadblocks to IoT deployment: scalability and fragmentation. Thus, we need consistency and compatibility across the entire IoT ecosystem, from smart endpoints through IoT gateways and the cloud. This is why Arm founded Project Cassini—an open, collaborative, standards-based initiative to deliver a seamless cloud-native software experience for devices on Arm Cortex-A. It reduces the complexity of software deployment and makes it simpler to scale. Essentially, this approach ensures that technology "just works."
The three pillars of Project Cassini are Arm SystemReady certification program, PSA Certified and Platform Abstraction for Security (PARSEC), as well as reference implementations for a cloud-native ecosystem. Arm SystemReady disassociates the silicons' SoCs from the software (OS, hypervisors, and containers), ensuring that any off-the-shelf OS can be installed on different SoCs without the need for further engineering work or much finetuning. This means less investment is required from silicon providers on the support side, more choices for the OEMs, and the ability to focus on higher value differentiation. The PSA Certified program offers a security framework that ensures a security baseline aligned with key standards and use-case requirements for edge IoT devices. The PARSEC open-source project allows cloud-native workloads to find the hardware Root of Trust (RoT) for authentication and orchestration that has become the norm in data centers.
Deliver endless IoT application possibilities with Arm
Advantech has joined the SystemReady program and is working closely with Arm and NXP to launch the RSB-3720 Single Board Computer and EPC-R3720 Box Computer. Both are powered by the NXP i.MX8M Plus based on Arm Cortex-A53. Aaron Su, AVP of Embedded IoT Group of Advantech commented, "We adopted NXP's SystemReady compliance Board Support Package and equipped these products with drivers for add-on peripherals and embedded Linux." Advantech has embraced the complete Project Cassini value proposition: By certifying products to both SystemReady-IR (IoT Ready) and PSA Certified, and enabling PARSEC within the software stack, Advantech plans to offer one of the first complete Project Cassini platforms to the market. This will showcase what is possible with Arm architectures across various IoT use cases and multiples software stacks (OS, hypervisor, containers) and performance price points.
NXP's customers cover a diverse range of applications, resulting in the continuous delivery of solutions that help customers reduce cloud dependency and reduce overall system power while improving application latency and ultimately protect proprietary data and privacy. NXP has spent significant resources working to design and architect mechanisms to offer the necessary security and protection for customers developing embedded systems. With the assistance of third parties, such PSA Certified and PARSEC, as well as offering consistent API, customers can easily leverage these security mechanisms. The security framework provides standardized resources to help resolve the growing fragmentation of IoT requirements and to help ensure security is no longer a barrier to product development.
Justin Mortimer, Global Marketing Director of Edge Processing for NXP® Semiconductors, elaborated: "With Project Cassini, we recognize a shared vision—helping customers reduce the cost and time necessary to deploy advanced technology to the edge. As we look forward, we see an even more software-driven approach to product development, and as such the need to ensure customers can get started easily with new processors on embedded boards or modules, and to be able to quickly use, and re-use, firmware across chipsets and applications." With Arm SystemReady, Advantech is in a position to bring simplicity and scale to the management of numerous connected end nodes across an application lifecycle.
Project Cassini is a new development paradigm meant to give companies far more technology choices and optimize hardware and software independently of each other. It also allows the reuse of cloud-native applications by moving them to the edge, thus speeding development schedules and expanding IoT application horizons. Mr. Bernard concluded that, in short, it is designed to deliver new and ongoing IoT application possibilities by simplifying deployment and leveraging cloud-native ecosystems. Finally, Mr. Mortimer emphasized "when companies work together with a common goal, prioritizing the journey and experience of engineers attempting to solve challenges that have never been overcome, then amazing results can happen. Widespread industry collaboration is critical to unlocking opportunities around edge AI and moving the market forward, and NXP and Advantech working with Arm as part of Project Cassini is a strong example of the results this can deliver. "