Edge Intelligence Platforms Empower AIoT Innovation and Business Growth
4/1/2021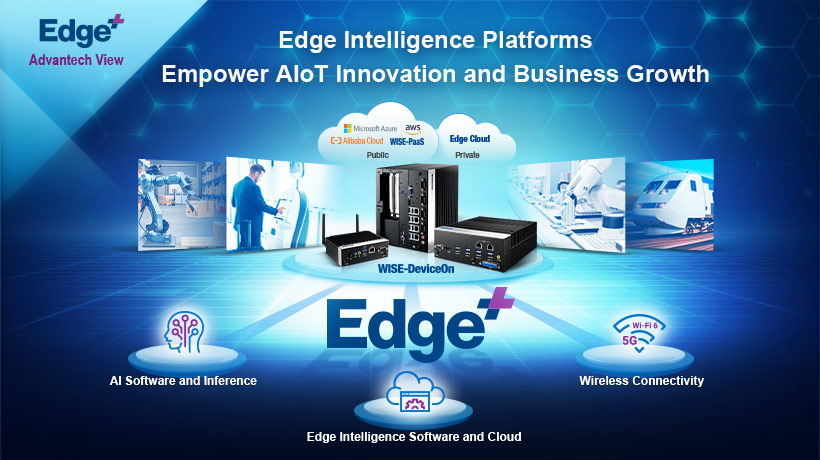 Due to multiple factors, the focus of technological innovation has evolved quickly — from IoT to AIoT, then from AI to edge AI, and finally to artificial intelligence. As AI requires extensive computing power, many advances have been made in easily deployed complex deep learning models — made possible by the computational power of today's GPUs. With a vision toward accelerating IoT implementation and providing practical solutions to the market, Advantech's Edge Intelligence Group designs and develops edge computers, IoT device management software, edge AI inferencing systems, wireless connectivity solutions, and ultra-low power ePaper displays. These solutions deliver a widerange of futureproof systems to customers.
Acquiring and analyzing data
Stephen Huang, AVP of Embedded IoT said, "During the past few years, we have come across many customers who are very keen to step into the world of AIoT but don't know how or where to start. This has motivated us to help make things easier for them." Simplif ying the IoT application development procedure has become Advantech's Edge Intelligence Group's mission. Their integrated solutions make it easy and convenient for business owners to acquire and analyze big data collected from edge devices, without having to invest extra effort in software development. Solutions come pre-loaded with Edge IoT software and industrial App products that facilitate data visualization, remote monitoring, alarm notifications, and asset management — at any time from any location.
"Customers tend to have applications that work, but they work separately," explained Mr. Huang. "Once we help customers connect them into a unified grid, we advise them that the next step is to phase-in AI inferencing systems so that they can realize real-time intelligence at the edge." Advantech's AIR series of edge AI inference systems enables customers to deploy their trained models for deep learning inferencing easily. The VEGA-300 series, for instance, has built-in AI modules and an integrated PCIe x16 GPU slot. This demonstrates that AIR AI systems are simultaneously lightweight and capable of meeting high-performance AI computing requirements. Being preloaded with the Edge AI Suite helps Advantech's AIR-100/101/200 systems accelerate inferencing deployment and realize heterogeneous hardware acceleration and real-time device monitoring in various applications, such as defect inspection, AGV, smart retail, roadside monitoring, and robotics.
FaceView and ePaper solutions: helping create the "new normal"
When discussing the "new normal" brought about by the COVID-19 pandemic, Mr. Huang detailed how Advantech's FaceView iApp is applicable to daily life. "When compared to the last 50 years, 2020 has yielded unprecedented global circumstances," observed Mr. Huang. "To respond to rapidly emerging needs in contactless and remote access services, our FaceView AI facial iApp can be used in a whole range of applications, such as building visitor identification, retail customer management, and access control in both private and public systems, contributing to a safer environment for people to live, work, and commute in."
Advantech's Wireless ePaper display solutions minimize human contact and save energy. Although this technology has been widely used for some time in the e-reader market, it is only just now starting to gain traction in industrial fields. "Imagine how much paper, how much power, and most importantly, how many human errors could be saved or avoided if a hospital or a warehouse used ePaper solutions to automatically display public information, categorize parts, or dispense medicine," Mr. Huang reflected.
Advantech's ePaper devices range from 2.9 to 32 inches. This range of sizes gives users the ability to view whatever content they need to facilitate whatever work they are doing, all with ultra-low power consumption. The biggest advantage of adopting the wireless ePaper display solutions is that there's no extra effort for users to develop management software: the built-in ePaper Manager software allows them to simply connect to their own systems via Advantench's RESTful APIs.
Empower IoT devices with 24/7 remote operation management
Equipment management is an important factor in collecting and visualizing data from edge devices. "WISE-DeviceOn is designed specifically for handling 24/7 remote operation management," pointed out Mr. Huang. It gives users a transformational plug-and-play experience. Beginning with onboarding devices, the fast and simple setup helps achieve instant intelligent edge connectivity, data acquisition, and status visualization. WISE-DeviceOn is designed to ensure maximum efficiency for IoT device operations and management. Mr. Huang furthered explained that, "WISE-DeviceOn integrates the perception layer and communication layer downward, as well as the private cloud platform or public cloud platform of the enterprise upward—for example, Microsoft Azure, Alibaba Cloud, and Amazon AWS. Most importantly, it is highly user friendly for both general customers and system integrators."
Focusing on localization and co-creation with ecopartners
The future is still full of uncertainty, but Mr. Huang believes challenges always bring more opportunities than crisis. "If we co-work with the whole eco-system in every part of the world, we can leverage the collective wisdom of the industry to help each other get through difficult times. Advantech's Edge Intelligence Group will continue to develop its software and hardware solution offerings by focusing on innovative technology research that addresses general industry needs. Only through working closely with DFSIs in different countries can Advantech provide tangible services to our customers. "We believe through our development experience over the past decades and the knowledge our partners provide, can we generate an extremely positive business synergy to co-create a better world with AIoT," concluded Mr Huang.