Advantech's High-Endurance NVMe Gen. 4 SSD Solutions, the SQFlash 930 and ER-1, Deliver Thermal Efficiency to HPEC Applications
8/23/2022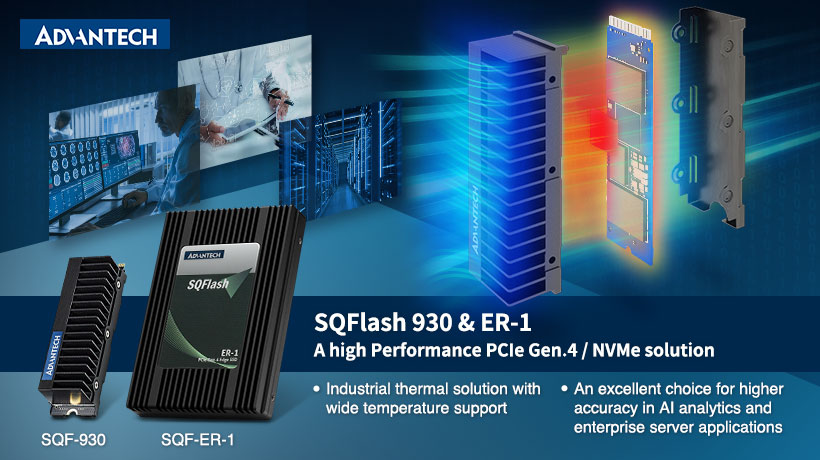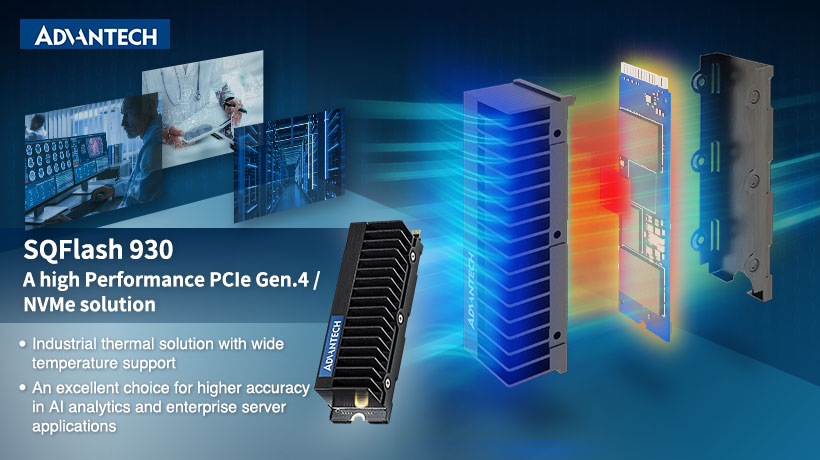 Taipei, Taiwan, August 2022 — Advantech, a global embedded computing leader, is pleased to announce a pair of new SQFlash PCIe Gen.4 SSD solutions: the SQF 930 and SQF ER-1. IoT is driving surging demand for high-performance storage. Accordingly, the Advantech SQF 930 and SQF ER-1 boast industrial heat dissipation capabilities that ensure stable operation and reliability, and meet the unique challenges presented by edge computing. These solutions are built to maximize system efficiency while accommodating the myriad harsh conditions and wide temperatures found in outdoor/industrial usage scenarios.
Read-Intensive, Mixed-Use, and Wide Temperature Options
A study by the IDC indicates that connected IoT devices will generate 73.1 ZB of data by 2025. The Advantech SQF 930 and ER-1 series are designed with PCIe Gen. 4 specifications, delivering double data streaming performance when compared with Gen. 3 solutions. In addition, these solutions are also available in M.2 2280 and U.2 (SFF-8639) sizes to accommodate diverse requirements. In order to fulfill various industrial applications, SQFlash provides different types of general, read-intensive, and mixed-use options that enable edge storage devices to keep up with numerous, diverse real-time streaming data sources. In addition, the SQF 930 and ER-1 series support 3 x Drive Writes Per Day (DWPD) and 1 x DWPD levels to meet different industrial requirements. These also support wide temperature capabilities (-40 ~ 85 °C) for mission critical applications. Finally, the Advantech ER-1 series is built with low power consumption credentials that meet modern ESG high-power and low-carbon expectations.
Built-in Industrial Heat Dissipation and Security Solution
The global edge AI hardware market is projected to reach approx. US$ 4 billion by 2029. Likewise, AI technology development has increased power consumption and heat on the edge side. In response, SQF 930 and ER-1 series adopt thermal glue with outstanding mechanical flexibility to avoid the risk of physical damage to SSD components during sudden temperature changes. The combination of thermal throttling design and real-time I/O adjustment can effectively balance temperature and performance. In addition, the adoption of IoT has led to unprecedented inter-connectivity and increased security concerns. Accordingly, the SQF 930 and ER-1 series meet these challenges by protecting data stored on the SQFlash SSD. This is achieved by providing support for real-time monitoring and using a complete security solution at the SSD firmware level.
SQF 930 Key Features:
l NVMe M.2 2280 (M key)
l Compliant with NVMe 1.4
l AES-256 support and TC-OPAL compliant
l Support LDCP & RAID ECC
l Heat-spreading design with thermal solution
l DeviceOn/SQ Manager support
SQF ER-1 Key Features:
l NVMe M.2 2280 (M key) and U.2 (SFF-8639)
l Compliant with NVMe 1.4
l AES-256 support and TC-OPAL compliant
l Support LDCP & RAID ECC
l Heat-spreading design with thermal solution
l DeviceOn/SQ Manager support