Advantech's Wireless ePaper Solution and J-shaped Touchscreen with LED Lighting Awarded at Taiwan Excellence 2023
11/14/2022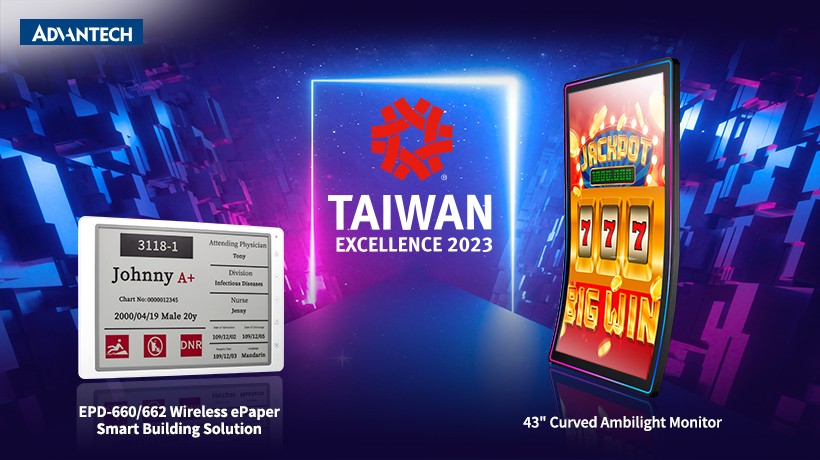 Taipei, Taiwan November 14, 2022 — Two solutions produced by Advantech, a global Industrial Internet of Things leader — the EPD-660/662 wireless ePaper and CRV3-430JP 43" J-shaped curved touchscreen with LED lighting — distinguished themselves from thousands of competitors at the 31st Taiwan Excellence Awards, winning in several categories.
In response, Miller Chang, President of Advantech's Embedded-IoT Group stated, "Edge intelligence is driving the growth of AIoT". Illustratively, Advantech has embraced this trend by integrating internal and external resources, creating product designs based on user needs and developing blueprints for complete ecosystems aimed at collaborating with global partners and accelerating the adoption of AIoT applications. Advantech is also committed to developing sustainable hardware and software integration solutions that incorporate CSR and ESG values into its business and core competitiveness. Advantech's award-winning products, developed with this concept in mind, convinced the judging committee accordingly. This demonstrates Advantech's ability to produce product designs in line with industry and sustainable business trends.
ePaper management software establishes an OS for paperless smart buildings
Our 13.3" EPD-660 and EPD-662 wireless ePaper solutions can be used in electronic bulletin boards, meeting rooms, ward information displays, patient bedside cards, and nursing station dashboards, among other diverse application scenarios. Analogously, the digital management solution uses an encryption mechanism through DeviceOn/ePaper software to protect the system and prevent asset loss caused by unauthorized operations. In addition, 802.11b/g/n support allows data to be transmitted quickly and accurately within the original network structure. Accordingly, hundreds of ePaper devices within a building can update their displays every few minutes. This greatly reduces the burden placed on administrators while providing a compelling visual experience for end users. By placing "Green Economy" as a core product value, the Advantech ePaper series improves energy conservation and stability. Likewise, the materials and components are EU RoHS compliant.
43" J-shaped touchscreen with LED lighting delivers user/environmentally friendly design
The 43" J-shaped touch monitor with LED lighting features a design that creates diverse entertainment effects. Indeed, the deep J-shaped 1500R curvature design provides end users with wider viewing angles and the embedded LED light strip produces three different LED light color designs that improve the screen's appeal. Likewise, the thin and light LED backlight module developed for this model effectively controls power consumption and reduces carbon emissions while delivering vibrant colors, producing a comparatively environmentally friendly solution. The integrated PCAP touch module provides up to 10 multi-touch controls, enabling prompt operation feedback and responsiveness. Its lightweight industrial-grade, open outer frame delivers the flexibility needed to customize the front frame design, and accommodates diverse embedded applications. The design specifically targets user pain points and accommodates environmental protection requirements.
A total of 185 Advantech products have won Taiwan Excellence Awards — including two Gold Quality and eight Silver Quality Awards — since the company's establishment. In pursuit of its goal to enable an intelligent planet, Advantech continues applying its philosophy of sustainability to its hardware and software solutions in an effort to empower industry users and promote Taiwanese design and manufacturing.
About Advantech

Advantech is a global leader in the fields of intelligent IoT systems and embedded platforms, with the corporate vision of enabling an intelligent planet. To embrace the trends of IoT, big data, and artificial intelligence, Advantech promotes software and hardware IoT solutions with the WISE-PaaS IoT cloud core to assist business partners and clients in connecting their industrial chains. We are also working with business partners to jointly create business ecosystems that accelerate the goal of industrial intelligence. (www.advantech.com)
Advantech Wireless ePaper Solutions

Advantech's EPD-660 and EPD-662 solutions can display up to 14 images simultaneously using page buttons, and meet market demand for public information displays. These 13.3" ePaper devices accommodate diverse application scenarios and support easy installation anywhere inside a building — even when applied without power-supply/internet cables. Equipped with BLE, they empower users to modify and control network access with ease. After joining the network, these solutions can transmit information back via two-way communication, enabling systems to update and report device statuses automatically. In addition, DeviceOn/ePaper provides an information panel to visualize responses in real-time, allowing administrators to easily add and move images using a drag-and-drop interface. All of these solutions can be flexibly customized through the RESTful API; and support integration within factory, retail, hospital, transportation, and smart building applications among other diverse field scenarios. In addition, E Ink technology is excellent for replacing traditional paper. Indeed, replacing 1500 sheets of A4 paper with E Ink technology reduces carbon emissions by 27 kg. (To learn more about EPD-660).
43" Advantech Curved Touch Monitor with LED Lighting

This product was designed in response to end user market demand for curved designs with an eye towards environmental protection from the early planning stage. Its motherboard and modules are made of lead-free materials and boasts six major material certifications. Likewise, the PCB board is cleaned without CFCs to prevent ozone layer damage; and environmentally friendly, recyclable cartons with water-based ink are used for packaging to prevent pollution. What's more, Advantech was the first innovator to design an industrial-grade J-shaped curved touchscreen with a curvature of 1500R, providing users with wider viewing angles and improved visual appeal. The thin and light LED backlight module developed for this model is comparatively environmentally friendly and controls power consumption to reduce carbon emissions while delivering vibrant colors. The integrated PCAP touch module provides up to 10 multi-touch controls, enabling prompt operation feedback and responsiveness. Likewise, the use of iron components add robustness to the curved structure and the embedded LED light strip emanates LED light in 3 colors, enhancing the visual appeal of the whole screen (more about the CRV31-430JP).