Advantech AIMB-229 Motherboard with AMD Ryzen™ Embedded V2000 Processors Delivers Graphics Performance to Diverse Applications
6/29/2021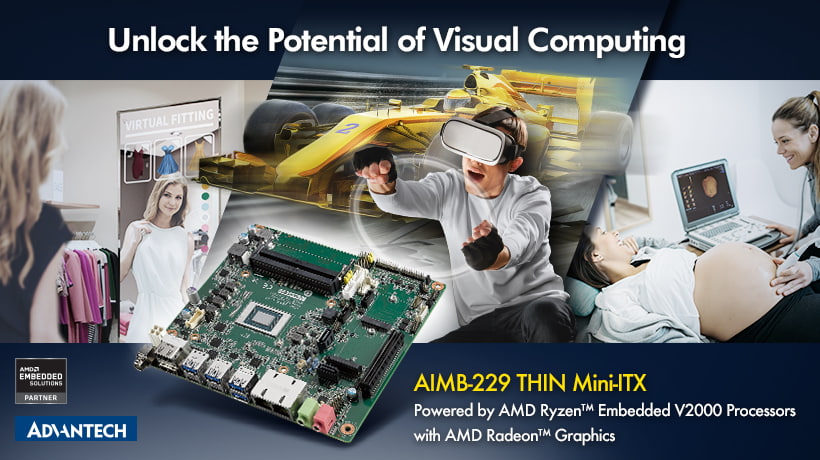 July 2021, Taipei, Taiwan - Advantech, a leading provider of embedded and AIoT solutions, has released the AIMB-229 thin Mini-ITX motherboard with AMD Ryzen™ Embedded V2000 processors. The compact (20 mm/.78 in I/O height) AIMB-229 supports up to 4 x displays and delivers excellent performance using an embedded AMD Radeon™ GPU. This superior computing performance is combined with excellent I/O support and WISE-DeviceOn, yielding a highly adaptable solution for healthcare, gaming, and digital signage applications that require fast processing and immersive 3D experiences.
Powerful Computing Empowers Graphics-Driven Embedded Devices
Advantech's AIMB-229 increases graphic processing capabilities by 40% using a powerful embedded Radeon™ GPU. Indeed, results from a PASSMARK PerformanceTest V10 demonstrate superior CPU performance that is better than 87% of comparable solutions. Analogously, AIMB-229 supports 4 x independent displays with up to 4K60 UHD resolution via 2 x HDMI and 2 x DP++ via USB-c. This motherboard also improves image processing and analysis as well as computing acceleration performance in multi-headed medical imaging and machine vision systems. AIMB-229 supports 6 x USB 3.2 and 1 x PCIe x8 — facilitating high-speed modular add-on cards and diverse peripherals. These include high-speed cameras, VR glasses, and other object capturing solutions. In sum, this combination of advanced adaptability and innovative features yields a highly responsive, accurate solution capable of supporting immersive 3D experiences in gaming and retail applications.
Slim, Powerful, and Efficient Solution for Mobile Imaging Equipment
AIMB-229 is powered by AMD Ryzen™ Embedded V2000 processors. These processors feature integrated Radeon™ graphics with an octa-core (8-core) embedded SoC, up to 16 threads, and an impressive 4.2 GHz turbo boost — enabling AIMB-229 to deliver a 140% (V2748) increase in performance when compared to the previous generation solutions. Leveraging AMD's Zen 2 x86 core architecture with innovative 7nm process technology, AIMB-229 empowers edge computing by doubling the performance-per-watt efficiency with a TDP range between 10 ~ 54W. The solution also boasts a diminutive I/O height (20 mm/.78 in) that increases battery life and fit into compact medical imaging devices. Congruously, AIMB-229 supports multiple expansion interfaces — including an M.2 M key for high-speed NVME storage and M.2 E key for Wi-Fi connectivity. In addition, AIMB-229 integrates BIOS secure boot and TPM2.0 onboard support, ensuring hardware-based security and protection from cyber security threats.
Enables Remote Control and Management at the Edge
AIMB-229 avoids system failures using Advantech WISE-DeviceOn. WISE-DeviceOn provides real-time hardware, software, and peripheral monitoring solution that delivers real-time alert notifications. It further provides an over-the-air (OTA) BIOS system that facilitates remote BIOS updates, and provides backup recovery mechanisms that prevent unexpected interruptions and boot up failures. This solution also uses USB power on/off functions that prevent unauthorized access, and re-boot the USB device without turning the power off. In sum, these features reduce maintenance costs and improve IoT efficiency by identifying and resolving issues preemptively.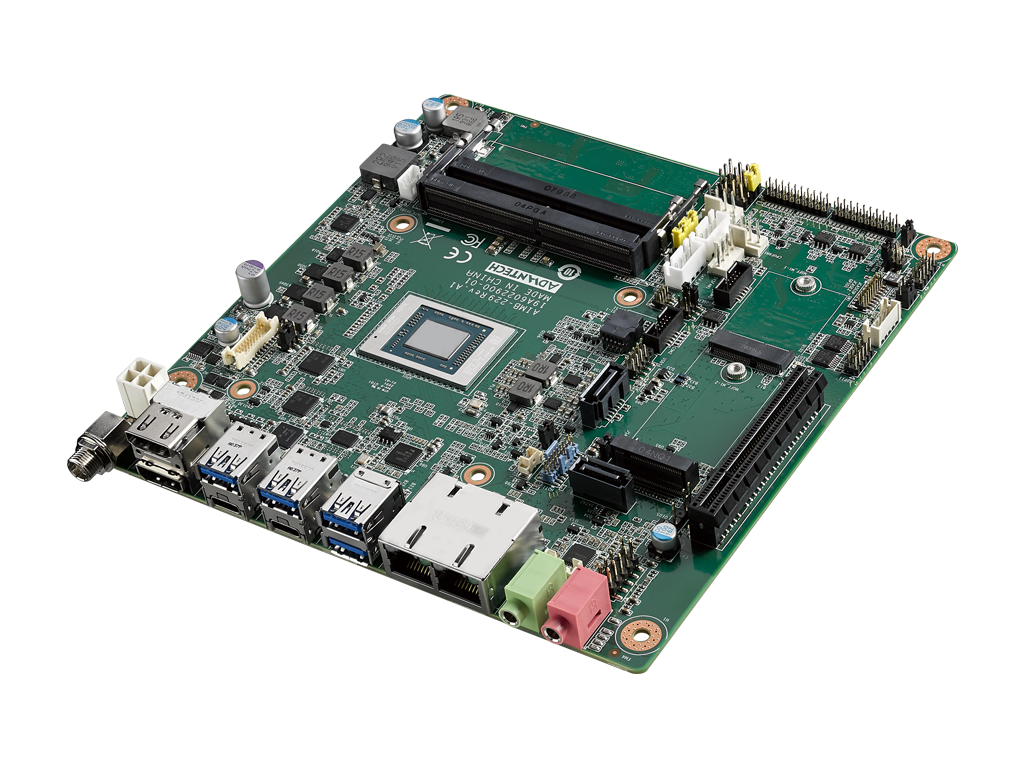 AIMB-229 Key Features
Thin Mini-ITX motherboard with AMD 7nm Ryzen™ Embedded V2000 SoC
4 x independent 4K displays (2 x via HDMI, 2 x via DP++ via USB-C, 1 x optional eDP)
Supports 2 x DDR4-3200 SODIMM dual channel with up to 64GB ECC/non-ECC memory
3 x USB 3.2 Gen 2, 3 x USB 3.2 Gen 1, 2 x USB 2.0, 6 x COM, 2 x SATA III, 16-bit GPIO, and 2 x GbE
1 x M.2 M key, 1 x M.2 E key, and 1x PCIe x8 Gen 3
Optional support CCTalk protocol, 10W AMP, and TPM 2.0
Featuring Software APIs and Advantech WISE-DeviceOn
The AIMB-229 samples will be available in September. For more information about this or other Advantech products, contact your local sales support team or visit our website at www.advantech.com.
About Embedded Core Service
Advantech Embedded Core Services offers design-in services. Their streamlined solutions broadly integrate embedded boards, peripheral modules, and software. This dedicated focus on embedded design-in services fulfills electronic engineering demands at the design-in phase, shortening the design and integration cycle and minimizing uncertainty and risk. https://www.advantech.com/EmbCore
Founded in 1983, Advantech is a leading provider of trusted and innovative products, services, and solutions. Advantech offers comprehensive system integration, hardware, software, customer-centric design services, embedded systems, automation products, and global logistics support. We cooperate closely with our partners to provide complete solutions for a wide range of applications in diverse industries. Our mission is to enable an intelligent planet by developing automated and embedded computing products and solutions that facilitate smarter working and living. With Advantech products, the application and innovation potential becomes unlimited. (Corporate website: www.advantech.com)