Advantech Augments the Embedded Edge Controllers Line-up with New UNO-100/300 Series for Machine-to-Intelligence Applications
8/26/2022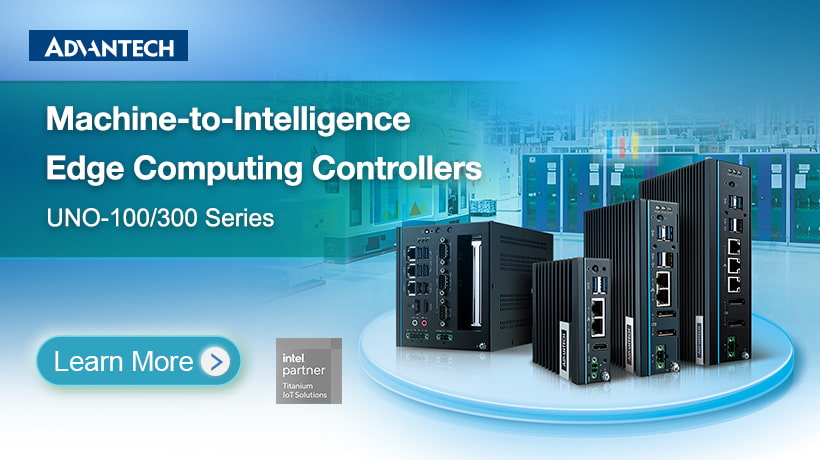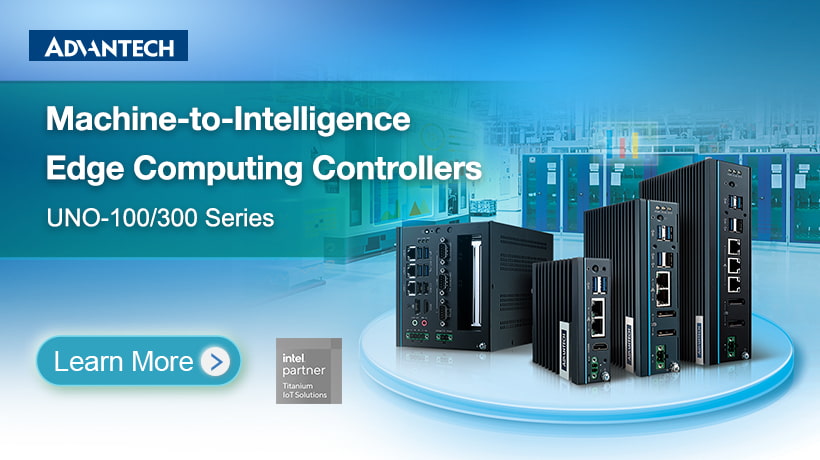 Taipei, Taiwan, August 2022 - Advantech, a leading provider of embedded computing solutions, is pleased to announce the release of three edge controllers — the UNO-127, UNO-148, and UNO-348. Advantech's new UNO-100/300 series are modular edge controllers powered by the latest high-performance Intel® processors. Aimed at factory applications such as real-time monitoring, data management, and remote control, UNO-100/300 edge controllers feature a rugged design with wide operating temperature, shock/vibration tolerance, and a built-in TPM 2.0 module to ensure secure data transfers and reliable operations in harsh industrial environments. Their modular form factor allows these controllers to be flexibly deployed and come with diverse interfaces for optional expansion, such as PCIe for high-density I/O, PCI for motion cards, and iDoor expansion for fieldbus modules. This customizable functionality streamlines deployment and maintenance while providing cost-effective upgrades, making UNO-100/300 series edge controllers future-proof solutions ideal for realizing intelligent factory operations.
UNO-348 – Compact Embedded Edge Controller
Equipped with a 10th generation Intel® Core™ i5/i9 processors, Intel® H420E PCH chipset, and 8/16 GB DDR4 memory, UNO-348 is designed to deliver multi-task processing for enhanced computing capability. UNO-348 offers multiple I/O — including 4 x USB 3.2, 2 x USB 2.0, 3 x GigaLAN, 2 x RS-232/422/485, and 1 x RS-232 ports, as well as 1 x Line-out, 1 x Mic-in, 1 x DisplayPort, and 1 x HDMI interfaces — for diverse industrial applications. Moreover, the edge controller's ruggedized compact form factor (200 x 140 x 120 mm/7.8 x 5.5 x 4.7 in) is 50% smaller than its predecessor, enabling easy installation in harsh industrial environments with limited space. The provision of two internal HDD/SSD bays, 1 x full-size mPCIe, 1 x M.2 B-key, and up to 3 x PCIe/PCI expansion slots (1 x PCIe x16, 2 x PCI) supports the integration of modular peripherals and add-on cards, such as GPU, DAQ, motion-control, and vision frame grabber cards. In addition to dual power inputs that guarantee stable power supply and uninterrupted operation, UNO-348 is equipped with Advantech's iBMC technology for remote out-of-band (OOB) power management, aiming to reduce system downtime and operational costs. For improved management, UNO-348 also supports WISE-DeviceOn software to help users remotely monitor, configure, analyze, and control numerous terminals, ensuring easy maintenance and recovery.
UNO-148 – Regular Fanless DIN-Rail Controller
UNO-148 features the highly functional small form factor design powered by the 11th generation Intel® Core™ i processor, yielding an ideal solution for industrial edge computing applications. This edge controller combines high-performance computing with diverse I/O ports and M.2 expansion slots, including an M.2 M key for faster storage transmission speed and support for the integration with AI acceleration cards. Compliant with IEC-61010 safety standards, the ruggedized design of UNO-148 makes it suitable for industrial-grade equipment and control cabinet applications. UNO-148 also offers two second-stack I/O extension module options to provide high expandability for diverse industrial operations, such as high-speed data acquisition, soft-logic control, and vision applications. Among these, a most important feature of UNO-148 is the support of Time-Sensitive Network (TSN) technology. This allows customers to achieve synchronous control between machines and IT systems, ensuring devices can communicate in real-time without barriers, simplifying the configuration of systems, devices, and applications to increase productivity. With the integration of Advantech's iBMC technology and WISE-DeviceOn software, UNO-148 can facilitate out-of-band management for remote system recovery, providing a comprehensive solution for remote device management and upgrades from a centralized platform.
UNO-127 – Pocket-Size Fanless DIN-Rail Controller

Powered by the robust Intel® Atom® x6413E processor (formerly Elkhart Lake) with 4GB/8GB DDR4 onboard memory, UNO-127 delivers a competitive solution for enhanced computing performance. To ensure easy deployment in limited-space industrial environments, including in-cabinet installations, UNO-127 features a rugged, compact (100 x 70 x 33.5 mm/3.9 x 2.8 x 1.3 in) form factor. Indeed, UNO-127 is compliant with IEC-61010 safety standards and supports a wide operating temperature range (-20 ~ 60°C/-4 ~ 140°F) with advanced heat-sink design, making it a reliable solution for harsh industrial environments. Additionally, UNO-127 enables flexible configuration according to specific usage requirements with its modular design. The base unit offers optimized I/O including two GbE, two USB 3.2 Gen1, and one HDMI. Moreover, the provision of an optional second-stack extension kit supports additional four isolated COM ports and one M.2 B key for extending the system I/O and wireless connectivity capabilities.
Advantech's new generation UNO-100/300 series, including UNO-348, UNO-148, UNO-127 and the previously launched UNO-137, are available to order now. For more information about this or other Advantech products, contact your local support team or visit our website at www.advantech.com.
About Advantech
Founded in 1983, Advantech is a leading provider of trusted, innovative products, services, and solutions. Advantech offers comprehensive system integration, hardware, software, customer-centric design services, embedded systems, automation products, and global logistics support. We cooperate closely with our partners to provide complete solutions for a wide range of applications in diverse industries. Our mission is to enable an intelligent planet by developing automated and embedded computing products and solutions that facilitate smarter working and living. With Advantech products, the application and innovation potential becomes unlimited. (Corporate website: www.advantech.com).