Advantech Launches USM-500R Edge Workstation for Diverse Retail and Hospitality Applications
4/11/2022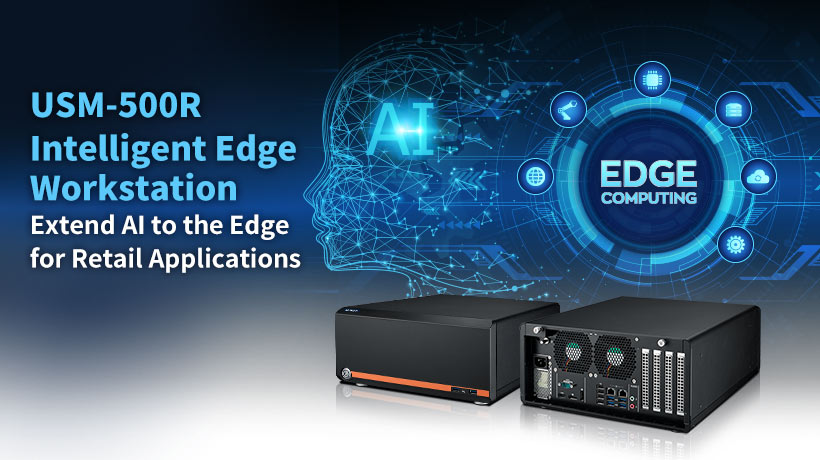 April 2022, Taipei, Taiwan - Advantech, a leading provider of intelligent computing systems and services, is pleased to announce its USM-500R edge workstation aimed at retail and hospitality applications. Powered by an 8th/9th gen Intel® Core™ i7/i5/i3 processor, USM-500R features 3 x PCIe expansion slots that support the integration of graphics cards and data capture cards for video recording and analysis. With the provision of multiple I/O and 2 x M.2 connectors, the workstation can be easily connected to diverse devices and optional peripherals according to usage requirements. This allows USM-500R to be flexibly deployed as an intelligent solution, AI server workstation, shop/hospitality edge computer, or facial recognition/identity detection platform in a wide range of retail and hospitality environments, public facilities, and office buildings. Moreover, with support for both Windows 10 and Linux operating systems, USM-500R provides an ideal open-source environment for rapid software development.
High-Performance Workstation with Multiple I/O
Compliant with CE, FCC, CCC, UL, and CB certifications for electrical safety, USM-500R is an edge workstation designed to be easily expanded for diverse retail and hospitality applications. Accordingly, USM-500R features multiple high-speed I/O, including 2 x USB 3.1, 2 x USB 3.0, 4 x USB 2.0, and 2 x M.2 (1 x M-key and 1 x E-key) connectors for integrating NVMe storage and Wi-Fi modules. In addition to 3 x PCIe expansion slots (1 x PCIe x16, 1 x PCIe x4 and PCIe x1), USM-500R workstations are equipped with 1 x M.2 SSD and 2 x SATA HDDs that support RAID 0, 1, and 5 configurations for enhanced performance, fault tolerance, and data redundancy.
Flexible Design for Easy Deployment and Maintenance
The USM-500R edge workstation can be deployed as a tower or standalone unit depending on different installation environments and usage needs. The flexible front cover design can be easily customized with a specific brand logo, color, or even additional buttons for enhanced functionality and to match existing corporate branding. This ease of installation, expansion, and customization facilitates the development of unique software solutions, accelerating the overall time-to-market.
Data Collection, Processing, and Analysis at the Edge
USM-500R is a powerful workstation that supports data collection, storage, and analysis at the edge. Furthermore, with the inclusion of AI technologies, data analysis can yield real-time insights that facilitate decision-making and increase efficiency. This allows retailers and hospitality service providers to provide a more personalized usage experience, while optimizing operations and increasing revenue. Overall, considering the ease of integration, installation, and expansion, USM-500R edge workstations provide convenient and flexible computing platforms for realizing edge intelligence.
8th/9th gen Intel® Core™ i3-9100TE /i5-9500TE /i7-9700TE processor

2 x LAN, 2 x DP, 1 x HDMI, 1 x RS-232, 4 x USB 3.1, 4 x USB 2.0, and 2 x USB 3.0, as well as 2 x M.2 (1 x B-key and 1 x E-key) connectors

1 x M.2 SSDs and 2 x SATA HDDs with RAID 0, 1, and 5 support

1 x PCIe x16, 1 x PCIe x4, and 1 x PCIe x1 expansion slots for integrating graphics cards and data capture cards

Supports 4 x DDR4 2400/2666, non ECC memory (up to 128 GB RAM)
Advantech's USM-500R edge workstation is available to order now. For more information regarding USM-500R or other Advantech products and services, contact your local sales support team or visit our website at www.advantech.com.
Founded in 1983, Advantech is a leading provider of trusted, innovative products, services, and solutions. Advantech offers comprehensive system integration, hardware, software, customer-centric design services, embedded systems, automation products, and global logistics support. We cooperate closely with our partners to provide complete solutions for a wide range of applications in diverse industries. Our mission is to enable an intelligent planet by developing automated and embedded computing products and solutions that facilitate smarter working and living. With Advantech products, the application and innovation potential becomes unlimited. (Corporate website: www.advantech.com).
Primary Media Contact
Advantech Corporation
Mercy Weng
Tel: 886-2-27927818 ext. 9685

Email: Mercy.weng@advantech.com.tw

Secondary Media Contact
Advantech Corporation
May Lee
Tel: 886-2-27927818 ext. 9656

Email: May.Lee1@advantech.com.tw