Advantech Participates in GTC 2023 — Demonstrating AI Technology in Robotics, Smart City and Manufacturing
3/14/2023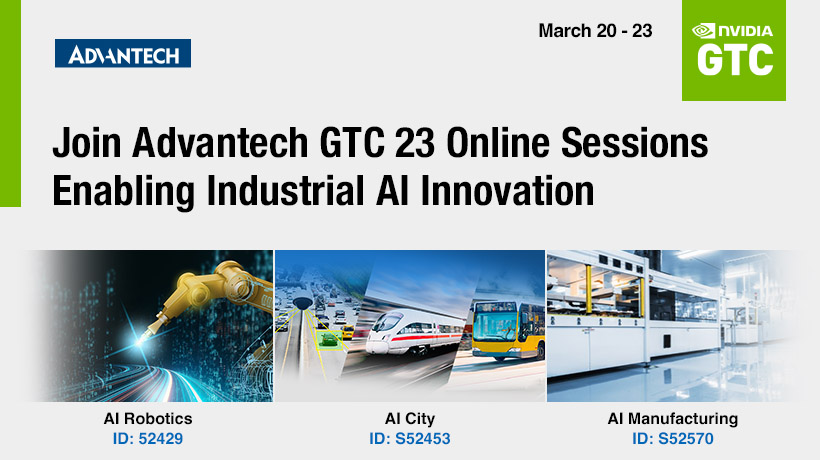 Advantech, a leading industrial edge AI solution provider and integrator of NVIDIA solutions, is happy to announce its decision to speak at NVIDIA's 2023 online GPU Technology Conference (GTC 2023).
Leveraging extensive experience developing AI edge systems with NVIDIA technology — including GPU cards, mobile PCI express modules (MXM), and Jetson systems on module —Advantech and its partners will deliver four sessions at GTC 2023. Indeed, Advantech plans to discuss case studies involving the latest robotics, smart city and manufacturing technologies. Join GTC between March 20 & 23, 2023 to hear Advantech's unique insights on different industrial applications.
[Session S52429] Fast-Track Next-Generation AI Robotics Deployment
As robots deploy in dynamic and challenging environments, designing AI-empowered robots is becoming increasingly complex, especially where robots and humans share common operating areas. Therefore, the next-generation AI robots will need not only eyes to see, sense, and navigate, but also intelligence to interact and make decisions to ensure that human–robot interactions are dependable and safe. Advantech will discuss key factors to achieve this: (1) AI capabilities on edge robots; (2) ROS2 integration; and (3) large-scale management. Advantech utilizes NVIDIA Jetson Orin platform and RTX GPUs for AI-accelerated robot learning at scale for a variety of tasks, and we develop dedicated software to accelerate deployment and management.
[Session S52453] Building an AI City with the Right Industrial Jetson System
In the four years since the first release of NVIDIA Jetson AI systems, Advantech has found that 80% of project requests come from AI smart city applications, with most of them related to transportation sectors. Along with 40 years' of industrial design expertise, Adavntech successfully deployed AI in traffic management and parking lot management to improve urban traffic efficiency. In railway safety and control, Advantech's AI systems help ensure power-supply safety and operational stability. Advantech edge AI systems are used in the city's iBus and heavy machinery, enabling AI-enabled autonomous vehicles to replace routine low-value jobs and prevent humans from working in high-risk environments. In this session, Advantech will share these successful cases and the key factors necessary to deploy AI on transportation applications sites.
[Session S52570] Embracing Edge AI Computing to Achieve Manufacturing Transformation
As a leader in edge computer manufacturing and an NVIDIA Elite Partner, Advantech is highly experienced in designing and manufacturing edge computing platforms with the capability to integrate the NVIDIA professional data center and RTX GPU into diverse edge AI computing platforms. Advantech's industrial automation partner, Spingence, will introduce how they built their cosmetic AI inspection solution based on NVIDIA GPU technology and Advantech Edge AI computing platforms, helping manufacturing customers (such as passive component manufacturers) adopt AI automated optical inspection into their production lines, and how they can benefit from this latest AI technology.
Register for GTC23 now, and join Advantech's session to know more about the Advantech's experience on industrial AI applications.