Advantech Releases Next-generation SQRAM DDR5 4800 Memory for High Performance Computing at the Edge
8/24/2021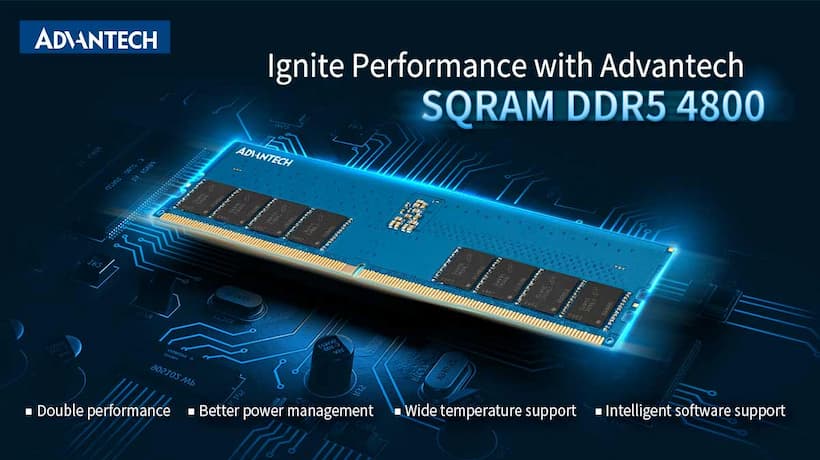 August 2021, Taipei, Taiwan - Advantech (2395.TW), a global leader in embedded computing, is pleased to announce the release of SQRAM DDR5 4800 series industrial-grade DDR5 memory. This series comes in diverse form factors, and leverages early-access, next-generation DRAM technology to deliver excellent performance, compatibility, and efficient power management. SQRAM DDR5 4800 uses DDR5 to increase bandwidth by 50%, and is capable of supporting twice the bandwidth of DDR4 (up from 4.8 to 6.4 GB per second). In addition, Advantech's SQRAM DDR5 extended temperature series undergoes strict laboratory testing to ensure reliability in mission-critical applications. These features make the SQRAM DDR5 4800 series an excellent choice for edge computing and AIoT applications in the medical and semi-conductor automation markets.
Improved performance and power management
The Advantech SQRAM DDR5 4800 series uses next generation technology to deliver a 2-fold increase in speed, and an innovative channel structure that empowers industrial and high-performance computing (HPC) applications. DDR5 also boasts a diminished operating voltage when compared to its predecessor — reducing it from 1.2 to 1.1VDC. Analogously, DIMM power management IC (PMIC) is placed on module to engender improved efficiency and stable operation. The SQRAM DDR5 4800 series provides 4800MHz of performance using the 12th Gen Intel® Core™ processors, and has passed strict test programs and chamber server verification procedures that ensure compatibility with 12th Gen Intel® platforms and select Advantech embedded platforms.
Diverse form factor DDR5 4800MHz with intelligent monitoring and management
Advantech's SQRAM DDR5 4800 series comes in a wide selection of form factors — including RDIMM, unbuffered DIMM, SODIMM, and Rugged DIMM — with maximum capacities up to 32GB. The series is buttressed by SQRAM's intelligent software: SQ Manager. This software, developed for DDR5, comes in on-site and cloud versions, and can monitor system DRAM operation. Indeed, it is capable of conveying real-time information that helps managers stabilize operation and decrease the risk of equipment error.
Industrial wide operating temperatures memory
Advantech's SQRAM series comprises a comprehensive selection of extended temperature solutions. Models that accommodate -40 ~ 85 °C are excellent choices for applications within critical aerospace, defense, and submarine markets. Conversely, models that support -20 ~ 85 °C are suitable for transportation, outdoor, and fanless applications — including those found in outdoor kiosks and EV chargers.
Advantech's SQRAM DDR5 4800 Series
Advantech SQRAM DDR5 4800 series is currently undergoing server test programs. An early customer sample will be ready in October 2021. An adjacent wide temperature product line, comprised of SQR-RD5N, SQR-SD5N, and SQR-UD5N, designed for military and harsh-usage environment applications, is scheduled for launch in Q4, 2021. For more information, please contact your local sales office or visit the SQRAM website: https://sqflash.advantech.com/
Superior Speed: 4800MHz
Available Capacity: 16GB / 32GB
Compatible with the 12th Gen Intel® Core™ processors
Leverages 30u" Golden Finger interfaces and fixed BOM
Original high-quality chip adoption (Micron, Samsung)