Advantech to Demonstrate Healthcare and Smart Traffic Applications at NVIDIA GTC 2021
11/9/2021
Advantech, an Elite partner in the NVIDIA Partner Network, is proud to announce the upcoming presentation of two talks at NVIDIA GTC. One talk will introduce AI in healthcare technologies. The other, presented with leading Australia-based AI software company ANSCENTER, will detail a traffic monitoring deployment case study. Advantech and its partners will share their experience and expertise in healthcare edge computing for medical instruments and devices as well as smart traffic monitoring applications.
AI in Healthcare Applications
Advantech's healthcare talk, titled "How Medical AI Innovations Are Driving Better Hospital and Patient Experiences," discusses how IoT technologies and AI solutions are increasingly used in AI powered medical application and the resulting impacts on patient care. Advantech will detail how intraoral scanner enhancements such as. augmented performance speed, operational smoothness, and 3D rendering-enriched coloring can lead to improved patient experiences and accurate diagnostics in dentistry. The talk will also address workflows to improve CT/MRI radiology image clarity with denoising, as well as reducing the doses of radiation in scanners. Finally, endoscopy enhancements with AI models for inferencing will be discussed.
AI in Traffic and Smart City Applications
In a second talk titled "Intelligent AI Video Systems for Traffic Control in Smart Cities,"Advantech and ANSCENTER will detail rising AI-enabled traffic management demands that help manage urbanization. Advantech and ANSCENTER will showcase their end-to-end solution for customized Intelligent Video Management Systems used in smart city infrastructure and how it leverages the NVIDIA Metropolis application framework. This solution helps users design, optimize, deploy, and manage AI models on devices while configuring camera sources.
With hundreds of sessions this year, GTC offers a wealth of content. Between November 8th and 11th, attendees can survey topics ranging from "Getting started with AI" to deploying real-world robotics applications, for more advanced developers. Register for the Advantech talks for free here and browse the GTC session catalog.
How Medical Innovations Are Driving Better Hospital and Patient Experiences[Session ID: A31633]
Our speakers
Gabor Lochte, Sales Director iHealthcare Europe, Advantech Service-IoT Gmb
Michael C. Johnson, Vertical Key Account Manager, Advantech US
This session outlines three areas of improvement in medical imaging diagnostics — intraoral scanner performance improvements; CT/MRI imaging improvements; and endoscopy improvements. Advantech leverages the NVIDIA Clara healthcare application framework to equip clinical practitioners with robust systems that improve the speed, accuracy, and treatment of clinical diagnosis. Our offerings include the world's first fully- and NVIDIA-certified medical-grade box computer, as well as a high performance all-in-one medical computer — the PC-USM-501 and POC-8 series, respectively.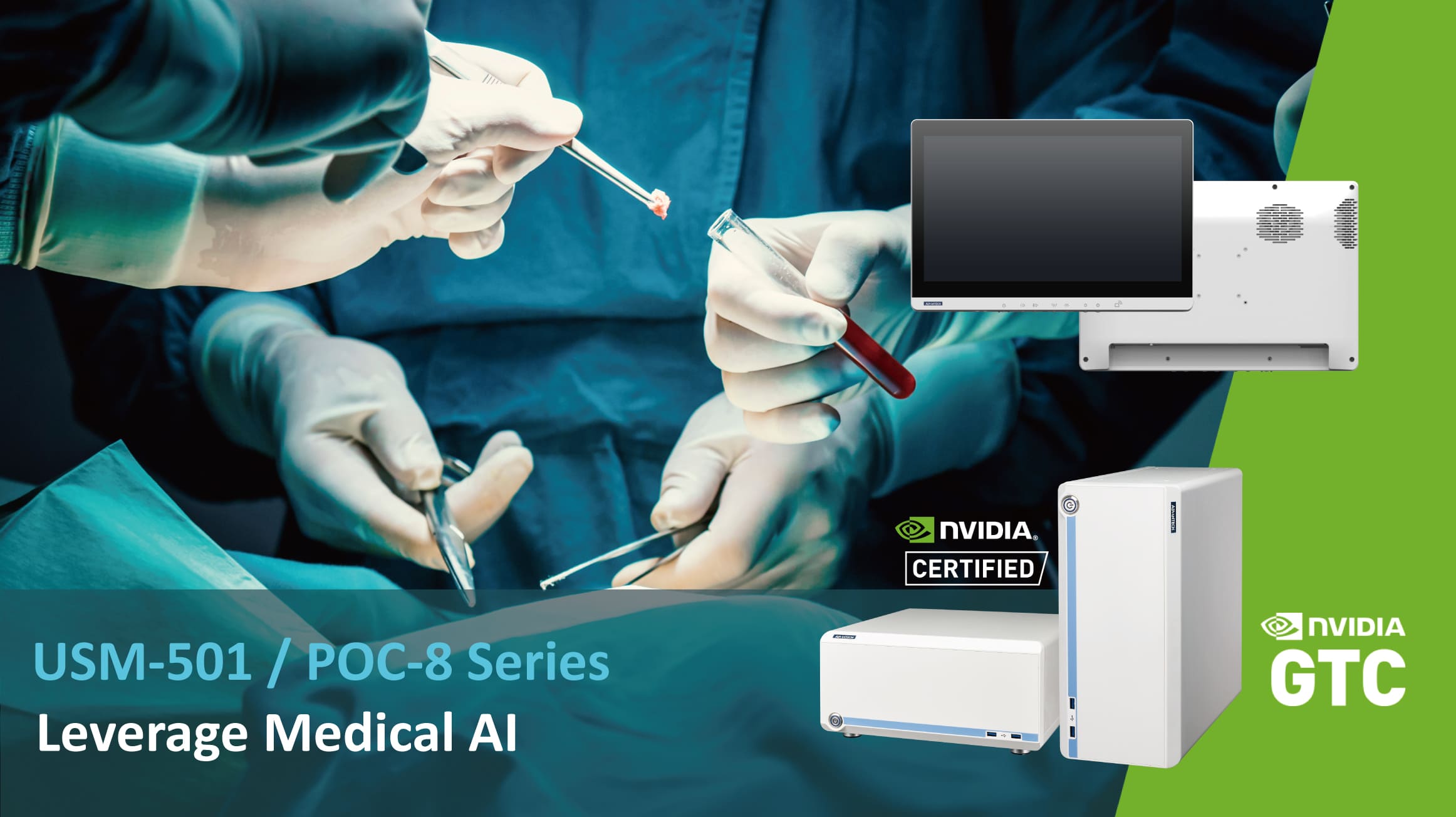 Intelligent AI Video System for Traffic Control in the Smart City[Session ID: A31649]
Our speakers
Allen Tsai, Industrial IoT Channel Sales Manager at Advantech Australia

Dr. Tuan Nghia Nguyen, Founder, CEO, ANSCENTER

Many cities are looking to AI to address congestion, reduce accidents, and remedy traffic issues related to increasing urbanization. AI-enabled video analytics and edge computing are essential to solving traffic problems. However, training, deploying, and managing the AI models used to establish intelligent video analytic systems is complex and costly. Learn how Advantech and its partner, ANSCENTER, use NVIDIA GPU-accelerated technologies to help cities improve traffic management and pedestrian safety with vision AI solutions.