Advantech to Launch the Industrial-Grade SQFlash SATA 650 Series
5/4/2022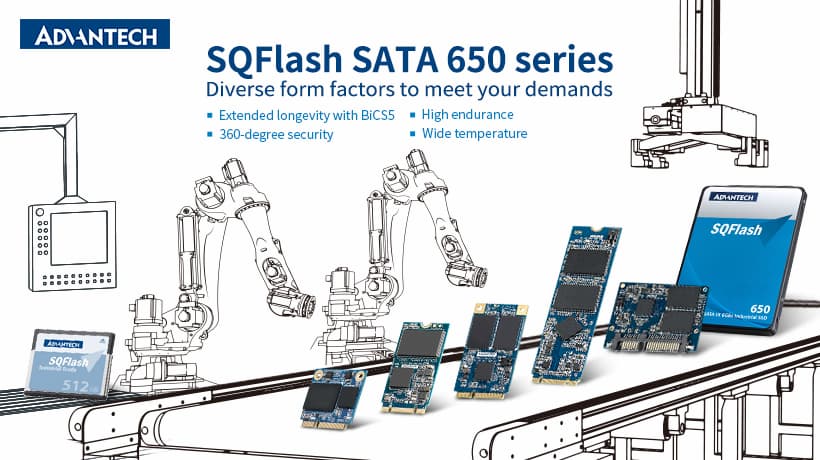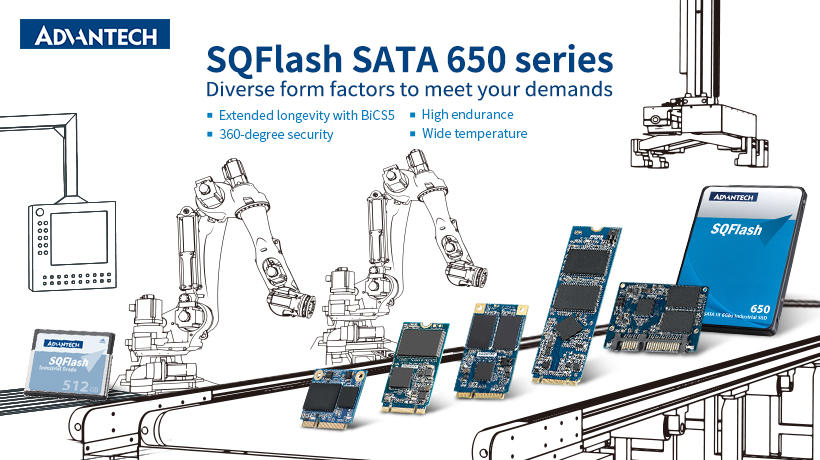 Advantech, a leading industrial flash storage solutions provider, is excited to announce the SQFlash SATA 650 Series with KIOXIA BiCS5 3D Flash. This series supports up to 2TB capacity and multiple temperature ranges in diverse form factors. Adhering to SQFlash's commitment to security and technology, this TCG-Opal compliant series with management tools delivers safe SSD user experiences. In addition, sTLC technology provides up to 10x endurance and is an excellent choice for write-intensive applications.
BiCS5 Flash with Extended Longevity and High-endurance Product Line
Advantech's SQFlash SATA 650 Series features KIOXIA BiCS5 3D Flash and supports a lifespan until at least 2025. Advantech's sTLC product line with 30k P/E cycle produces a 10-fold increase in endurance when compared to normal TLC products. In sum, this series' superior longevity and endurance make it a worthy successor to legacy SLC and MLC Flash products.
Multiple Temperature Range Support
BiCS5 Flash provides NAND chips with native extended temperature ranges that ensure reliable operation in extreme environments. The SQFlash SATA 650 Series supports multiple temperature ranges via its normal client temperature series, extended temperature series, and minus-grade series (at 0 ~ 70 °C, -40 ~ 85 °C, & -20 ~ 85 °C respectively). The new minus-grade series is an excellent fit for fanless system designs. Likewise, it is more affordable than comparable solutions.
DeviceOn/SQManager Intelligent Software Supports
The SQFlash SATA 650 Series supports the use of Advantech's DeviceOn/SQManager Software. This software helps monitor real-time performance and health status, while predicting the SSD drive's lifespan. Users can download McAfee anti-virus applications to protect SSD from viruses.
TCG Opal Compliant and 360-degree Security Protection
Advantech's SQFlash SATA 650 Series comprises a comprehensive selection of security features with the wide coverage of a TCG-OPAL compliant design. Hardware and firmware write protection prevents data from replacement and removal. Likewise, military erase via crypto erase enables full data sanitization on the SQFlash. In sum, security the functions provide comprehensive protection.
Wide range capacity: (TLC Series) 64GB ~ 2TB; (sTLC Series) 32GB ~ 512GB
Multiple operating temperature ranges: 0 ~ 70 °C/-20 ~ 85 °C/-40 ~ 85 °C
High-endurance sTLC solutions with longevity until 2025
Intelligent monitoring and management

TCG-OPAL compliant with diverse security features

Advantech's SQFlash SATA 650 Series will be released soon, with early customer samples available in May 2022. For more information on this or other Advantech products and services, please contact your local sales team or visit our website at https://sqflash.advantech.com/