Advantech to Release MIC-711 Series Based on NVIDIA Jetson Orin NX in Q1 2023 and NVIDIA Jetson Orin Nano in Q2 2023
9/21/2022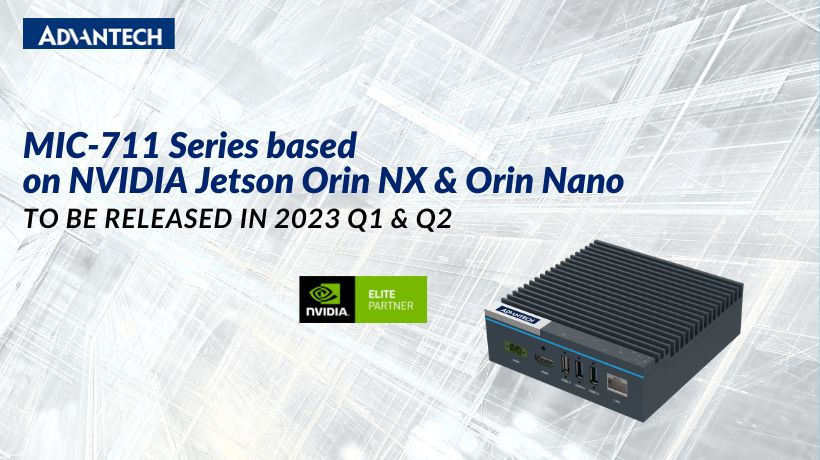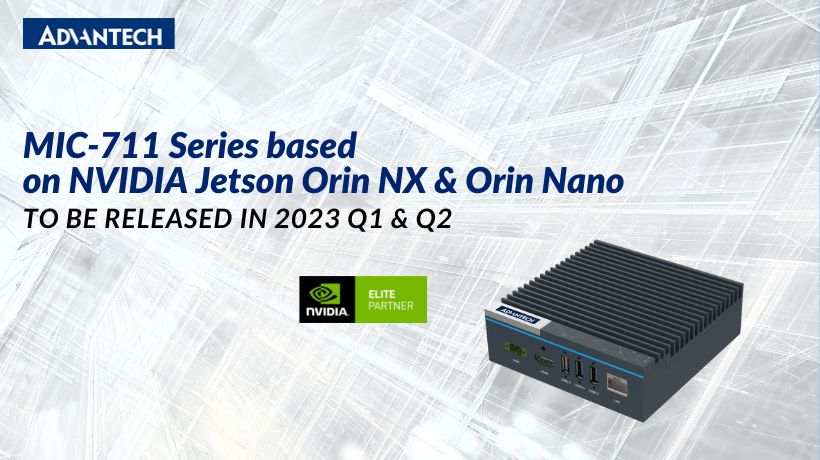 Advantech, a leading industrial edge AI solution provider, has announced the Q1 2023 release of the NVIDIA® Jetson Orin™ NX-based MIC-711-OX AI computing system and single board option. The Advantech MIC-711 series is a high-performance, compact, and fanless edge AI solution. It leverages Advantech industrial AI deployment expertise to empower easy AI implementation via board support package (BSP) updates. It features 2 x embedded wireless modules for communication flexibility, a maintenance door for direct access to OTG/SD card, and 30W power supply for 2 x cameras via USB 3.2. MIC-711-ON systems and its single board solution, with the new NVIDIA Jetson Orin Nano system-on-module (SOM) to be released in Q2 2023.
NVIDIA Jetson Orin NX is Smaller and More Powerful with Lower Power Consumption
MIC-711-OX leverages the NVIDIA Jetson Orin NX module to deliver AI performance with up to 100 trillion operations per second (TOPS) to the edge . Jetson Orin NX is smaller than a credit card and uses minimal power (10 ~ 25W). It provides 3 x the computing power efficiency of the NVIDIA Jetson AGX Xavier module, and 5 x that of Jetson Xavier NX. It can run multiple neural networks in parallel, and process data from myriad high-resolution sensors simultaneously.
MIC-711-OX Delivers Flexible Wireless Capabilities and Camera Support to the Edge
Advantech's MIC-711-OX is a compact (130 x 130 x 46 mm), fanless solution uniquely suited to AI video computing-intensive applications at the edge. It is capable of enduring the wide operating temperatures (-10 ~ 50 °C) found in outdoor/harsh-environment operations. Likewise, as part of the Advantech MIC-AI series, MIC-711-OX delivers multiple I/O — including 1 x LAN, 1 x HDMI, 1 x Micro SD, 2 x Nano SIM, 2 x USB 3.2, 1 x USB 2.0, 1 x Mini-PCIe, 2 x M.2, and optional GMSL2 to AI developers. Analogously, as large-scale deployment in diverse scenarios is increasingly common, developers require wireless solutions with greater flexibility. Accordingly, the MIC-711-OX provides 2 x Nano SIMs (1 x for 5G and 1 x for 4G/LTE mobile communication). MIC-711-OX helps implement AI video solutions at the edge by supplying power for 2 x cameras through 2 x USB 3.2. Each USB port supports 15W power input to help customers integrate cameras.
Easy-to-implement Solution with BSP Maintenance and The Single Board Solution
MIC-711-OX system is designed using the NVIDIA Jetson Orin NX and with developer-focused single board solution.. This is an easy way to accelerate the BSP update process. User can now download and use the latest BSP from NVIDIA website directly and no longer need to wait for updated from Advantech. In addition, MIC-711-OX system provides an easy way to update BSP on the hardware system. Indeed, users can reach the OTA port or SD card through the maintenance door on the front of MIC-711-OX. This design enables users to update the system quickly without complicated processes. Advantech further provides 24/7 remote management support and accommodation for BSP through Allxon, its software ecosystem partner. Together with MIC-711-OX, Advantech also release MIC-711-OX's single board solution, MIC-711D-OX.After undertaking the proof-of-concept process with MIC-711D-OX, Advantech provides the industrial design services needed to transfer the single board solution to the industrial system. This means the system meets harsh environment requirements, adheres to advanced certifications, and features excellent longevity support.
In sum, MIC-711-OX is a powerful and easy-to-implement edge AI system suitable for multi-channel video analytics in smart city applications. The Advantech MIC-711-OX will be released in Q1 2023, and under the same form factor, MIC-711-ON with NVIDIA Jetson Orin Nano will be released in Q2 2023. For more information, please contact your regional Advantech sales team or visit our website.
At NVIDIA GTC, learn additional details about the Jetson Orin platform, including the new Orin Nano, at "The NVIDIA Jetson Roadmap for Edge AI and Robotics" session on Tuesday, Sept. 20, 2022 at 10 a.m. PT, and available on demand thereafter.