Advantech Unveils Comprehensive Solutions Powered by 13th Gen Intel® Core™ Mobile Processors
1/4/2023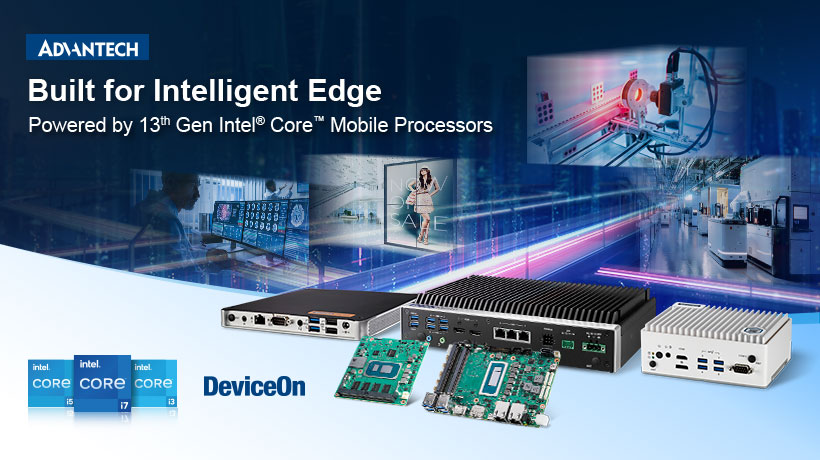 Taipei, January 4, 2023 - Advantech (TWSE: 2395), a global leader in Industrial IoT, is pleased to announce the launch of edge computers and embedded boards with 13th Gen Intel® Core™ Mobile Processors. This lineup comprises the EI-53, ARK-2251, DS-086 edge computers; the SOM-6884 COM Express module, and the MIO-5377R single board computer (SBC). These solutions deliver high CPU performance and power efficiency to diverse applications — including those found in smart factory and AGV/AMR, medical, retail, and edge AI applications. In addition, these solutions feature Advantech DeviceOn — a software platform — capable of managing over 10,000 AIoT devices on public and private clouds — that improves management efficiency and AI operation.
Empower the Intelligent Edge: Real-Time Multitasking, Better Power Efficiency
Available in Core i9, i7, i5 and i3, 13th Gen Intel® Core™ Mobile Processors support 15 ~ 45W power bases and offer up to 14 cores and 20 threads to enhance computing performance by up to 8% when compared to previous generation processors. Moreover, these CPU feature an integrated 2.5G TSN port and DDR5-5600 memory to enable IT/OT integration and reliable low latency machine-to-machine communication at gigabit speeds. These CPU leverage up to 96 graphics execution units and extended temperature range support and make Advantech's solutions perfect choices for industrial applications that require parallel AI workload processing.

Enable Diverse AIoT Applications via Advantech's Line-up
Advantech delivers 13th Gen Intel® Core™ Mobile Processor-based edge computers and embedded boards that enable diverse AIoT applications.
SOM-6884 COM Express R3.1 Type 6 Module for Medical Equipment
SOM-6884 delivers excellent computing performance and supports DDR5 memory, USB 4, PCIE Gen 4, and CAN-FD to empower medical applications. · MIO-5377R SBC for AI and Machine Vision Applications
MIO-5377R provides USB 3.2 and GbE for high-definition cameras. It also leverages USB 4 Type-C for RGB-D or depth camera. Indeed, this is the first SBC with USB 4 that expands AI and machine vision applications.
EI-53 Powerful Edge Intelligent System for Automation and Green Energy
By leveraging M.2 2230/2280/3052 for AI add-on and Wi-Fi/5G connectivity, EI-53 accommodates automation and green energy applications.
ARK-2251 Edge Computer with Modular Expansion for Smart Automation
ARK-2251 features a modular iDoor design for flexible I/O expansion—including CANBus, LAN (with optional PoE module), COM, USB, HDMI, and DIO to meet factory automation demands.
DS-086 8K Multi-display Digital Signage Player
DS-086 is the slimmest signage player powered by 13th Gen Intel® Core™ Mobile Processors (19 mm thick). It supports 4 x HDMI ports to deliver up to 8K resolution and drive premium visual experiences and graphics performance.

Advantech's complete product line will be available between Q2 & Q4 of 2023. For more information regarding this and other Advantech products and services, please contact Advantech's sales support team or visit our website at www.advantech.com.