Get Ready for Next-Generation Display Solutions Aimed at Preventing Emerging Pandemics
10/1/2020
Research indicates that 94.4% of hospital equipment is contaminated with one or more bacterial species. Likewise, Covid-19 and some forms of bacteria can survive for up to 96 hours on your phone or medical display. With this in mind, correctly selecting your next medical display may prevent a potential outbreak.
Advantech offers industrial grade touch LCD panels with different screen sizes suitable for varied testing instruments and medical monitoring systems. We seek to help our customers manage the pandemic effectively.
Choose displays with anti-bacterial treatments
According to the SGS tests, the deployment of anti-bacterial treatments to touchscreens is a proactive solution. According to lab tests, anti-bacterial treatments can eliminate 99% of bacteria over the course of 24 hours.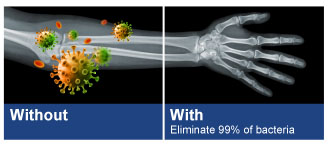 Clean displays carefully to avoid damage
To clean and sanitize your display without damaging it, you should apply a 75% alcohol solution or a 1:100 dilution of bleach using a cloth, as suggested by the CDC.
Full-flat touch display avoids the accumulation of harmful fungi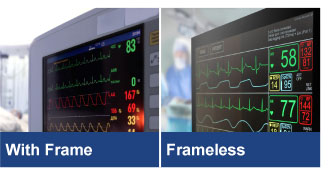 Medical workstations with flat-panel designs are becoming increasingly important in healthcare applications. Frameless bezels avoid the accumulation of dust on front bezels, yielding a solution that is easier to clean and hence better avoid contamination. Likewise, the use of PCAP solutions eases operations with quicker response times, and supports touch usage even while wearing thin medical gloves.
Optical bonding solution prevents problems caused by fog and mold to deliver high-contrast image performance displays
Using an optical bonding solution on displays enhances image color performance by improving display contrast ratios whilst reducing glare and reflections. Optical adhesives applied between the touchscreen and panel prevents fogging when ambient temperatures change quickly.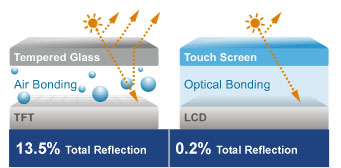 Recommended Product Offerings