High-Performance Energy-Efficient Designs Ease AI Integration
3/1/2021

The International Data Corporation (IDC) "Worldwide Artificial Intelligence Spending Guide" indicates that global spending on AI is increasing. Indeed, it predicts a doubling in spending over the next 4 years — growing from $50.1 billion in 2020 to more than $110 billion in 2024.
Advantech, as a leading IPC company, is ready to exploit the increasing use of AI across a range of applications. To this end, Advantech has developed a wide series of AI solutions with high-performance GPUs aimed at maximizing the acceleration of massively parallel applications. These applications include deep learning, self-driving cars, smart cities, medical technology, high performance computing (HPC), and virtual reality.
Solution: Power Supplies Empower AI
Data-hungry AI applications require high-performance computing. This necessitates power supplies with higher power density (up to 74W / inch³), higher efficiency (up to 80 Plus Titanium certification), and digital interface PMBus 1.2 protocols for intelligent monitoring. Efficient power designs empower businesses by lowering heat output, waste, and operating costs.
Advantech's comprehensive series is designed to implement AI, and leverages a three-tier system covering AI GPU servers and AI edge system end-to-end solutions.

In the top tier, highly efficient 80+ Platinum redundant embedded CRPS power supplies (1200 ~ 2400W) enable smart fan control and thermal management. This tier delivers AI via highly scalable GPU-optimized rackmount servers while protecting the environment. In the second system tier, Advantech combines single ATX PS2 700/1200W and Flex 500/850W with GPU cards for advanced calculations. This second tier meets machine vision, machine learning, and big data analysis demands. In bottom edge hardware platforms, Advantech devices are powered by a full range of IEC 62368-1 certified DIN Rail power supplies (480 ~ 960W), empowering real-time AI video applications in surveillance, transportation, and manufacturing sectors.
Solution: Memory and Storage Enabled AI
The diverse variety of AI applications is creating different memory and storage requirements. Specifically with regards to AI training phases, processing at the edge, and AI cloud implementation. Bandwidth, density, latency, power, and cost are key memory performance factors.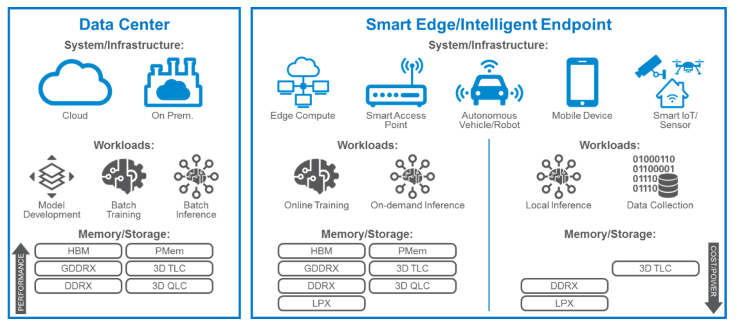 Advancing Storage Architectures Delivers AI Opportunities
Future AI applications are giving rise to new storage architectures.
Memory solutions, such as DDR4, are datacenter and server applications workhorses. The desire to leverage greater amounts of data has facilitated the transition from DDR3 to DDR4, yielding increased performance and density when compared to previous DRAM generations.
SATA SSD to PCIe Performance SSD
Similar to the transition to DDR3, the SATA SSD to PCIe performance SSD transition will boost storage bandwidth. It will also increase input output per second (IOPS) performance and utilize features that reduce overall power consumption. In contrast to the SATA SSD usually found in general IPCs, PCIe SSD will target edge AI applications and server platforms where size and cost are significant constraints.
General Grade HDD to Server Class HDD
Server grade HDDs deliver improved endurance, larger capacities (over 20TB), RAID capabilities, and 24/7 operation. Designed specifically for servers, these HDD support RAID configuration for specific duty cycles. Cloud computers are always operating and driving data, as such they endure extensive wear and tear when compared to general, limited use IPC. Enterprise hard drives accommodate longer, 24/7 operating periods with features not found on general HDD. They deliver enough storage for AI image classification and speech recognition.
Although current systems are in early development stages, AI based industrial systems will come to floriation in the next few years. These upcoming AI systems will deliver decision-making and analysis services to cloud systems at the edge and serve critical networking operations. In contrast to the traditional focus on computing capabilities, AI solution architects are increasingly designing AI systems with memory and storage in mind.
PS8-500ATX-BB / FSP AC to DC 100-240V ATX 500W 80 Plus Bronze

PS8-700ATX-BB / FSP AC to DC 100-240V ATX 700W 80 Plus Bronze
96PS-A1K2WPS2G / PS/2 A/D 100-240V 1200W ATX GOLD 62368
PS8-500FATX-GB / FSP AC to DC 100-240V FLEX ATX 500W 80 Plus Gold
XHPC-FSP85050FGPH3 / A/D 100-240V 850W FLEX ATX PLATINUM 62368
96PSD-A480W24-MN / A/D 100-240V 480W 24V NDR DIN RAIL
96PSRM-A1K2WCRPA / RPSU CRPS Module A/D 100-240V 1200W 80+ Platinum
96PSRM-A1K6WCRP / RPSU CRPS Module A/D 100-240V 1600W 80+ Platinum
96PSRM-A2KWCRPA / RPSU CRPS Module A/D 100-240V 2000W 80+ Platinum
Recommended DRAM Memory Module
AQD-D4U8GR32-SE / Advantech 8GB DDR4-3200 1GbX8 1.2V Registered Samsung Chip
AQD-D4U16GR32-SE / Advantech 16GB DDR4-3200 1GbX8 1.2V Registered Samsung Chip
AQD-D4U32GR32-SB / Advantech 32GB DDR4-3200 1GbX8 1.2V Registered Samsung Chip
AQD-D4U8GR32-SEW / Advantech Wide Temp 8G DDR4-3200 1GX8 1.2V Registered Samsung Chip
AQD-D4U16R32-SEW / Advantech Wide Temp 16G DDR4-3200 1GX8 1.2V Registered Samsung Chip
AQD-D4U32R32-SMW / Advantech Wide Temp 32G DDR4-3200 2GX8 1.2V Registered Samsung Chip
AQD-D4U8GE32-SEW / Advantech Wide Temp 8G DDR4-3200 1GX8 1.2V ECC Samsung Chip
AQD-D4U16E32-SEW / Advantech Wide Temp 16G DDR4-3200 1GX8 1.2V ECC Samsung Chip
AQD-D4U32E32-SBW / Advantech Wide Temp 32G DDR4-3200 2GX8 1.2V ECC Samsung Chip
AQD-SD4U8GE32-SEW / Advantech Wide Temp 8G SO-DDR4-3200 1GX8 1.2V ECC Samsung Chip
AQD-SD4U16E32-SEW / Advantech Wide Temp 16G SO-DDR4-3200 1GX8 1.2V ECC Samsung Chip
AQD-SD4U32E32-SBW / Advantech Wide Temp 32G SO-DDR4-3200 2GX8 1.2V ECC Samsung Chip
Recommended Solid State Drive (SSD)
96FD25-ST240-M53P / Micron 5300 PRO 2.5" 240GB SATAIII 3D TLC SSD
96FD25-ST480-M53P / Micron 5300 PRO 2.5" 480GB SATAIII 3D TLC SSD
96FD25-ST960-M53P / Micron 5300 PRO 2.5" 960GB SATAIII 3D TLC SSD
96FD25-ST1.9T-M53P / Micron 5300 PRO 2.5" 1.9TB SATAIII 3D TLC SSD
96FD25-ST3.8T-M53P / Micron 5300 PRO 2.5" 3.8TB SATAIII 3D TLC SSD
96FD25-ST7.6T-M53P / Micron 5300 PRO 2.5" 7.6TB SATAIII 3D TLC SSD
96FD25-S128-TS / SSSTC Semi Wide-Temp 2.5" 128GB SATAIII 3D TLC SSD
96FD25-S256-TS / SSSTC Semi Wide-Temp 2.5" 256GB SATAIII 3D TLC SSD
96FD25-S512-TS / SSSTC Semi Wide-Temp 2.5" 512GB SATAIII 3D TLC SSD
96FD25-S1TB-TS / SSSTC Semi Wide-Temp 2.5" 1TB SATAIII 3D TLC SSD
96FD80-N128-TS / SSSTC Semi Wide-Temp M.2 2280 128GB SATAIII 3D TLC SSD
96FD80-N256-TS / SSSTC Semi Wide-Temp M.2 2280 256GB SATAIII 3D TLC SSD
96FD80-N512-TS / SSSTC Semi Wide-Temp M.2 2280 512GB SATAIII 3D TLC SSD
96FD80-N1TB-TS / SSSTC Semi Wide-Temp M.2 2280 1TB SATAIII 3D TLC SSD
Recommended Hard Disk Drives (HDD)