Enabling Reliability in AI- Advantech MIC-715 ruggedized system for heavy industry and in-vehicle application
2/17/2022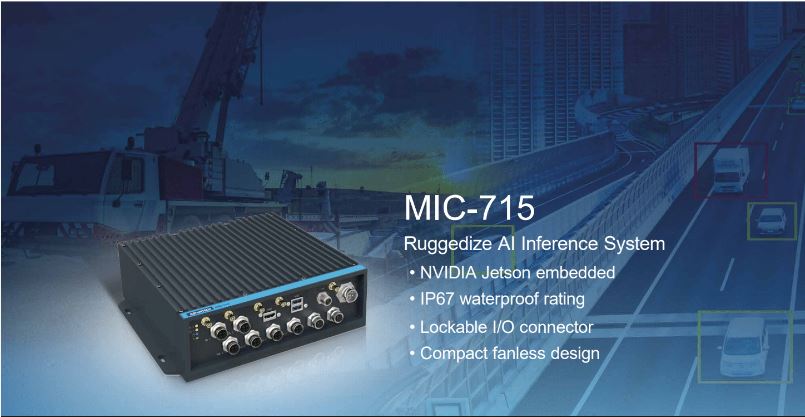 Advantech, a leading industrial edge AI solution provider, is excited to announce the release of MIC-715 — an innovative, ruggedized edge AI system for applications in harsh environments. Leveraging NVIDIA® Jetson Xavier™ NX, this solution features an IP67 rating for water and dust, lockable connectors for vibration tolerance, a machine ignition protection system, built-in PoE, and GMSL2 video interface support.
Improving Heavy Industry with Edge AI
AI has demonstrated great potential in traffic, security, and/or manufacturing applications, but remains in the early phases of its implementation within heavy industry. Heavy industries often entail costly 24/7 operation in harsh environments dangerous to laborers. AI enabled autonomous equipment presents opportunities to improve this situation by augmenting the efficiency, accuracy, and safety of these industries. Accordingly, Advantech's MIC-715 ruggedized edge AI system is designed with this and in-vehicle AI applications in mind.
Superior Performance in Harsh, Critical Environments
Advantech's MIC-715 is powered by a NVIDIA Jetson Xavier NX — a light, compact fanless module (275 x 220 x 80 mm/10.8 x 8.6 x 3.1 in; 4.5 kg/9.9 lb). It leverages M12 connectors, supports operation in broad temperatures (-25 ~ 60 °C; 77 ~ 140 °F), and boasts an IP67 rating. Similarly, all of MIC-715 I/O are lockable, engendering advanced vibration resistance. MIC-715 supports cameras via an integrated PoE port, and will soon support up to 6 x Gigabit Multimedia Serial Link 2(GMSL2) cameras. This combination of features makes MIC-715 uniquely suitable to applications in to harsh environments.
Protective Mechanism Prevents Ignition Stalling
Advantech's MIC-715 leverages a protective ignition mechanism that reduces engine stalling and system operation during circumstances with unstable input voltage. Likewise, users can manually adjust this solution's ignition time via connected machines. As a member of the MIC-AI series, MIC-715 provides flexible I/O, diverse peripherals, excellent longevity, and board support package (BSP) capabilities. Indeed, MIC-715 is capable of supporting Wi-Fi, 4G/LTE, and 5G simultaneously. This solution is available for order now. For more information about this or other Advantech solutions, please contact your regional sales representative or visit our website.