Advantech Launch MIC-733-AO AI Computing System Based on NVIDIA Jetson AGX Orin
1/31/2023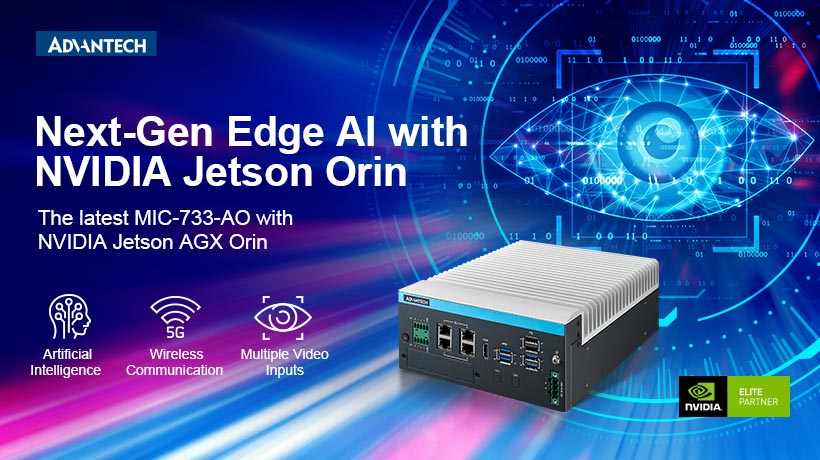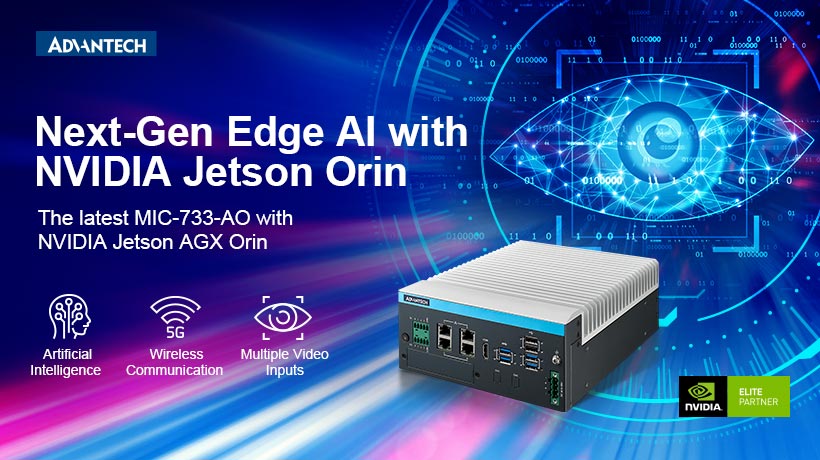 Advantech, a leading industrial edge AI solution provider, has release of MIC-733-AO, a NVIDIA® Jetson AGX Orin™-based AI computing system. Designed for the growing trend on Video + AI + 5G application, MIC-733-AO features superior computing power, flexible video input support, and wireless communication. Buttressed by 24/7 remote management support, MIC-733-AO is the best industrial edge AI computing system for AMR/AGV applications, and it is ready for the coming opportunities in smart agriculture and smart transportation.
MIC-733-AO is a compact fanless system capable of enduring wide operating temperatures (-10 ~ 60 °C; 14 ~ 140 °F) found in outdoor/harsh environments. It delivers a flexible array of expansion slots and multiple I/O — including 4 x USB 3.2, 2 x Mini-PCIe, and 2 x M.2. Additionally, it offers iDoor and iModule expansion and support for diverse peripherals. There is also I/O module customization available through the Mini-PCIe and full PCIe interfaces. This includes the use/modification of CANBus controllers, Cameralink frame grabbers, or PoE modules for IP cameras.
Empowering High-Performance AI Applications with NVIDIA Jetson AGX Orin
The Advantech MIC-733-AO computing system leverages the powerful NVIDIA Jetson AGX Orin system-on-module (SOM) for energy-efficient autonomous machines. These solutions accelerate NVIDIA AI software stacks with up to 4x the CUDA cores and 8x the performance of the NVIDIA Jetson AGX Xavier modules. In addition, these solutions support multiple sensors and the latest high-speed interfaces.
Support for Multiple Video Inputs to Help Customers Integrate Cameras
Video AI has become mainstream for edge AI analytics. However, existing video equipment uses various formats and has greatly challenged edge AI integration. In order to integrate existing video with AI computing, MIC-733-AO provides support for multiple video inputs, including GMSL, USB, and PoE. By inserting a GMSL card, MIC-733-AO can support 2 x GMSL2 cameras. MIC-733-AO is equipped with 4 x USB 3.2 Gen2 (10Gbit/s) for high data transmission USB cameras. With iModule expansion, the MIC-733-AO version can support 8 x USB 3.2 Gen2, 4 x GbE PoE or 8 x GMSL2 cameras. To help implement AI video solutions at the edge, MIC-733-AO supplies up to 60W of power to cameras from 4 x PoE ports (which can be upgraded from 4 x LANs) to help customers integrate cameras. Customers can choose either 4 x 15W/port or 2 x 30W/port.
MIC-733-AO Delivers Wireless Capabilities on 5G, 4G, and Wi-Fi
Furthermore, as large-scale deployment in diverse scenarios becomes increasingly common, developers require wireless solutions with greater flexibility. Accordingly, MIC-733-AO preserves Mini-PCIe expansion to support 4G/Wi-Fi modules for mobile communication. Also, with the growing demand for 5G communication, MIC-733-AO has a dedicated M.2 3052 for 5G applications.
Remote Management on OTA and OOB Support for Large-Scale Deployment
MIC-733-AO is aimed at helping developers with high-performance AI applications at the edge, large-scale deployment, and data security during implementation. Advantech collaborates with Allxon to provide a 24/7 remote management service on the NVIDIA Jetson edge AI and robotics platform, enabling large-scale deployment and device management through over-the-air (OTA) and out-of-band (OOB) service. MIC-733-AO is also Azure IoT certified with the Microsoft reference configuration. In addition, the Azure Edge Managed Program, Microsoft Defender for IoT, delivers threat detection to the device's operating system and applications.
To conclude, MIC-733-AO with NVIDIA Jetson AGX Orin delivers superior computing power, flexible video inputs and wireless communication, yielding a solution capable of empowering video + AI + 5G computing at the edge. For more information about MIC-733-AO, please contact your regional sales team or visit our website