The Advantech MIC-733 with NVIDIA Jetson AGX Orin Is Now a Microsoft Azure Certified Device and Features a Verified Edge Managed Program
9/21/2022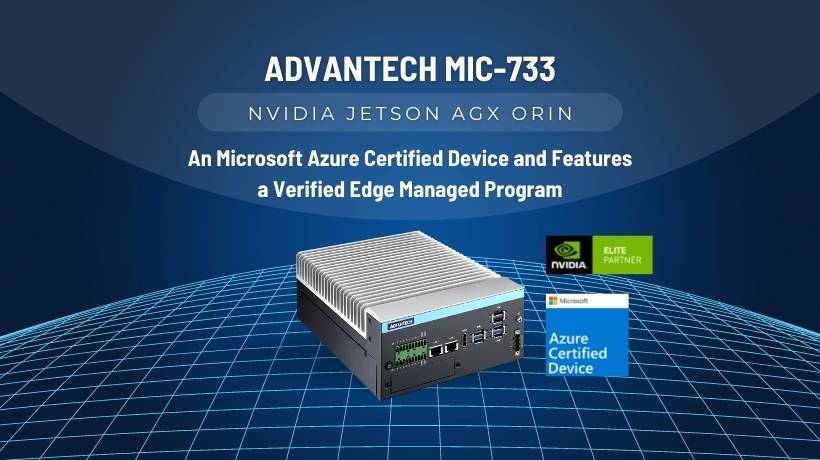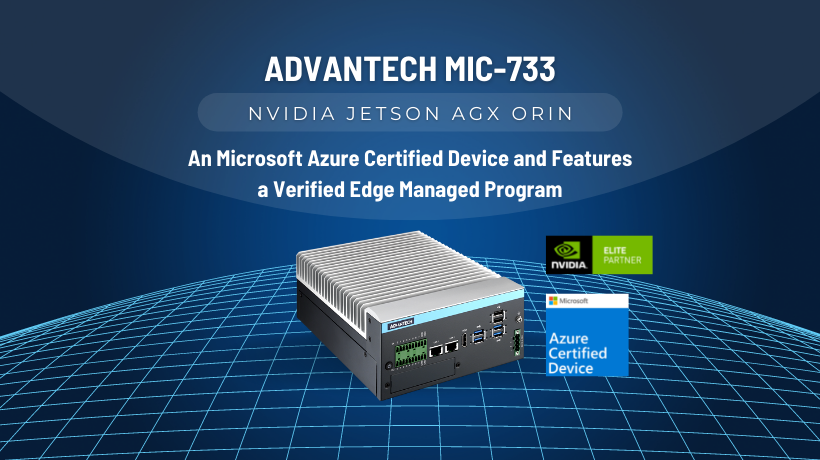 Advantech, a leading industrial edge AI solution provider, is proud to announce that the MIC-733 — an NVIDIA® Jetson AGX Orin™-based AI computing system — is now a Microsoft Azure Certified Device and features a validated Edge Managed Program. Microsoft Azure Certification enables MIC-733 customers to get IoT solutions up and running quickly and safely using pre-tested hardware and software validated to work with Azure IoT.
Microsoft Azure Certification on NVIDIA AGX Orin Saves Time, Effort, and Maintenance During AI Implementation
Artificial intelligence (AI) and the proliferation of billions of IoT devices are transforming almost every industry, and AI at the edge now enables use cases that we could only imagine until recently. Developers and solution builders can now leverage powerful NVIDIA Jetson AGX Orin modules with Microsoft Azure and use the NVIDIA DeepStream software development kit to create, deploy, and operate powerful AI solutions at the edge, accelerating product development and deployment at scale.
In an effort to simplify and accelerate IoT projects, companies seek ways to connect the right set of devices, assets, and/or sensors to the cloud. Indeed, customers are looking for certified devices and platforms that are tested for readiness, compatibility, and usability. Azure Certified Devices save time and effort when conducting project specs and RFP processes by ensuring that devices and offerings are Azure IoT Edge compatible.
The Advantech MIC-733 also features a validated Azure Edge Managed Program with enhanced security via Microsoft Defender for IoT micro-agent integrated into the device. This enables device builders and solution operators to create secure-by-design, managed IoT devices. Defender for IoT is an IoT Endpoint Detection and Response (IoT EDR) solution that delivers continuous asset discovery, vulnerability management, and threat detection across a device's operating system and applications.
MIC-733 Empowers High-Performance AI Applications with NVIDIA Jetson AGX Orin
The Advantech MIC-733-AO computing system leverages the powerful NVIDIA Jetson AGX Orin to empower energy-efficient autonomous machines. These solutions accelerate NVIDIA AI software stacks with 4x the CUDA cores and 8x the performance of the NVIDIA Jetson AGX Xavier modules. In addition, these solutions support multiple sensors and the latest high-speed interfaces.
What's more, the MIC-733 system design is uniquely suited to edge AI applications. MIC-733 is a compact fanless system capable of enduring wide operating temperatures (-10 ~ 60 °C; 14 ~ 140 °F) found in outdoor/harsh-environments. It delivers flexible expansion slots and multiple I/O — including 4 x USB 3.0, 2 x Mini-PCIe, and 2 x M.2 to AI developers. Plus, the iDoor and iModule expansion; and support for diverse peripherals enables I/O module customization through the Mini-PCIe and full PCIe interfaces. This includes the use/modification of CANBus controllers, CoaXPress frame grabbers, or PoE modules for IP cameras. Likewise, in order to accommodate growing high-performance AI demands, MIC-733-AO's features 4 x GbE ports for high-speed data transmission that allows 5G communication. In sum, MIC-733-AO leverages the powerful Jetson AGX Orin-based AI computing and advanced 5G low-latency capabilities to empower edge AI applications.
MIC-733 is Certified for Microsoft Azure and Aids Edge AI Applications
MIC-733-AO is aimed at helping developers with high-performance AI applications at the edge, large-scale deployment, and data security during implementation. Azure IoT certification ensures that MIC-733 is tested for functionality and interoperability with the Microsoft reference configuration. In addition, the Azure Edge Managed Program, Microsoft Defender for IoT, delivers threat detection to the device's operating system and applications.
To conclude, the Microsoft Azure Certified MIC-733 for NVIDIA Jetson Orin delivers superior computing power and wireless communication, yielding a solution capable of empowering AI computing at the edge. For more information, please visit the Azure Certified Device Catalog and/or the Advantech website.
https://nvda.ws/3RxXUps