Advantech Partners with Imprivata to Provide Seamless Healthcare Authentication Solution
7/1/2021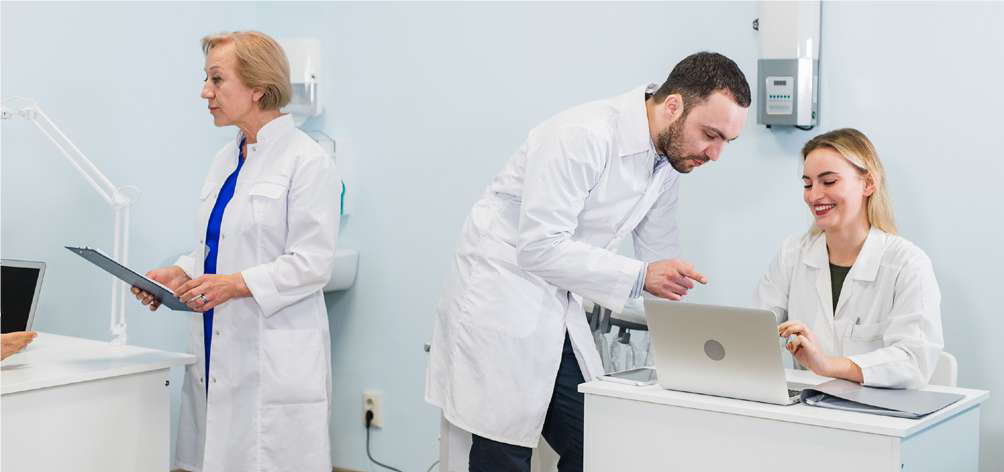 Nowadays, devices are increasingly employed to capture, aggregate, transmit, and analyze data in real time. However, because of their interconnectivity, each device represents a point of potential risk to the confidentiality of patient information. However, implementing user authentication as an access security measure can cause workflow bottlenecks that impede or delay the delivery of care. This can discourage healthcare providers from implementing authentication measures, leaving them vulnerable to unauthorized access and data losses. To address this issue, healthcare IT security company Imprivata partnered with Advantech to validate its identity and multi-factor authentication technology on Advantech's medical-grade devices in order to provide a solution for enhanced digital access management.
Convenient and seamless user authentication
Since 2002, Imprivata has sought to simplify the complexities of user authentication and access security. The company provides healthcare organizations around the world with a security and identity authentication platform that delivers ubiquitous access, positive identity management, and multi-factor authentication functions. Imprivata enables healthcare security by establishing trust between people, technology, and information to address critical compliance and security challenges while improving productivity and patient care.
Interconnected medical-grade devices, such as patient monitoring systems, are becoming more and more valuable to the delivery of quality patient care. Such devices are largely used to collect data and facilitate the electronic exchange of patient information and medical records. To address related security risks, Imprivata developed Imprivata OneSign, an access management solution for clinicians worldwide. Imprivata OneSign is a comprehensive identity and multi-factor authentication platform that eliminates the manual entry of usernames and passwords. With Imprivata OneSign, more than 8 million medical professionals in thousands of hospitals have been able to enjoy fast and convenient access to computing endpoints, patient information, as well as mobile and medical-grade devices by simply tapping a proximity badge or having their fingerprint scanned.
A single Imprivata OneSign authentication instance will work across all medical-grade devices through seamless API - level integrat ion and SaaS-based applications. The technology increases operational efficiency by simplifying access and streamlining workflows. This integration also gives organizations better visibility into how, when, and where medical professionals access and interact with patient health information on medical-grade devices, which is key to satisfying industry compliance regulations.
For example, Summa Health, one of the largest health systems in northeast Ohio, implemented Imprivata Medical Device Access, which offers direct integration with point-of-care medical-grade devices, in order to streamline clinician authentication. The solution was implemented across 48 departments and has provided over 1,400 medical staff with convenient and secure access to medical-grade devices.
Co-creating complete smart healthcare solutions incollaboration with Advantech
To deliver more smart innovations in healthcare, Imprivata is actively connecting with partners in the smart healthcare industry. The company was especially impressed with Advantech and its position as a leading manufacturer of medical-grade computing devices. Advantech's tablets and all-in-one computers are often deployed as mobile workstations, providing crucial support for healthcare workers by increasing the mobility of data access. Accordingly, Imprivata decided to collaborate with Advantech to improve user authentication and access security in healthcare.
The partnership between Imprivata and Advantech involved validating Imprivata's authentication platform on Advantech's medical-grade devices. Advantech provided authentication modalities, such as RFID and fingerprint scanning hardware, which were found to be compatible with Imprivata's digital identity authentication platform. Moreover, Advantech's f ingerpr int scanner also satisfies the Federal Information Processing Standards - Publication 201 (FIPS-201) requirements and is approved for use in the prescription of controlled substances within the U.S.
In regards to the platform application, enabling fast and reliable user authentication and creating an auditable chain of trust across the entire enterprise workflow can improve security by allowing convenient access to patient records and other sensitive data. Moreover, by streamlining the authentication workflow, this joint solution can improve operational efficiency and allow clinicians to spend more time focusing on patient care.
Advantech's medical-grade devices validated and equipped with Imprivata OneSign technology enable tighter security protocols, such as locking down networkconnected devices and enforcing stricter password complexity, session timeout, and auto-locking protocols, without impacting productivity. This allows healthcare organizations to improve the security and management of protected health information while ensuring convenient data communication across networked devices for increased service efficiency and enhanced patient care.
As leaders in the healthcare IT industry, Advantech and Imprivata have a range of products that offer unique potential for future collaborations and innovations. Both parties hope to co-create more forward-looking smart healthcare security solutions together in order to build a brighter and better future with smart healthcare.