Top Artificial Intelligence Trends and Their Application in Healthcare
5/25/2022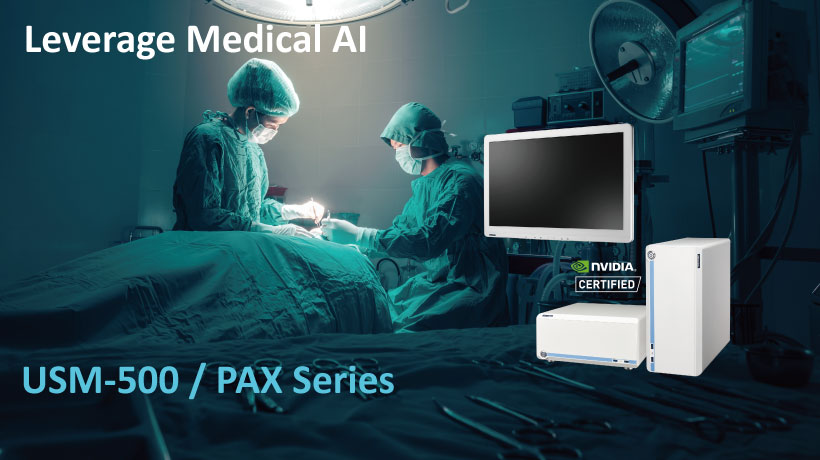 Photos provided by Advantech
Article by Frost & Sullivan
Globally, the medical imaging market, which comprises technologies (e.g. CT scan, MRI, ultrasounds and X-rays) used for diagnosis, treatment, or monitoring is expected to grow substantially at a CAGR of 6.8%. During the same period, the global imaging informatics market, which comprises Radiology Information Technology (IT) and Enterprise Imaging IT technologies and supports doctors in interpreting increasingly complex images, is expected to grow at a CAGR of 7.6%.
Growth Drivers & Restraints
As global healthcare recovers from the impact of COVID-19, the backlog of screening and diagnostic imaging procedures will be addressed from 2022 onwards, leading to increasing demand for radiologists and procurement of additional diagnostic imaging equipment to address this rising demand. Cloud-based systems are likely to replace traditional picture archiving and communication systems as grow this further supported by increasing digitization. These cloud-based artificial intelligence (AI)systems are increasingly popular due to their potential to reduce the workload of radiologists, boosting productivity to meet growing demand. To successfully digitize imaging informatics, companies will need to solve the issues in data migration between different platforms to support continued growth.
Increasing implementation of AI in diagnostics
The first key trend is how AI algorithms are being developed for use with traditional diagnostic equipment throughout the imaging process. For example, there are AI systems that aid positioning of patients before imaging to increase consistency. These systems then utilize deep-learning neural networks to reconstruct images with better low-contrast detectability, reducing radiologist reading time while also achieving a lower radiation dose and noise. Additionally, there are diagnostic AI technologies which come into play towards the end of the imaging process. This can be seen through a solution developed by Advantech and its partner, whereby the solution analyses chest X-rays to detect problems and highlights patients with life threatening lesions to radiologists for immediate treatment. This is highly beneficial for patients as it allows them to receive prompt care which could not have been achieved in the traditional first come, first serve workflow.
Increasing implementation of AI imaging solutions in surgery
Surgical workflows (pre, during, and post)and AI systems that support better surgical outcomes are increasingly being implemented. Pre-surgery, AI is supporting surgeons in their planning by turning traditional CT or MRI scans into 3D reconstructions. The National Health System (NHS) in the United Kingdom has recently partnered with a company that uses deidentified scans from NHS clinicians to create 3Dreconstructions. The 3D image segmentation is used to reconstruct the organs and it is checked for accuracy before reconstruction. The model is then used by surgeons to assess a patient's anatomy as part of their pre-operative planning. Moving forward in the surgical process, AI systems are being used to improve the consistency of treatment between surgeons. Applications such as OrthoGrid's surgical navigation applications, assist orthopedic surgeons in real time and help them to reduce errors and improve patient outcomes. It is able to do so with unmatched efficiency as it utilizes Advantech's USM-500, a medical-grade high performance computer, to capture real-time images for AI processing to provide instantaneous feedback. OrthoGrid's AI ecosystem of procedure specific apps aims to interpret, assess, and process critical data from fluoroscopic X-ray images so surgeons can make faster and more reproducible clinical decisions. Before, during, and after surgery, Theator's Surgical Intelligence Platform supports post surgery analysis of the recorded surgery videos generates analytics from surgical videos. It send-to-end Surgical Intelligence Platform captures intraoperative surgical video using, NVIDIA certified, USM-500 to record surgeries in 4K.All surgeries are anonymized, uploaded to the cloud; from the cloud, videos are analyzed to provide insights such as procedural challenges and annotations that improve consistency and performance variability in surgical performance and opportunities for improvement. Overall, the platform contributes to reduced surgical variability and improved patient care as well as operational efficiency.
Barriers to AI Implementation
Despite the advantages that AI brings to healthcare systems in terms of efficiency and patient care, there remain fundamental barriers to implementing AI. Data privacy and security are top of patients and regulators minds when it comes to providing AI with access to sensitive health data. Authorities are also still grappling with how to regulate an ever- changing AI system. Moreover, creating a usable and understandable AI for healthcare workers while structuring the variety of healthcare data into usable inputs will require personnel trained in both data science and healthcare, which is currently lacking. Lastly, the biggest barrier is the core computing infrastructure needed to efficiently run the vast amounts of information collected and processed by healthcare systems. However, high performance computing coupled with AI framework solutions are a worth while long-term investment trend for hospitals as they can be used across various fields such as surgery and radiology. High performance processing will be crucial in supporting digital twinning — computer simulated visualization of real-world objects or processes that can be used in surgical planning or in imaging such as CT or MRI scans. Displaying the results of AI systems and digital virtualization will also require the use of medical grade displays such as Advantech's PAX series of monitors that can accurately display traditional surgical and diagnostic imaging alongside AI visualizations. Furthermore, high performance computers will become highly beneficial for hospitals to be able to store and retrieve information from a single established library DB as AI vendors integrate themselves within the healthcare system and expand further to provide a comprehensive solution across multiple technologies. In summary, the medical imaging and informatics market is growing steadily. It is expected to recover to pre-COVID-19 levels and beyond.AI is increasingly playing a role in imaging diagnostics and in operation rooms. The successful implementation of AI will require significant capital, investment in skilled personnel and buy-in from patients, healthcare providers, and authorities.