Taipei Veterans General Hospital Collaborates with Advantech to Build a Smart Management Center
4/16/2021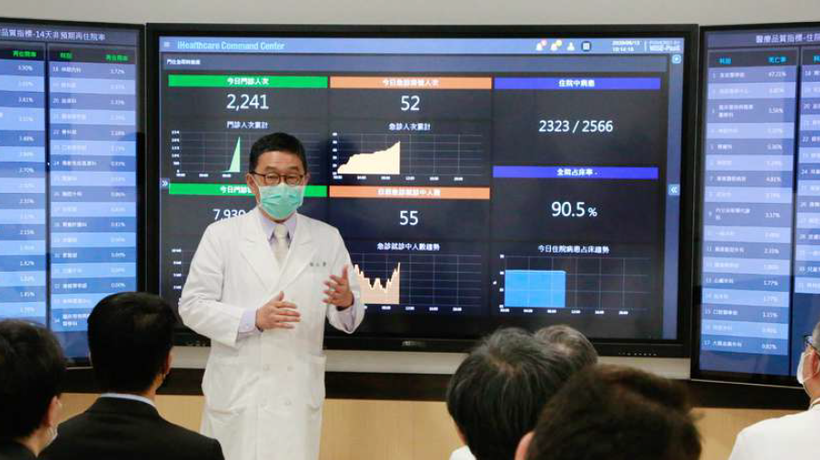 Photos provided by Taipei Veterans General Hospital and iStock
Interview with Dr. Yuan-Hwa Chou, Director of Taipei Veterans General Hospital's Center, Quality Management
In a conference room, several senior executives are looking at a large screen. "The screen shows the bed occupancy data of the 15 intensive care units at the hospital," said the meeting chairman John, while pointing at a chart onscreen. Then John moved onto another chart and explained, "and these are the trend changes for ICUs of every department." These charts prompted an intense discussion between the senior executives.
This meeting was held at the Taipei Veterans General Hospital's Smart Hospital Management Center established in June 2020. To implement data management, the Taipei Veterans General Hospital revamped an unused space into a conference room and installed two 55-inch screens and one 86-inch digital signage display provided by Advantech. The data, indicators, and charts presented on the display screens were supported by Advantech's WISE-STACK 300 cloud data platform server, which consolidates multiple information systems to help management gain a better understanding of the operational status of the system and monitor the quality of healthcare.
Information consolidation and real-time presentation
According to Dr. Yuan-Hwa Chou, Director of Taipei Veterans General Hospital's Center for Quality Management, indicators in the following key areas are essential for the smart hospital management center: operational management, healthcare quality, and administration. The data indicators measuring operational management and healthcare quality were among the first to be implemented. These included revenue, number of patients in the emergency room, number of patients undergoing treatment, number of admitted patients, number of beds for admission, admission charts, and real-time trends for all ICUs in the hospital.
In addition to providing accurate, real – time information, the Smart Hospital Management Center also enables data analysis and comparisons. Dr. Yu-Cheng Luo, attending physician at the Center for Quality Management, asserted that if the data collected is suitable for presentation, the system will automatically update it daily for review by administrators. Administrators can also use the interactive query mechanism to compare data across months, quarters, and years. This allows them to extract insights from the data.
The Smart Hospital Management Center offers two main benefits. First, all data is automatically updated and verified, reducing the time staff spend writing reports and increasing the accuracy of data. Second, accurate and real-time information is streamed and visualized to provide administrators with a real-time overview of hospital operations in order to improve management efficiency.
Private cloud with a one-stop software and hardware solution
Because medical data is highly confidential, the Taipei Veterans General Hospital decided to use a private cloud architecture and implement Advantech's software and hardware solution for the Smart Hospital Management Center. Advantech's solution is easy to install and operate, enabling the rapid creation of a private cloud that delivers excellent stability. Additionally, Advantech has dealt with customers from a wide range of industries and has extensive experience of business transformation, which provides a valuable reference for assisting the Taipei Veterans General Hospital with implementing high-level data management practices.
The cloud data platform server WISE-STACK 300 employed in this project is an industrial-grade server Advantech designed especially for data applications. It satisfies all data acquisition, storage, management, and analysis needs; has passed strict performance verification tests; and only requires minimum cabinet space to support a private cloud.
In addition to hardware, the Taipei Veterans General Hospital also implemented featured software platforms from Advantech's WISE-PaaS platform—WISE-PaaS/ SaaS Composer (process visualization configuration tool), WISE-PaaS/SignageCMS (digital signage content management software), and WISE-PaaS/Dashboard (dashboard with data analysis and visualization tool). Using these software tools, the data, indicators, and charts presented on the signage displays can be dynamically adjusted according to administrator requests.
Dr. Chou believes that in order to effectively use data as the basis of management and decision-making, more needs to be done than just implementing a system. A culture of data analysis must be fostered internally to encourage every administrator to develop the habit of reviewing data before making decisions. After cultivating such a culture, various equipment can be installed in anticipation of future management needs. The purpose of all of this is to improve the quality of operations and management and the efficiency of healthcare through data analysis and smart development.
The Taipei Veterans General Hospital wanted its collaboration with Advantech to have a wider purpose for the healthcare industry; that is to provide an example for other medical centers and hospitals. In effect, it hopes to help Taiwan's healthcare industry improve healthcare efficiency in hospitals and become a role model for advanced healthcare around the world.