A FOG Vision Control Solution for an LED Module Production Line
03/06/2018
Introduction
This manufacturer of LED module bonding machines was in the process of developing large vision machines that comprised 17 industrial PCs (IPCs) in a single machine.They had been testing several IPC brands to identify the ideal one that would improve the stability of their machines. Given the number of IPCs in each machine,having compact IPCs was a major priority for their project.
System Requirements
Most mobile devices, tablet PCs, and electric home appliances that use LCD panels are now being designed to use LED screens. In line with this trend, the new generation of mobile phones and tablet PCs produced by the world's most famous mobile phone manufacturer have been designed with LED panels produced by a Korean LED panel manufacturer. To accommodate the multitude of tasks that are typically performed in the manufacturing process, the customer needed to develop large FOG vision machines with 17 IPCs in a single machine. For this, there were several key considerations.
First, the machines required high-performance IPCs with high-end CPUs and four PCIe x4 slots to support up to 12 Ethernet cameras. Second, with 17 IPCs in each machine, it was critical to downsize as much as possible in order to maximize the number of machines that could fit within a limited space. Third, to meet the LED manufacturer's deadline, our customer had to be able to make a rapid transition to mass-production; thus, they preferred to use an IPC that had already been fully verified by their R&D and QC teams. Finally, because the display company had decided to expand their LED production lines in Vietnam for this project, our customer also had to establish factories in Vietnam to shorten the delivery time and reduce costs. Therefore,having access to local technical and RMA services was critical.
System Description
Of particular importance, the system had to be designed to support in-house software for visual analysis of acquired images.The IPC configuration was an ASMB-785 mainboard housed in an IPC-7130 chassis and fitted with a Xeon® E3 CPU. Each IPC had up to three PCIE-1674E PCIe cards, providing PoE for connecting up to 12 cameras for alignment monitoring and workpiece inspection. This design aspect further contributed to the compact design of the system.
Project Implementation
IPC-7130: Intelligent Wallmount Chassis with Dual Hot Swap Drive Trays

ASMB-785: ATX Workstation MotherboardSupporting Xeon E3-12XX v5/v6
PCIE-1674E: 4-Port PCI Express GigE VisionFrame Grabber
System Diagram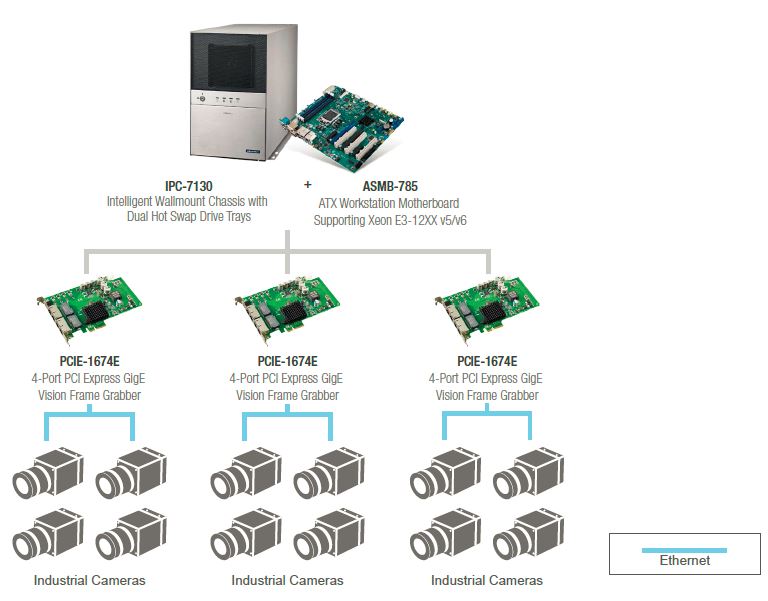 Conclusion
In addition to our position as the world's leading IPC manufacturer being a critical consideration in the customer's decision to adopt our system, our IPCs had already been verified by their R&D team and our extensive experience in this field enabled us to immediately offer them a total solution.
Furthermore, by adopting a system from a single manufacturer, the customer had high confidence in the system's compatibility and reliability. We were able to leverage our partnership with a channel partner in Vietnam to provide local technical and RMA services, which was a major factor for the customer's choice of IPC because of its impact in reducing maintenance costs.
Additionally, because of Advantech's aggressive support in maintaining inventory and immediate cooperation for CTOS, we were confident in being able to respond to their tight delivery deadline. For the bottom line, this compact system benefited the customer by providing a stable, high-performance machine at a reasonable price.