Do More with Less
Traditional server hardware is not well suited to video processing, especially when multiple high-resolution channels require manipulation. Using hardware acceleration allows a server to do more of what it is good at, and significantly reduces power, cost and footprint of high-density media solutions.
Advantech products can provide the acceleration required to support video processing across a range of applications from UHD HEVC broadcast encoding to high-density OTT video transcoding or cloud media processing.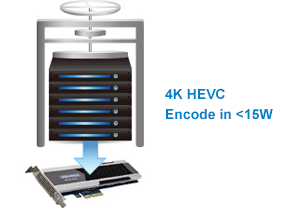 Unrivaled HEVC Performance
The new HEVC standard can bring many benefits to the media industry, reducing bit rates by 50% in average when compared to an equivalent quality stream encoded using AVC, but these improvements are achieved at the penalty of much higher computation complexity, with up to 48 server-class cores required to perform 1-ch 4Kp60 software-based HEVC broadcast encoding in real time. Advantech's ultra-low power video processing platforms enable real-time HEVC encoding at up to 20x less power consumption than a software-only solution helping OEMs successfully address the challenges of 4K/8K media processing in a cost-effective manner. 
Choose Your Platform