Advantech, Fibocom and Intel Jointly Release White Paper on Optimizing 5G uCPE Solution with DPDK and XDP
4/21/2022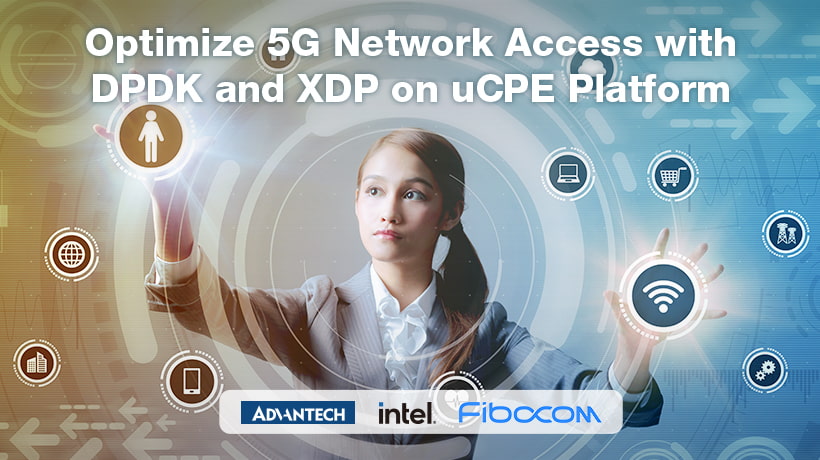 Advantech, Fibocom and Intel Jointly Release White Paper on Optimizing 5G uCPE Solution with DPDK and XDP
Fibocom, together with Intel and Advantech, have jointly released a white paper, titled Optimize 5G Network Access with DPDK and XDP on uCPE Platform. The white paper introduces a turnkey solution for uCPE built with DPDK and XDP, facilitating application innovations with 5G connectivity.
April 21, 2022, Taipei, Taiwan - Advantech (TWSE: 2395.TW), a global leader in industrial IoT, announces the collaboration with Intel and Fibocom (SZSE: 300638), a global leading provider of IoT wireless solutions and wireless communication modules, on the release of the white paper, Optimize 5G Network Access with DPDK and XDP on uCPE Platform. The white paper discusses a turnkey solution for uCPE Edge hardware platforms with 5G modules and device drivers for DPDK development environments, aiming to provide a "fast track" between DPDK applications and 5G networks.
Advantech offers a full range of high-quality uCPE (universal Customer Premises Equipment), integrated with standard Intel processors and Fibocom's high-performance 5G modules, to meet the requirements of mainstream software-defined WAN (SD-WAN) applications. Embedded in Advantech's uCPE platform, Fibocom's 5G modules empower SD-WAN with secure, reliable and high-speed 5G connectivity, establishing measurable data transmission paths between edge and cloud. Stores and branches can build secure and reliable encrypted links in a short time with headquarters' IDC and the cloud through uCPE, and can easily achieve zero-configuration networking through 5G networks without deploying wired networks. The deployment cycle can shorten to a few hours and save more than 40% of WAN operating costs. Fibocom 5G modules also improve application QoS (Quality of Experience) for SD-WAN by utilize new 5G network features such as low latency and network slicing.
To fully improve the performance of 5G uCPE, a number of technical issues still needs to be addressed, including DPDK (Data Plane Development Kit) and XDP (eXpress Data Path). The white paper, bringing together industry experts from Intel, Advantech and Fibocom, explores and validates approach that can optimize the transmission path of packets between the Intel processor and the 5G modem from the hardware platform level via new software technologies. The approach can also eliminate the performance barriers between 5G carrier network, edge applications as well as the DPDK ecosystem, bringing seamless 5G experiences and new value to service providers and ecosystem developers.
"Advantech has devoted itself to the uCPE edge computing and partner ecosystem, conducting long-term planning for the whole product line. Cooperating with Intel on uCPE platforms, Advantech has developed various products ranging from low, medium to high level, and adapted several SD-WAN software solutions for quick deployment. Stepping into the 5G era, we have cooperated with Fibocom to provide seamless connectivity for all. Through the creation of a complete ecosystem, Advantech is capable of offering more reliable and secure solutions, helping to boost the commercialization of uCPE at scale!" said Sandy Chen, Senior Director of Advantech Cloud IoT Group.
"As early as 2020, Fibocom has started the research on 5G SD-WAN application. By working closely with Intel and Advantech for the past two year, we have successfully developed a turnkey solution for 5G SD-WAN based on DPDK and XDP. The three parties have done a lot of integration and optimization on the overall hardware and software consistency and ease of use, launching the 5G network optimization solution with flexibility, scalability and stability. We believe the white paper will bring valuable insights to various businesses deploying SD-WAN and edge computing applications using Intel CPUs." commented Simon Tao, General Manager of MBB Product Management Department., Fibocom.
About Advantech CIoud-IoT Group
Advantech Cloud-IoT Group helps service, solution providers and enterprises extend the cloud to the IoT edge by providing scalable platforms that reliably execute business and mission critical services anywhere in the network. Our innovative servers and appliances enable a seamless transformation toward cloud native operations and are supported by a vibrant software ecosystem and supply chain, offering key foundational building blocks that accelerate digital transformation. From SD-WAN, SASE and Private Wireless to Open RAN, Edge and Hybrid Cloud, Advantech Cloud-IoT Group is enabling the co-creation of products and services that will form the backbone of the new 5G & AIoT economy.

Founded in 1999, Fibocom is a leading global provider of Internet of Things (IoT) wireless solution and wireless communication modules. We are committed to bringing reliable, accessible, secure, and intelligent wireless solutions to every IoT application scenario for the increasingly digitalized industries and enriched smart life of the whole society. In 2017, Fibocom become the first stock-listed (Stock Code: 300638) wireless module provider in China. We provide technically advanced and high-performance 5G, 4G, NB-IoT/eMTC, 3G, and 2G, smart, auto-grade, GNSS, Wi-Fi/BT wireless modules. By technically embedding Fibocom's wireless solutions into IoT devices that will become smart and remotely manageable with stable data transmission between devices and operation center, we empower the intelligent future of all industries that mainly include smart retail, ACPC (Always Connected PC), industry 4.0, smart grid, smart homes, smart agriculture, smart cities, telemedicine, metering, smart security surveillance, and the intelligently connected cars, etc. We have many long-term industry customers including Fortune Global 500 enterprises, which is an important driver of our fast development. Fibocom is headquartered in Shenzhen, China. We have R&D centers in both Shenzhen and Xi'an, and subsidiaries in the U.S., Germany, India, Taipei and Hong Kong as regional operation centers. We have more than 1000 global employees and provide products and services in more than 100 countries and regions.