Advantech to Showcase MIC-733-AO Computing System with NVIDIA Jetson AGX Orin at COMPUTEX TAIPEI 2022
5/24/2022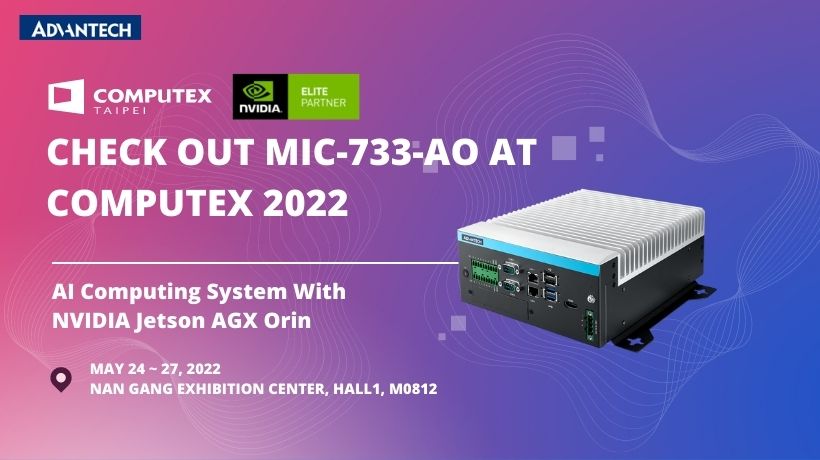 Advantech, a leading industrial edge AI solution provider, has announced the Q4 release of MIC-733-AO, a NVIDIA® Jetson AGX Orin™-based AI computing system. This high-performance, compact, and fanless solution's capabilities will be demonstrated at COMPUTEX TAIPEI 2022. Between May 24th and 27th, interested parties will have the opportunity to see MIC-733-AO in the Advantech booth (number M0812).
AI+5G+Video for AI AMR Applications
Autonomous mobile robots (AMRs) have proven capabilities in diverse fields — especially in logistics, warehouse management, and smart manufacturing. Indeed, they are capable of resolving issues related to labor shortages while improving the safety of harsh working environments. In order to function reliably and perform delicate tasks at scale, these AMRs need AI computing, 5G wireless communication, and excellent video input integration.
MIC-733-AO Edge AI Computing System Delivers Excellent Wireless Capabilities
Advantech's MIC-733-AO is a compact fanless (192 x 230 x 87 mm; 7.5 x 9 x 3.4 in) solution uniquely suited to edge AI computing-intensive applications. MIC-733-AO delivers flexible expansion slots and multiple I/O; including 4 x USB 3.0, 2 x Mini-PCIe, and 2 x M.2 to AI developers. In addition, the iDoor and iModule expansion and support for diverse peripherals enables I/O module customization through the Mini-PCIe and full PCIe interface. This includes the use/modification of CANBus controllers, CoaXPress frame grabbers, or PoE modules for IP cameras. Likewise, in order to accommodate growing AMR demands, MIC-733-AO's features 2 x 10 GigE (MGBE) ports for high-speed data transmission that allow 5G communication. [1] [E2] MIC-733-AO leverages powerful Jetson AGX Orin-based AI computing and advanced 5G low-latency capabilities to empower edge AI AMR applications.
The Advantech MIC-733-AO is capable of enduring wide operating temperatures (-10 ~ 60 °C; 14 ~ 140 °F) found in outdoor/harsh environment operation. In addition, its excellent computing power is combined with superior wireless communication, producing a solution capable of empowering AMR in fulfillment centers.
NVIDIA Jetson AGX Orin System for Edge AI
The Advantech MIC-733-AO computing system leverages the powerful NVIDIA Jetson AGX Orin to empower energy-efficient autonomous machines. These solutions accelerate NVIDIA AI software stacks with 4x the CUDA cores and 8x the performance of the NVIDIA Jetson AGX Xavier modules. In addition, these solutions support multiple sensors and the latest high-speed interfaces.
MIC-733-AO is aimed at helping AI developers with AMR applications. It comprises a compact fanless computing system with diverse I/O and peripherals. Buttressed by 24/7 remote management support and accommodation for board support packages (BSP), MIC-733-AO is designed to deliver excellent flexibility and computing performance to future AMR applications.
Developers can jump start their next-generation edge AI and robotics applications on the Jetson AGX Orin developer kit, for seamless deployment on the full range of Orin-based production modules when available starting July 2022. Advantech's MIC-733-AO will be displayed at COMPUTEX TAIPEI 2022 in Advantech booth (M0812), with availability planned for Q4 2022. For more information about this or other AI solutions, please contact your regional sales team or visit www.advantech.com.