Station Management
Station Management is an integrated platform that consists of Integrated Supervisory Control System (ISCS), Fire alarm system (FAS), Building Automation System (BAS) and others. Station Management System, due to its complicated systems, requires stable and scalable hardware to keep it well-functioned 24/7. Advantech's industrial and server-grade systems are well-known for ruggedized features and wide expansion which play indispensable roles in this specific application.
System Topology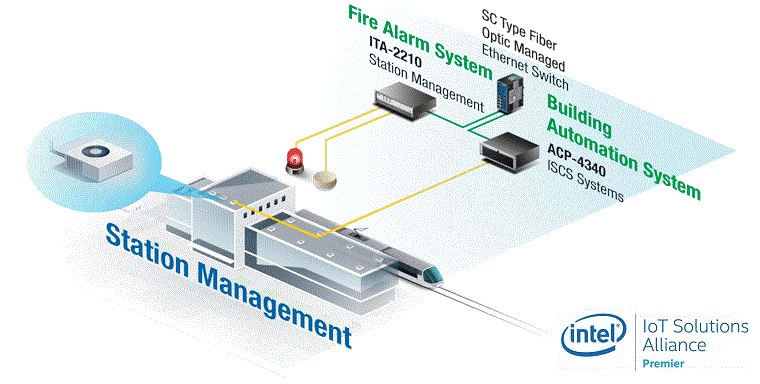 Station Management Offerings
Ruggedized Design
Stable and Scalable Systems for I/O Expansions
Configuration to Order Services with Integrated and
Compatible Platforms
Application
Integrated Supervisory Control System
System Requirement
An Integrated Supervisory Control System (ISCS) refers to the various dimensions of a railway operation's control center to ensure an efficient and smooth railway deployment; an integrated Station Management System (SMS) for monitoring activities such as power, signal and environmental control systems at stations; and a Plant Management System (PMS) where all sub-system interfaces between Central Management (CMS) and SMS are well-connected. Given the scope, each system must function without failure 24/7, in order to deliver critical information and emergency response solutions. The systems must be built on a platform of reliable hardware and software, such as a redundant, real-time server and allow for remote control access. Advantech's industrial-grade PC and ITA-2000 Series wayside controllers are specifically designed to cater to these conditions with rich I/O interfaces that meet the requirements for an ideal ISCS solution.
Fire Alarm System
System Requirement
Fire Alarm Systems (FAS) play a critical role in station management for monitoring to prevent hazards, to receive warning signals and alarms, and to issue disaster response commands. The FAS can be divided into central and station-level functions. When a fire breaks out, the central FAS serves as a control center, automatically collecting, displaying, recording and storing information for file processing and management. The station-level control system can be activated to issue evacuation orders and implement disaster response commands. The FAS is able to provide information and resources via a LAN connection, as well as implement and direct disaster response, which in turn substantially enhances the safety of subway stations.
Building Automation System
System Requirement
Building Automation System (BAS) is controlled by stable and integrated computing platforms in the modern railway. Station management consists of various systems including control elevators, escalators, lights, room temperature and others where Systems can be activated or maintained by industrial computers 24/7 based on pre-set up data. Embedded with Advantech remote control management software, SUSIAccess, BAS is capable of monitoring current status of systems including automatic alarm and health check to reduce system downtime and maintenance. Also, it enables BAS to active control when systems are on-duty for further troubleshooting. The well-maintained escalators and room temperatures in rail station provide comfortable experiences to end-users. All devices or facilities within stations can be managed by Advantech systems and indeed, Advantech has already created several successful cases in this application in Asia and Europe.
Industrial Ethernet Switches for AFC Systems
Fiber Optical Managed Switch Series and EKI-3000 Series
The wayside control system requires high safety and stability considerations. For such systems, products need to connect multiple RS-485 serial devices to an Ethernet network without building the dedicated transmission line, and offer an easy way to set up a redundant Ethernet network for backup connection. By using the EKI-1500 Series Serial Device Servers to connect on-site serial device via RS-485, the engineering staffs can use the computer in the control room to monitor the condition of protective relays so as to further control RTU. The EKI-7000 Series Ethernet Switch provides an easy way to establish a redundant network with a recovery time of less than 20ms. These two product lines both support wide operating temperatures (-10~60°C) to withstand outdoor environment, and their metal shielded enclosure with robust design not only protects the product but also eliminates the problem of interference.