Electricity Supplier Uses ADAM-3112's to Convert Alternating Current to Direct Current
9/2/2011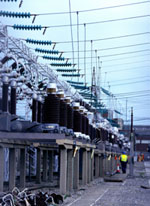 Project Introduction
To ensure that customers' equipment isn't damaged, electricity suppliers need to ensure that the voltages delivered to customers are at an even level. They achieve this by the continual monitoring of the supply equipment.
System Requirements
Our American client, an electricity supplier, required a method of monitoring the quality and consistency of the power being delivered to their customers. The company was looking for a system that was easy and cost effective to install whilst being able to connect to their existing equipment. Their existing sensor equipment, responsible for measuring the voltage of the power supply, outputted the data in AC, but the monitoring equipment needed to receive this information as DC.

Project Implementation
ADAM-3112
Isolated AC Voltage Input Module
The ADAM-3112 is an isolated AC voltage input signal conditioner. It supports three different AV voltage input modes (120V, 250V and 400V) and transduces them into 0~5VDC output.
ADAM-4017+
8-ch Analog Input Module with Modbus
The ADAM-4017+ is a 16-bit, 8-channel analog input module that provides programmable input ranges on all channels.
System Diagram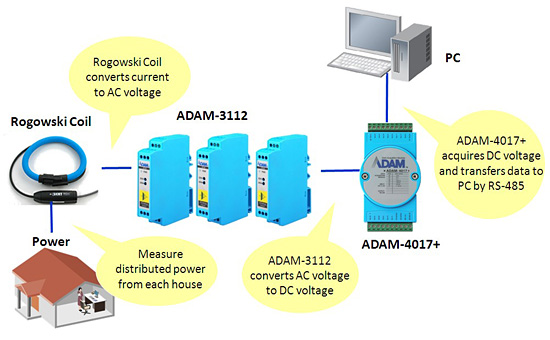 System Description
To convert the sensor data from AC to DC the client attached each sensor to an ADAM-3112 AC voltage input signal conditioner, which acts as a rectifier and sends the converted DC volts to an ADAM-4017+ 16-bit, 8-channel analog input module which is connected to the clients monitoring equipment via RS-485. Since this is a modular system it is easily expandable therefore allowing our client to add additional sensors to the supply equipment.
Conclusion
The deployment of the ADAM-3112 and ADAM-4017+ modules meant that the client was successfully able to monitor their equipment and address issues as they arose.