Parking Lot Monitoring System at Japan Highway Service Area
7/15/2011
Intelligent Transportation
Japan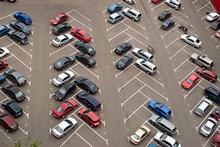 Project Introduction:
Rest areas experience heavy traffic all year long as travelers stop to stretch their legs and visit rest rooms. In Japan, rest areas are called service areas and feature parking lot, restaurant, convenience stores, gas station, and road information center in addition to the standard amenities. One of Advantech's customers in Japan was looking to build a high-tech monitoring system at parking lot of new service area in order to measure traffic flow and provide improved security.
System Requirements
This project set out to create a comprehensive monitoring system at parking area of a new service area along the Highway in Japan. An extensive communication system would be required to deliver not only accurate parking information to onsite personnel about the coming and going of vehicles, but also to carry traffic information to digital signage to update drivers on the highway status and help provide efficient security at the service area as well.
Project Implementation
| | |
| --- | --- |
| EKI-2541S | 10/100T(X) to Single-Mode SC Type Fiber Optic Industrial Media Converter |
| EKI-2748FI | 4Gx+4SFP Managed Ethernet Switch with Wide Temperature |
| EKI-7554SI | 4+2 SC Type Fiber Optic Managed Industrial Ethernet Switch |
| EKI-7659CPI | 8+2G Port Gigabit Managed Redundant Industrial PoE Switch |
| EKI-7656C | 16+2G Combo Port Gigabit Managed Redundant Industrial Ethernet Switch |
| EKI-7654C | 4+2G Combo Port Gigabit Managed Redundant Industrial Ethernet Switch |
| SFP-FXS/LC-30E | 100Base-FX Single-mode SFP module |
| SFP-GLX/LC-10E | 1000Base-LX Single mode SFP module (10km) |
System Diagram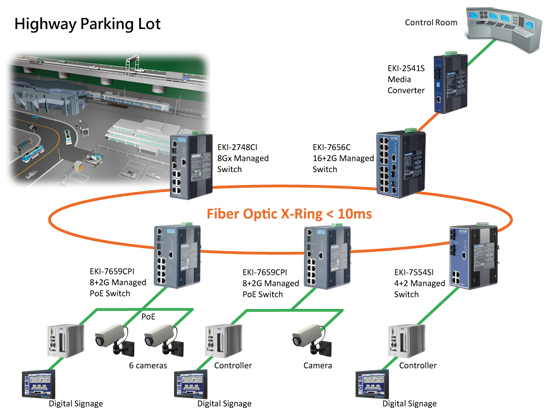 System Description
Over 300 Advantech Managed Switches, media converters, and SFP modules were applied in this application, from Gigabit and Fiber Optic Managed Switches and Media Controllers. Advantech's strength in this scenario was the ability to provide a variety of devices that can be easily connected with each other and providing a reliable, redundant network through the X-Ring technology. Many of the devices in this application also feature wide operating temperatures, making them especially suitable for the demanding service area requirements. The switches are connected to controllers for digital signage purposes and IP cameras for surveillance.
Conclusion
When the communication system was finished, one of the first comments from the system integrator was how much they appreciated Advantech's ability to provide Ethernet switches, media converters, and rack mount IPCs from one supplier. This allowed them to be assured all products in the communication system would be well integrated with each other with minimal programming effort. In addition, they were very satisfied that Advantech's EKI series of Industrial Communication devices provided them with a reliable, redundant and robust communication system to compliment their new, modern service area.