Session Border Controllers
3/27/2013
With the advent of VoIP came a host of network opportunities and challenges. One such challenge related to NAT (Network Address Translation) as the borders between networks, private and public or inter‐carrier were traversed. Various network devices and techniques evolved to solve these NAT traversal issues; one however, took the lead and now has become ubiquitous, offering a variety of functions – the Session Border Controller or SBC. Demand for SBCs remains strong and continues to grow within the service provider and enterprise markets which combined represent a global market worth in excess of $1.6 billion over the next 4 years (Infonetics Research).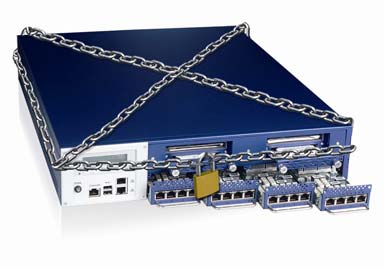 A Session Border Controller does exactly what is says; Controls the data streams and sessions (in the VoIP case sessions represent calls) as they traverse the border or interconnection point between two networks. The border point of control can be in the enterprise e.g. where a corporate network enters the public Internet or at an interconnect between two service providers. In either case the SBC provides a variety of functions for its host network.

Securing and connecting the network – Network Address Translation (NAT) is performed and firewall functions may be implemented in conjunction with other firewall devices. VoIP signaling is enabled and corrected as necessary. The border is policed and protected from potential Denial of Service or other attacks. Ultimately the SBC says who gets in and who doesn't.
•Quality of service – An SBC can act as a load sensing and balancing router and becomes a key component of the network's QoS policy.
•Management &Statistics – As all network traffic must flow through an SBC it's a great place to collect statistics, billing and other management information.
•Regulatory compliance – SBCs must allow for lawful interception and monitoring of calls and have the ability to prioritize emergency calls.
Flexibility, connectivity and performance are all required for the ideal Session Border Control platform. The Advantech product line provides all these elements. Long term experience and relationships with the major processor and NPU vendors ensure that Advantech offerings always provide for the latest technology and can demonstrate clear upgrade paths. The FWA-3210 is an excellent example of an OEM application ready platform. Available with up to 8 Gigabit Ethernet ports and considerable expansion options along with a choice of the latest Intel® embedded and commercial processors the FWA-3210 is ideally geared towards the needs of the SBC OEM. The FWA-6510 based on dual Intel® Xeon® E5-2600 processors with up to 8 cores positions it well for more demanding performance and 10GbE connectivity..
Advantech OEM-Ready Appliances with Intel® Xeon® processors
for Session Border Control

FWA-3210 1U INTEL®XEON® E3-1200 SERIES NETWORK APPLICATION PLATFORM


The FWA-3210 1U appliance can be configured with a range of Intel® processors, Ethernet ports, PCIe I/O options and Advantech's Network Mezzanine Cards (NMCs) to create costeffective platforms for specific enterprise networking applications. The Appliance is powered by processors utilizing the LGA-1155 socket, including the Intel® Xeon® E3-1225/1275, 2nd generation Intel® Core™ i7-2600/ i5-2400 /i3-2120, the Pentium®-G850 and the Celeron®-G540 Processor. Memory configurations can include 4 x DDR3 1333/1066 DIMMs for up to 32GB in total. In the base configuration, the system comes with a single internal 2.5" SATA HDD bay, 6 Intel® 82574L GbE controllers, and one PCIe x8 expansion slot.

•Supports Intel® Xeon® E3-1225/E3-1275 (FWA-3210A) and 2nd generation Core™ i7-2600/i5-2400(FWA-3210B) and i3-2120 /Pentium®-G850 / Celeron®-G540 Processors
•Supports 4 x DDR3 Un-buffered 1066/1333 DIMMs, up to 32 GB (FWA-3210A); 2x DDR3 Un-buffered 1066/1333 DIMMs, up to 16 GB (FWA-3210B)
•6 x 10/100/1000 Mbps LAN on Board with up to 3 bypass segments
•1 x 3.5" or 1 x 2.5" SATA HDD / SSD
•2 x Advantech Network Mezzanine Cards (NMCs)

System features include an LCM, RJ45 console, and 2 USB ports. IPMI LOM management support is optional. Additional I/O and processor offload capacity is provided by support for two network mezzanine card modules. The FWA-3210 is 1U Network Appliance targeted at CPU-intensive applications such as high-end Unified Threat Management (UTM) and applications with large I/O bandwidth requirements such as quality and service control or content filtering and management.

FWA-6510 2U INTEL®XEON® E5-2600 SERIES NETWORK APPLICATION PLATFORM

Based on Intel®s latest Xeon® processor platform, the FWA-6510 system is designed for maximum performance, scalability and functionality in a 2U rack mount footprint. This multi-core processor-based, high-end network communications appliance is optimized for computing power and high speed, high density I/O with best-in-class energy efficiency. Two E5-2600 series Intel® Xeon® processors (Socket R) with up to 8 cores provide the latest architectural enhancements as well as unprecedented I/O integration: Two Intel® QuickPath Interconnects running at up to8GT/s each support reduced cross-socket memory I/O latencies and increased throughput. Each socket supports 4 DDR3 channels with speeds up to 1600 MHz for up to 384 GB of ECC memory when using the latest LR DIMM technology. Advanced RAS modes such as mirroring and sparing increase platform reliability. Three I/O controllers per socket provide a total of 80 PCIe lanes supporting the latest gen 3 technology of up to 8Gbps per lane.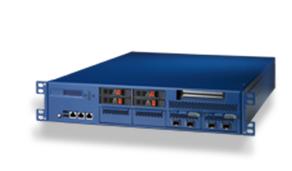 •2 x Intel® Xeon® E5-2600 processors
•DDR3 1333/1600 ECC registered memory, up to 384GB
•PCIe gen3 support
•4 x Network Mezzanine Cards (NMC) slots for a wide range of GbE and 10GbE NMCs with or without bypass
•1 x PCIe x8 full-height/ half-length add-on card
•4 x 2.5" removable SAS/SATA HDD andSSDs
•IPMI 2.0-compliant Remote Management
With this improved I/O connectivity, the FWA-6510 can support up to 4 Network Mezzanine Cards (NMCs) for modular, configurable networking I/O and acceleration. PCIe gen 3 technology paves the way for supporting 40GbE and quad 10GbE modules in the near future and up to 8 NMC slots. The Intel® C600 Series PCH (chipset) not only integrates standard platform I/O and peripherals, but also supports an integrated SAS controller for the most reliable, highest speed mass storage. Up to four front-loadable 2.5" SAS/SATA hard disks or solid state drives are supported.