Solar Cell Test Solution
10/19/2012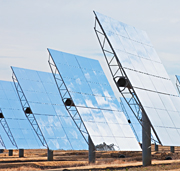 Project Introduction:
With a global increase in the demand for green energy solutions, the use of solar cells (aka solar panels) is quickly spreading to residential and commercial facilities, resulting in an increase demand in manufacturing and production equipment. The essential steps in the production process of a solar panel include: Pick-and-Place, high-speed movement, accurate positioning and fixed plug-in fitting. But it is the dislocation and false welding of components that are greater obstacles in the inspection procedure. Therefore, customers need to adopt high-speed multi-axis motion control with a machine vision system to improve their production efficiency.
System Requirements:
Through the use of Pick-and-Place technology, the solar cell will be placed on conveyer belt and then put in the pre-setting device or storage box where a sensor detects the cell. This traditional procedure is a closed control structure with complex tools for programming and involves a lot of time and money if it needs to change the process or expand the interfaces. In addition, the maintenance costs are far higher than PC-based control systems that lead to low productivity and high production costs. As technology advances, building a flexible PC-based motion control system becomes a primary consideration of many companies since, by using a variety of technologies:


A high-speed motion control module - accurately executes Pick-and-Place tasks and puts the known good cell into the cassette.

A digital input / output module - acquires the sensors' signals on the conveyor belt and detects the cell's location and surrounding states.
Project Implementation:

| | |
| --- | --- |
| UNO-2182 | Intel® Core™ 2 Duo/ Pentium® M/ Celeron® M Automation Computers with 2 x GbE, 4 x COM, DVI |
| UNO-2173AF | Intel® Atom™ N270 Automation Computers with 2 x LAN, 3 x COM, Mini PCIe |
| UNO-2100 series | Intel® Atom™ N270 Automation Computers with 2 x LAN, 3 x COM, Mini PCIe |

System Diagram: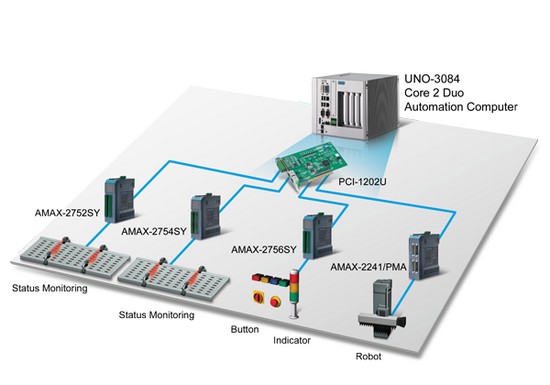 System Description:

Because the CRH Safety monitoring system must continuously operate for 24/7 and requires a large amount of data processing, the robust
UNO-2182
with Intel® Core™ 2 Duo processor is the best choice as the system host needs to manage the PLC and other peripherals on site. On the other hand, Energy Star certified
UNO-2173AF
with Intel® Atom™ N270 processor was chosen for the CJK-I Type Rigidly Movable Contact Net power testing system, which requires only basic computing and data processing. In both monitoring and testing systems, data acquired from PLCs is transmitted to the
UNO-2182
and
UNO-2173AF
to dynamically display the status, parameters and curve of the various devices including signal lights, LED monitors, operating room indicator lights, and audible and visual alarms via a graphical user interface that allows users to easily interact with devices via image commands. In addition, the
UNO-2182
and
UNO-2173AF
send alerts via the integrated speaker to warn staff when abnormal situations are detected.
Furthermore, the fanless
UNO-2182
and
UNO-2173AF
are designed for harsh environments, which make them ideal platforms for maintenance sites with high temperatures and 24/7 non-stop operation. Their wide operating temperature range of up to 70°C, anti- interference, anti-vibration, and duel Ethernet ports ensure their reliability and stability. Both of them not only meet our customer's specifications but also provide the best quality.
The system also included the DiagAnywhere remote monitoring software. With both a client and server utility, DiagAnywhere can remotely control and configure up to 24 windows baseddevices from any remote office, over the Internet. This software has many features such as a UDP broadcast search across the LAN, remotely check the status of the devices, and for any devices that have ATX power they can be remotely shutdown and woken up . It was with the inclusion of this software that the client felt confident that they could manage their devices from wherever they were.
Conclusion:

Advantech's Embedded Automation Computers have always provided customers with high-performance application ready platforms as well as high efficiency. Regarding the
UNO-2100 series
, their robustness and reliability makethemexcellent choices for harshenvironment applications.