Radio Access Networks
10/1/2012
Mobile telephony as we now know it has been with us since the early 1980s, and the infrastructure of cellular networks has evolved and changed significantly since the original analogue AMPS systems were first introduced. Although architectures have evolved there is still a clear separation between the mobile core and the Radio Access Network or RAN. As the technologies moved from analogue to digital, we added mobile data and stepped up through 2G and 2.5G to today's 3G networks with 4G just around the corner. The RAN is undoubtedly the most significant part of any mobile network and the RNC (Radio Network Controller) and soon to be eNodeB bears the brunt of the workload. This is borne out as one looks at 2009 RAN equipment revenues which were in excess of $38 billion. Continued growth is forecast overthe next 5 years with mobile infrastructure revenues expected to be in the region of $42 billion by 2014 (Dell'Oro Group).

TheRNC is the backbone of the current 3G UTRAN, (UMTS Terrestrial Radio Access Network), providing control functionalities for one or more Node Bs and is responsible for a large part of the management of the radio resource. The growth in broadband data traffic is a major driver. 3G can currently support data rates of approx. 40Mbps, however the road is paved towards rates of 100-300Mbps with new LTE (Long Term Evolution) networks. These new networks will be all-IP and must be structured to support increased data capacities with significantly reduced latency.

The new approach replaces the RNC with a single composite base station – the eNodeB. Looking to the future the eNodeB will be the prevalent workhorse in the new LTE RAN as it takes on responsibility for: radio resource management, radio bearer control, radio admissioncontrol, connection mobility control, and the dynamic allocation of both uplink and downlink resources. One key difference in this new architecture will be the ability for a large volume of calls to be routed to devices directly within the same or adjacent cells. Increased security, compression and encryption of data streams adds to the task list for the eNodeB. These more highly complex base stations will require new generations of flexible and
powerful processors.

Designed to address just such embedded and access network challenges the new AMC-4201 from Advantech provides for the needs of high-performance, combined, control and data-plane processing. Based on Freescale's QorIQ P4080 multicore processor and using the AMC (Advanced Mezzanine Card) format the AMC-4201 provides significant flexibility and can be used as part of a larger bespoke design or incorporated into a MicroTCA based eNodeB platform. With the QorIQ having evolved fromthe highly successful PowerQUICC architecture, which has been used extensively within wireless infrastructure, the AMC-4201 is tailor made for eNodeBs and other LTEapplications.

Advantech have also introduced the AMC-4202, an enhanced P5020 version of the AMC-4201. For Control plane applications with similar requirements in both networking and wireless infrastructure, the P5020 AMC is the best fit for processes that derive their performance from a fewer number of higher performance cores, as this minimizes the need to rework legacy code.

Advanced Mezzanine Card with Freescale QorIQ P4080 10GbE, XAUI, SRIO, PCI Express & SGMII ports for Radio Access Network (RAN) Design

AMC-4201 –Expanding Advantech's AMC Portfolio with QorIQ

The AMC-4201 is a single-width, mid-size AMC based on the Freescale P4080 processor. It combines eight Power Architecture® e500 cores operating at frequencies up to 1.5 GHz with high-performance, datapath acceleration logic, extensive networking I/O, and peripheral bus interfaces. It combines powerful multi-core Power Architecture performance with network processing capabilities, and builds on the communications ubiquity of Freescale's PowerQuicc® product family.AMC-4201 provides 2, 4 and 8 GB build options for onboard DDR3 memory at 1333 MHz with ECC support. One front-panel 10GbE SFP+ connector provides network access in addition to a front panel console and debug port.
The unique SERDES design supports up to four different AMC port configurations for a mix of SRIO, PCIe, XAUI and SGMII channels. This makes the AMC extremely versatile and
caters to a wider range of MicroTCA or ATCA Carrier topologies beyond just telecom applications. 16 MBit SPI Flash and 2 GB NAND Flash provide onboard options for software and storage. The AMC also provides 8 KHz and 19.44 MHz telecom clock synchronization support.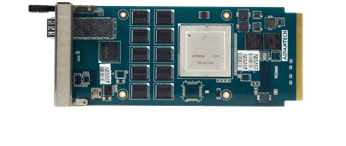 Features

•Freescale P40808 cores e500-mc PowerPC, up to 1.5 Ghz
•Up to DDR3 1600Mhz 8GB with ECC support
•4 MB SPI Flash and 2 GB NAND Flash
•One 10GbE SFP+ for external access
•AMC.0, AMC.1, AMC.2, and AMC.4 compliant and Configurable SERDES channel support
•Max power consumption 40W, typical less than 32W
•Clock Sync support 8Khz and 19.44Mhz
•WindRiver Vxworks Support

AMC-4202 – QorIQ P5020 64-bit Dual-Core Communications Processor

The AMC-4202 is a single-width, mid-size AMC based on the Freescale P5020 processor. It combines two 64-bit ISA Power Architecture™ processor cores with high-performance datapath acceleration logic and network and peripheral bus interfaces required for networking, telecommunications, and wireless infrastructure. The P5020 can be used for control processing in applications such as routers, switches, internet access devices, firewall and other packet filtering processors, network attached storage, storage area networks, imaging and general-purpose embedded computing. Its high level of integration offers significant performance benefits and greatly helpsto simplify board design. AMC-4202 provides 4 and 8 GB build options for onboard DDR3 memory at 1333 MHz with ECC support. One front-panel 10GbE SFP+ connector provides network access in addition to a front panel console and debug port.
Features

•Freescale P5020 2 cores 64bit e5500 PowerPC, up to 2.0Ghz
•Up to DDR3 1333Mhz 8GB with ECC support
•4MB SPI Flash and 2GB NAND Flash
•Optional SerDes Lane (PCIe/SGMII/SRIO)
•1GbE/10GbE capability for external access
•Clock Sync support 8Khz and 19.44Mhz
•Efficient power consumption, typical 32W
•Two SATA interface
•AMC.0/.1/.2/.3/.4 compliant