Advantech's Driving Safety Solution Enables the Intelligent Implementation of Intelligent Buses
1/10/2018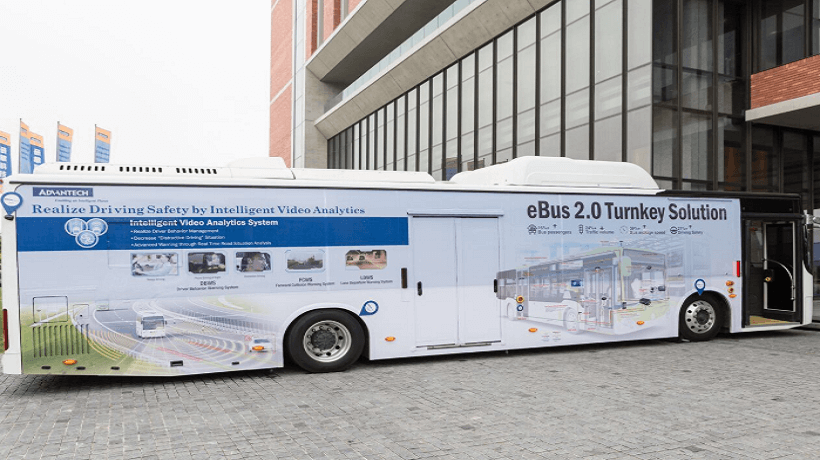 By Pei-Chun Liao with images provided by AdvantechInterview with Van Lin, Director of Intelligent Logistics Sector
Intelligent bus systems are critical to developing Bus Rapid Transit (BRT) systems. However, from a management and maintenance perspective, previous stand-alone systems have become a burden for bus operators. New-generation Intelligent bus systems emphasize integration and flexibility. Using an expandable hardware platform, bus operators can integrate established systems in stages to develop a unified hardware system and provide the public with a truly smart and safe travel experience.
In many countries, economic development has increased urban migration. Against the backdrop of urban growth, increases in morning and evening peak traffic have exacerbated road congestion, resulting in pollution from both noise and exhaust emissions. To solve such traffic problems, governments worldwide have been proactive in developing various smart transportation applications, examples of this are BRT systems.BRT systems are similar to MRT systems except for buses. They include various transportation optimization measures, such as busways, priority signal systems at intersections, and intelligent bus systems, all of which contribute to realizing a new form of public transportation that approximates the service level of MRT systems in terms of transportation capacity, reliability, and safety. Because the advantages of BRT systems include low setup and operating costs, high flexibility, and short construction periods, such systems have become popular transportation systems in developing countries and regions, particularly those with limited budgets or those experiencing difficulty establishing comprehensive track-based MRT systems.
Statistics from global BRT data show that, to date, 250 cities worldwide have established BRT systems. The combined route length of these systems is 5,631 km and the daily passenger load is nearly 35 million. They are most prevalent in Central and South America. "Central and South America not only have the most BRT systems in the world, but their innovation and integration level are higher than those in other regions," explained Van Lin, Director of the Advantech Intelligent Logistics Business Unit.
Van further pointed out that intelligent buses are at the heart of BRT systems. Through various applications such as GPS tracking, driver behavior monitoring, electronic toll collection, passenger statistics, arrival information displays, and in-vehicle video surveillance, bus operators can be fully informed of the status of their vehicles in real time and thus improve their operational efficiency. For passengers, this gives them access to real-time bus arrival information, and it is also expected to increase their willingness to take the bus because they can enjoy a fast, convenient, and safe journey experience.
Challenges of Independent Management, Maintenance, and Data Integration
Automated fare collection was one of the earliest systems to be applied to buses. The technology was introduced into Taiwan more than 10 years ago, and passenger information and GPS tracking systems have since been implemented as well. However, bus services are a public industry run by civil bodies that are not typically proactive about introducing various intelligent bus applications, mainly because of the trade-off between their cost and benefits. Government subsidies are thus essential drivers of investment in this area. This is not just the case in Taiwan; more than 50% of other countries are facing the same situation, and this has been exacerbated by the fact that the concept of system integration is still relatively new. All of these factors have resulted in intelligent bus systems being needlessly duplicated.
Van explained that bus operators tend to establish intelligent bus system by tendering projects on an annual basis; for example, automatic fare collection might be introduced one year, and a fleet management system might be introduced the year after. Another factor is that new hardware must be installed for each new system; for example, three different systems might have three different mainframes with corresponding peripherals. This can cause three problems.
First, repeated investment in hardware increases the aggregated yearly cost of procurement and maintenance in comparison with purchasing all system components at once. Second, because most of these systems are closed frameworks, data cannot be exchanged or integrated and backend management systems would require multiple independent interfaces to accommodate the different systems installed on the bus. Furthermore, because closed platforms lack SDK support, it can be difficult for bus operators to develop their own software applications. Finally, some systems requiring real-time data transmission will have SIM cards installed in the mainframe to enable data transmission via 3G/4G, meaning that two new systems would incur twice the communication cost.
Integrated In-vehicle Computer with Driving Safety Software as a Solution
To solve long-term dilemmas associated with the implementation of intelligent buses, Advantech has proposed an integrated intelligent bus standard that incorporates multiple systems into a single hardware platform. Van indicated that this concept requires a platform that is highly flexible that should be established during the first phase of implementation. Doing so not only reduces the likelihood of needing to replace the platform in the future but also facilitates the analysis of data.
In other words, the all-in-one platform must meet all intelligent bus system requirements. Regardless of which system is introduced, the adopted platform must be one that can use the same mainframe. For example, Advantech's TREK in-vehicle computer is an all-in-one platform that supports Wi-Fi and the LET communication protocol, among others, with the six connector types: RS-232, RS-485, CVBS (AV Terminal), Ethernet, VGA, and digital I/O. As examples, the VGA port allows for video/advertising layback on embedded LCD displays; the RS-232 port provides a connection for a TPMS receiver, which enables instantaneously monitoring tire status; and the CVBS port provides a connection for in-car surveillance cameras for monitoring driver behavior and passenger safety.
Furthermore, the TREK in-vehicle computer adopts an open framework, meaning that in addition to being capable of data collection, it is also suitable for integration analysis. This provides vital information to the driver to promote driving safety. For example, a camera installed at the front of buses can detect when the leading vehicle is too close or driving dangerously (e.g., lane departure). Additionally, a camera installed near the driver can perform intelligent video analytics to detect any dangerous behaviors, such as nodding, eating, and talking on a mobile phone, and immediately notify both the driver and the driving control center.
Van emphasized that although the approach of using an all-in-one platform requires more capital input, the overall establishment costs are actually lower. Furthermore, it has a high degree of flexibility for system integration, facilitating future expansion, maintenance, and management.
Although MRT systems are being developed in many countries, BRT systems have comparatively lower costs and shorter development times, and these factors have allowed market demand for the BRT system to gradually grow. Van hopes that, in addition to its MRT systems, Taiwan may utilize some of these resources to plan a complete, comprehensive, and visionary intelligent bus grid and use Taiwan's success as a blueprint for other countries.