Display Solutions for Portable Ultrasound Systems
7/12/2017
Introduction
Ultrasound is an effective diagnostic tool in emergency rooms, anesthesia,critical care, pain management, and other bedside applications. They are used to help evaluate, diagnose and treat medical conditions, and their high resolution imaging and user-friendly interface improves diagnostic confidence and efficiency. Recently, portable ultrasound systems have made strong inroads into the point-to-care market.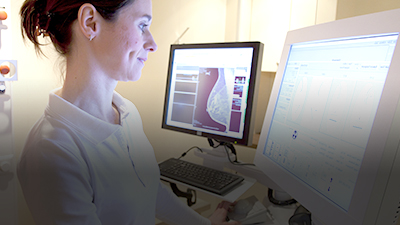 Challenge
Our customer, a worldwide leading medical equipment manufacturer,was looking for a high quality LCD display solution for its new portable ultrasound systems. The portable ultrasound systems needed to provide consistently high quality images and be super reliable so that doctors don't lose on screen information. They also needed to be equipped with an intuitive user-friendly interface, so that the learning curve to operate them was minimal and the focus was on making accurate treatment decisions.An IP65 rated front cover was also critical to avoid the possibility of dust and liquids effecting image quality which could cause incorrect diagnosis.They also needed to be able to be touch operated with surgical gloves on,even with gel applied.
Solutions
Advantech provided IDK-1115P, a 15" display kit with projective capacitive (PCAP) touch solution and a DICOM compliant AD board integrated, cover glass customization and optical bonding which together perfectly met the customer's requirements.
Highly Consistent Image Reproduction Improves Diagnostic Accuracy
IDK-1115P, a 15" display kit designed with high resolution of 1024 x 768 and MVA technology, delivers professional imaging with wide viewing angle, high contrast ratio, and fast response time. IDK-1115P comes with an AD board, which meets the DICOM standard for image communication and image file formats. The AD board provides color management functions which help improve brightness stability, gray scale, color temperature and color gamut. IDK-1115P is integrated with PCAP multi-touch screen which allows operation with gloves on and delivers smooth intuitive gesture controls. Customized logo print on the cover glass was also offered.

Rugged Designs Make Cleaning Easy
To further increase readability under strong ambient light conditions in hospitals, IDK-1115P was applied with anti-glare coating on the cover glass and the anti-smudge coating make cleaning easy. The outstanding mechanical design helps these medical devices meet IP65 rating requirements for dust and moisture resistance.To better enhance the contrast resolution and improve ruggedness, an optical bonding coat was applied between the panel and touchscreen. As a result, IDK-1115P provides better medical imaging quality with reduced light loss and longer battery life for the better mobility. It also improves the reliability and durability of the touchscreen by making it more ruggedized to prevent accidental damage. IDK-1115P 15" multi-touch display kit with a DICOM compliant AD board Optical Bonding

Benefits
Cover glass coating: anti-glare coating deals with high ambient lighting conditions to improve readability. Anti-smudge coating provides easier display surface cleaning.
Projective capacity touch solution provides quick touch sensitivity and is also responsive to gloves.
The mechanical design facilitates medical devices to meet IP requirements and also makes for an elegant all flat design.
Optical bonding enhances ruggedness and visual performance of the display by avoiding fog and reducing ambient light reflections. The battery life of the device can be extended as it does not need as much backlight to power the display and therefore is better for mobility.