Updating a Massive Bus System in Stockholm, Sweden
6/13/2018
Market: Transportation
Industrial Application: Remote monitoring management and location positioning
Location: Stockholm, Sweden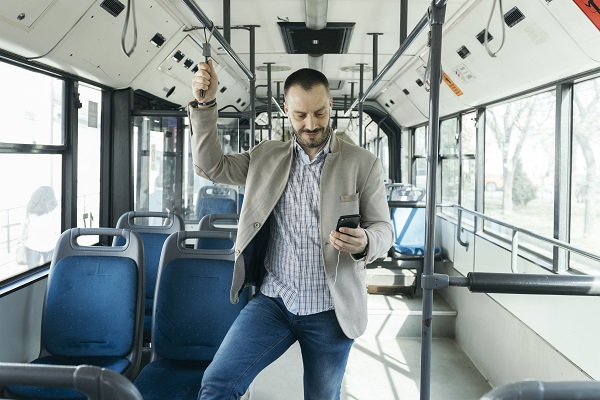 Stockholm is one of Europe's largest urban areas, and the population is used to high standards of living. They therefore expect the same from their transport infrastructure. Stockholm County Council wants to operate attractive, accessible and sustainable public transport. Considerable work is underway to expand and modernize the services to create a world-class public service. Advantech has helped to produce a modern, secure and powerful communications network for Stockholm's mobile public transport assets.
Stockholm County Council was looking to upgrade the mobile communications to their fleet of buses. They wanted to take advantage of this upgrade to improve their management of both buses and drivers. However, they did not want to take any risks and the upgrade had to fit in with daily operations.

Challenges and Requirements
The fleet comprises of 1600 buses; all need to have a standardized system; the offered solution needs to scale up from a pilot project to the full scope. The buses have integrated ticketing machines that require an always-on communication network to operate, to collect fares and to control passengers. The operator wanted to monitor bus location and status in real-time; Although they already operated a fleet management system, they were looking to improve the facility and reduce the cost. Refitting the buses could only be done overnight and at weekends. As time was short, the installation and configuration had to be reduced to a minimum of time and complexity, and every effort made to avoid errors that required further work to put right. No additional attack vectors should be created inCyberSpace.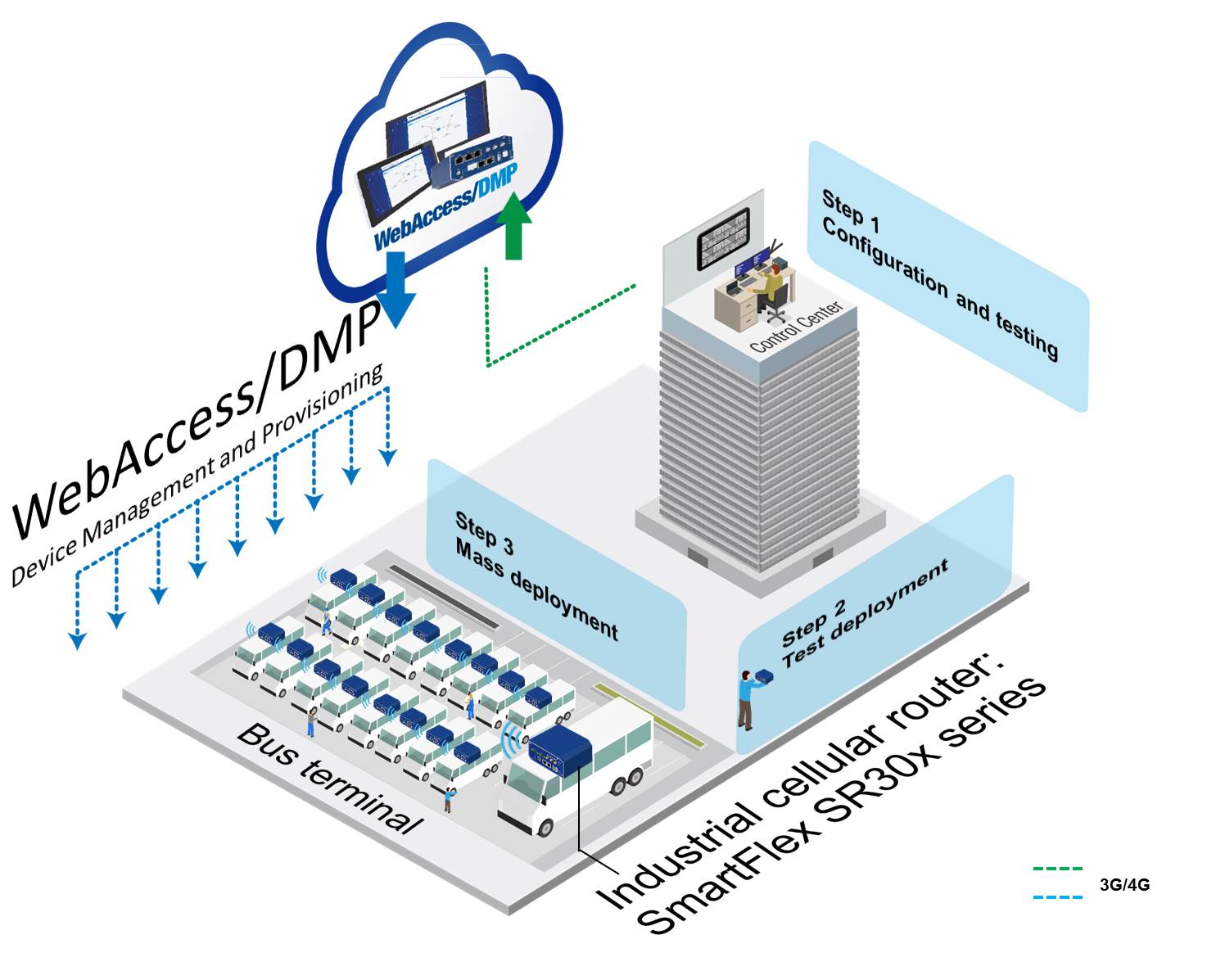 The procedure is outlined as follows
Advantech's proposal was based on its powerful and rugged SmartFlex router product line. These products are developed with 30-years' experience. As well as supporting the harsh environments that buses experience in Swedish winters, the Smart Motion versions are specially conceived for mobile operation. They have dual modems with two SIM-cards for each modem, giving the ultimate in flexibility and throughput.

For zero-touch installation, Advantech proposed its WebAccess/DMP toolkit, which allows the installer a simple process: they install the router, connects its power supply and the network, attaches the antennas and then powers it up; WebAccess/DMP then automatically sets the configuration and the unit is functional after only a few minutes. There is no access to the system firmware and no connection with potentially hazardous USB keys.

Finally, in order to monitor the devices, Advantech proposed its R-See-Net software. It uses SNMP to collect system function information and report back on any problems.

Advantech worked with its local partners to provide a complete support package to Stockholm CountyCouncil for the procurement, installation, and maintenance of the system on the 1600 buses.

Zero-Touch Deployment: How does Advantech's zero-touchWebAccess/DMP work? Firstly, the system developers create the desired router configuration on one device. This configuration is uploaded to the WebAccess/DMP server, which can reside in the Cloud or On-Premise.

Then, the engineers can test a single unit in the field. Installed on a bus, it is powered up and should automatically connect to the WebAccess/DMP server, download its configuration and reboot. If this works correctly, the on-site engineer can visually confirm the correct operation from the LEDs on the router.

Once everyone is happy with the configuration and the automatic updates, the engineers add the full fleet of routers toWebAccess/DMP and then arrange for the installation on the buses. This is usually done overnight or at weekends, or during new builds. The technicians doing the installation need no special training beyond the physical installation, connection to network and power supplies, installation of the antennas; they then need to follow the simple process of powering up, checking the upload of the correct configuration, then reboot and the final correct operation of the device. There is no opportunity for data entry error, there is no need for IP or wireless or router expertise.

Features, Advantages, and Benefits
WebAccess/DMP enables remote configuration of any cellular router in the field, zero-touch configuration and deployment, as well as the location visualization of all deployed routers, which provide always-on connectivity to WebAccess/DMP as well as in-bus connectivity to the ticketing/billing system. All deployed routers are monitored by R-SeeNet, which provides SNMP monitoring, diagnostics, signal strength analysis, and network interface statistics.
The distribution of routers to the transit company was handled by a local VAR, who can provide front line technical support and customization when necessary, and NPD engineering support provided to develop a roadmap for WebAccess/DMP and to deliver pain relievers and gain creators over time. Thus, the solution was comprehensive from planning to configuration through to deployment.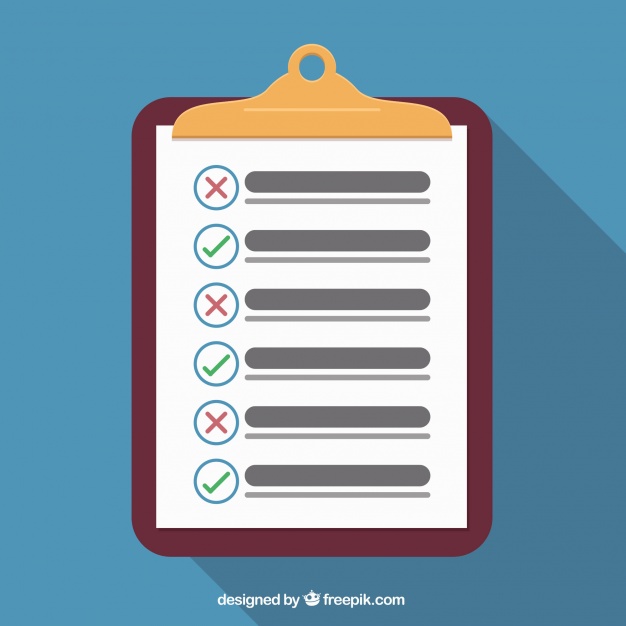 Expert Services
Strong reputation and commitment to Industry 4.0

Proper product recommendations matching customer requirements

Site survey services

Wireless topology consultancy

Years of experience in public transportation

Advantech provides not only rugged and secure products, but also upgrade-ready integration solutions and high-quality services. With years of experience and commitment to Industry 4.0 practices, Advantech's iConnectivity Edge Intelligence and Wireless team focuses on every detail to provide customers with the optimal solution.
By placing configuration, diagnostics, and management functions and a complete view of the installed device population right at your desktop, WebAccess/DMP lets users manage all of their routers from a single location, wherever they may be. WebAccess/DMP takes device management to new levels of flexibility and efficiency and was demonstrably a great success in this project.
Edited by
Kuei Lang 郎閣揆
Industrial IoT iConnectivity product marketing
Kuei.lang@advantech.com.tw

Jimmy Cooper