Advantech's CMP Monitoring System: Makes Promptness and Cross-fab management easy for semiconductor manufacturing
7/20/2021
CMP process: a key to high-end semiconductor manufacturing
Chemical mechanical polishing, or CMP for short, plays an essential in semiconductor manufacturing. With global demands for IC integration and miniaturization continue to rise, the complexity of microchip design and fabrication has increased significantly. One important key to achieving high degrees of repeatability and conformity in wafer fabrication is the CMP process. The CMP process smoothens the electronic components on each wafer so that as layers of electronic components pile up, they would be stacked and aligned with accuracy, forming a smooth, precise surface topography of the wafer.
Promptness: a common need fails to achieve due to spacious fabs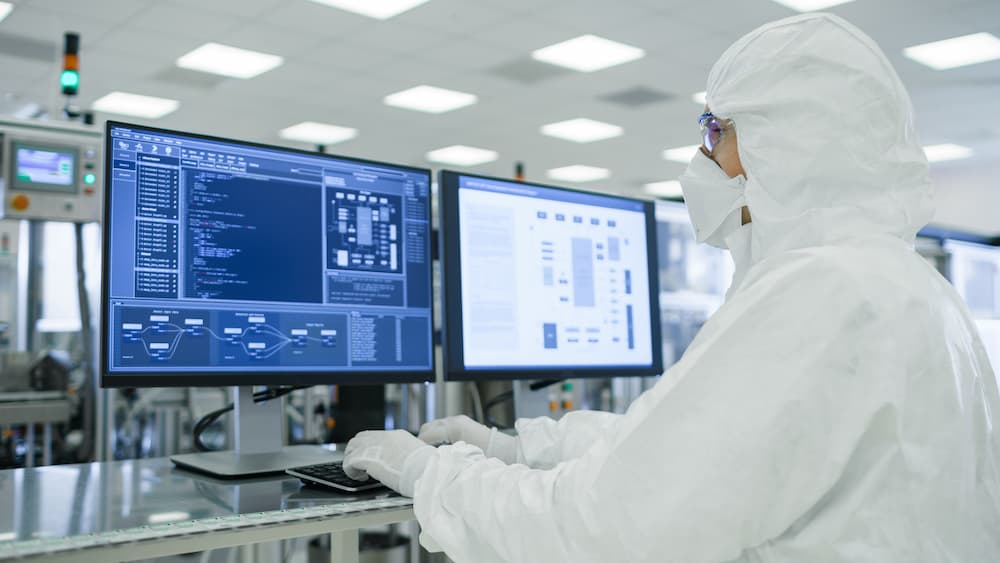 Seeing that CMP is a crucial process of semiconductor manufacturing technology, most fabs contains a CMP area equipped with specific machines to perform the task. However, there are some common problems encountered by manufacturers when it comes to managing CMP machines. One of them is promptness. When machine failures occur, operators have to first "spot" the machine within the big fab lined with other numerous machines; then, he/she has to walk through long aisles to "reach" the controlling device of that machine.
The process may sound simple, but take Taiwan Semiconductor Manufacturing Company, TSMC for example. TSMC Wafer 18 Plant, located in Taiwan 's Southern Science Industrial Park, covers 42 hectares, with a plant area of 950,000 square meters and a fab of 160,000 square meters. With a fab size equivalent to 25 standard football fields, to locate the right machine and reaching it takes up too much time, which significantly increases the downtime of the machine.
Cross-fab management inefficiency: capacity-sharing may turn to extra-wasting
Another problem semiconductor manufactures may face is cross-fab management. For instance, TSMC has up to five fabs in Taiwan 's Hsinchu Science and Industrial Park, which covers an area of about 587,110 square meters. The clustering of these fabs aims to facilitate capacity-sharing thus minimize cost and maximize wafer production. However, communication and management across different fabs can be indirect and time-consuming, wasting extra time and effort for the chipmakers.
Changing the internal setting? Be aware of incompatibility
One solution people might think of is changing the electric circuit or programming setting within these CMP machines. Yet, incompatibility is likely to occur by changing existed circuits or adding certain software development kits. This would lead to the instability of CMP machines, and the costly, complicated maintenance procedures, which, the loss certainly outweighs the gain. To solve these problems, Advantech offers a CMP Monitoring System Solution adopting I/O Modules, Serial Device Servers, and Automation Computers.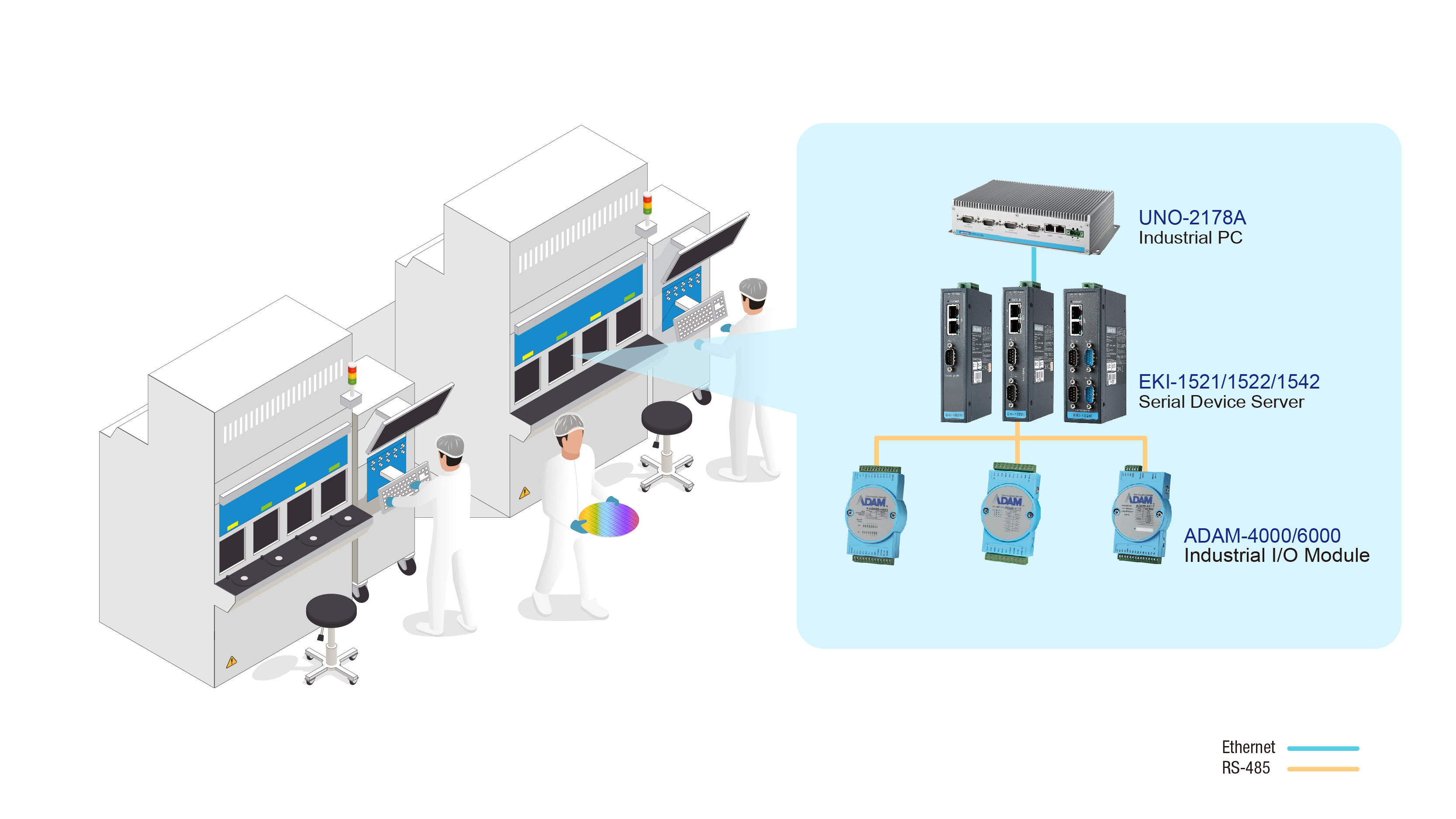 Highly adaptable I/O modules realizing reliable remote monitoring
In this CMP Monitoring System, remote I/O modules like Advantech's ADAM-4117, ADAM-6217 and ADAM-4055 are connected to the flow meters and relays to detect the signals from each CMP machine. These I/O Modules are highly adaptable for they contain features like simple wiring, high compatibility, user-friendly status reading, and intuitive graphs and charts. Because of these highly adaptive I/O modules, CMP Monitoring System can easily accomplish the integration between industrial automation and enterprise systems, which not only prevented the changes of internal architecture of CMP machines, but also monitored the machines' status agilely and effectively for semiconductor manufacturers.
Advantech's serial device servers bring every CMP machine into a shared network
The data were then collected through Advantech's serial device servers such as EKI-1522 and EKI-1524. They are easy to install and configure, support both wired and wireless networking and provide various operation modes to satisfy rigorous industrial automation needs. In this CMP Monitoring System, they bring RS-485 serial devices to Ethernet and Modbus TCP with guaranteed network stability. Now, every CMP machine is allowed to connect and share an Ethernet network; moreover, due to the help of serial device servers, these machines now can communicate with each other peer-to-peer, without any intermediate host PCs and software programming. Finally, the data is gathered and stored in UNO-2178A embedded automation computers for monitoring, management and maintenance use.
Advantech, a reliable modules and a reliable service team
By adopting external modules and devices, semiconductor manufacturers no longer have to worry about incompatibility and potential machine instability. By offering the central display of comprehensive real-time data, operators can fix machine problems on-time, on the spot, and of course, cross the fabs, to minimize downtime thus maximize productivity. What's more, Advantech offers specific service team caters to the system so that manufacturers know clearly whom to ask for help when needed and whom to provide maintenance service regularly. By offering an integrated monitoring system and comprehensive aftercare service, manufacturers can focus on development and production while Advantech assisted in ensuring the equipment operating at full capacity.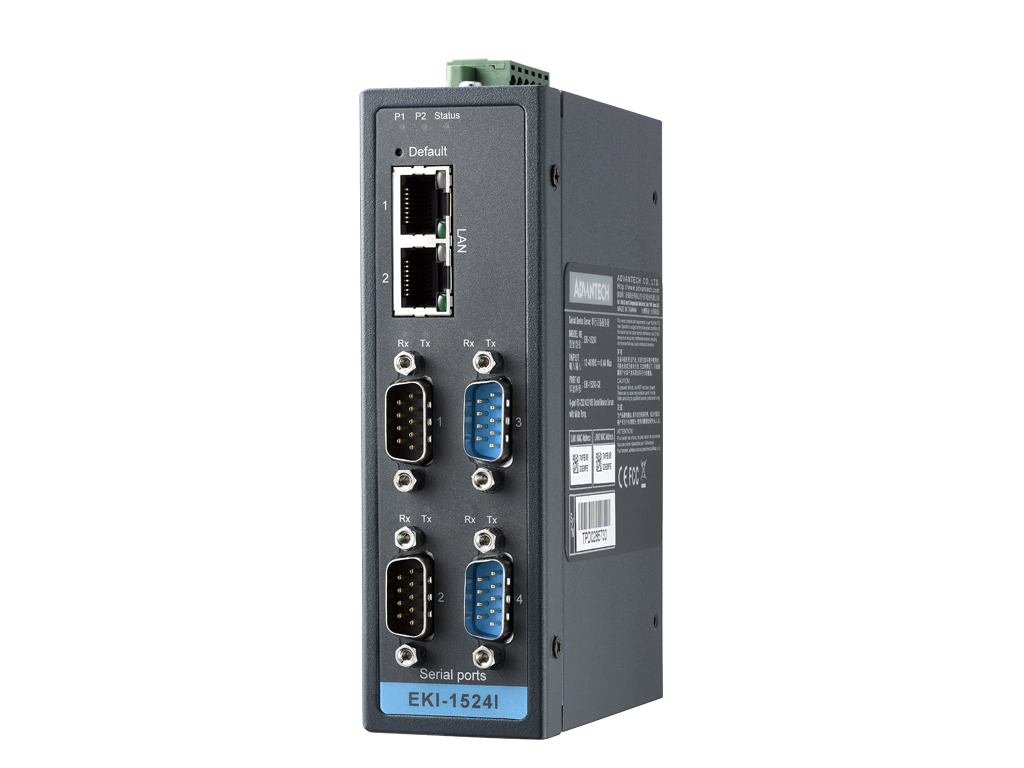 EKI-1520 Series
1 to 4-port RS-232/422/485 Serial Device Server

Provides 2 x 10/100 Mbps Ethernet ports for LAN redundancy
Provides COM port redirection (Virtual COM), TCP and UDP operation modes
Supports up to 921.6 kbps, and any baud rate setting
Allows a max. of 5 hosts to access one serial port
Allows a max. of 16 hosts to be accessed as TCP client mode
Built-in 15 KV ESD protection for all serial signals
Automatic RS-485 data flow control
Supports line to line 2 KV, line to ground 4 KV surge protection
For more product inquiry, please contact iiot.tech@advantech.com


Advantech experts will be providing you with dedicated support soon!