Advantech's DLT-V8312 Rugged VMT with Defroster Improves Cold Storage Operations in Japan
12/16/2020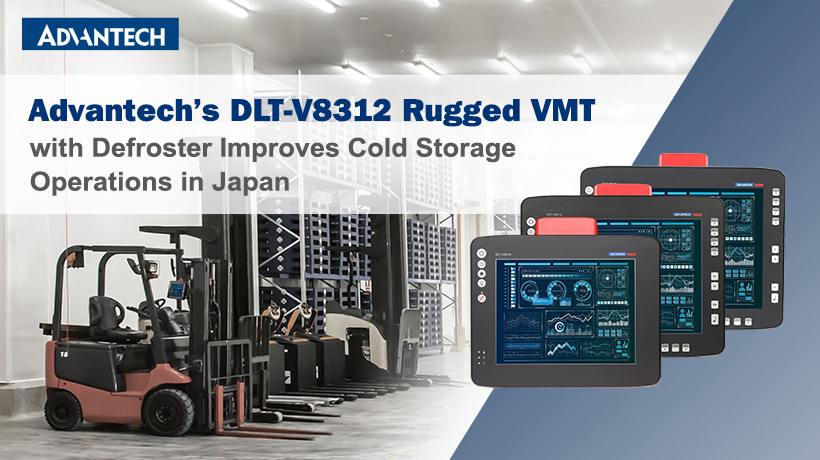 Cold storage solutions are essential for delivering a stable supply of refrigerated food to businesses and residences all around the world. In Japan, the country's largest third-party logistics and cold storage service provider collaborated with Brain Corporation and Advantech to upgrade its two warehouses located in Osaka and Tokyo. These warehouses feature 0 °C (32 °F), -25 °C (-13 °F), and -35 °C (-31 °F) degree storage areas that are integral to the storage and provision of refrigerated and frozen goods.

As Japan's largest and busiest cold storage service provider, the customer is keen to adopt the latest technologies that allow it to continue to deliver world-class service. In 2003, the customer undertook a full facilities upgrade—moving from traditional paper-based systems to a modern warehouse management system (WMS). For this upgrade, to accommodate growing demands for their services, they installed vehicle-mounted terminals (VMTs) produced by a Japanese manufacturer onto their warehouse forklift vehicles. However, because these forklifts are operated in cold environments and frequently move between zero and sub-zero temperature areas, frost and condensation tend to form on the VMT monitors. In an effort to address the issue, the VMTs were equipped with screen defrosters. Although these defrosters solved the condensation and frost issues, the heating system was inefficient and substantially increased energy and maintenance costs. Accordingly, the customer decided to seek a more efficient, comprehensive solution for vehicle-mounted computing in cold storage environments.

The customer required a robust X86-based industrial VMT solution with expandable RAM and storage to accommodate future upgrades. The terminal needed to feature a touchscreen with built-in defroster that could support gloved operation. Moreover, to withstand the high humidity, extreme temperatures, and frequent temperature changed associated with cold storage applications, the system needed to be at least IP66 rated for protection from water and dust ingress. To this end, they contacted Brain Corporation, a local systems integrator and long-term partner of Advantech to deliver an all-in-one solution with a long product lifespan.

Advantech's DLT-V8312 rugged VMT with defroster
12.1" resistive touchscreen with screen defroster
Intel® Celeron® 2980U processor with 4GB

RAM (up to 8GB)

64GB

CFast storage (up to 256GB) and optional 128GB SSD
All-around IP66 rating for ingress protection
Wide operating temperature range (-30 ~ 50 °C/- 22 ~ 122 °F)
Supports gloved operation
Efficient frost-free operation with customizable settings
Advantech's DLT-V83 series of rugged VMTs support wide operating temperatures for reliable high-performance computing in harsh environments. The all-around IP66 rating protects against water and humidity exposure typical of cold storage environments. The touchscreen with integrated defroster maintains the display's sensitive electronic components to ensure frost/condensation-free operation.

Most VMTs cannot be booted below 0 °C (32 °F). At this customer's cold storage warehouses, the forklifts are parked in sub-zero temperatures when not in operation. To eliminate startup issues and delays waiting for VMTs to warm up, Advantech's DLT-V8312 VMTs were adjusted to accommodate initialization at -10 °C (14 °F) temperatures. The screen defrosters were also configured to automatically activate during start up. This allowed operators to start working quickly, reducing time wasting and lost productivity.

Uninterrupted data transmissions with superior wireless connectivity

Cold storage warehouses typically feature thick cement/metal walls and doors for controlling and maintaining storage temperatures. In such environments, wireless networking capabilities with high-penetration capabilities is essential for enabling data transmissions and community. The DLT-V83 series VMTs support the latest WLAN standard (IEEE 802.11 a/b/g/n/ac) and offer superior Wi-Fi roaming performance for stable uninterrupted data transmissions.

Previously, the forklift operators complained about poor wireless connectivity during busy seasons despite both logistics centers having reliable Wi-Fi networks. These problems were caused by increased numbers of forklifts competing for Wi-Fi bandwidth. Advantech's DLT-V8312 VMTs offer advanced Wi-Fi roaming capabilities that allow each terminal to be connected to a designated access point for substantially more stable and consistent wireless connectivity.

Improved operational efficiency and reduced costs
By leveraging Advantech's high-performance DLT-V8312 VMTs and Brain Corporation's strong technical support, the customer was able to improve productivity and operational efficiency by 20%. Additionally, because the VMTs are designed to withstand extreme temperatures, device failure rates and on-site maintenance declined, reducing costs overall.

The VMT solution provided by Advantech and Brain Corporation helped this Japanese cold storage provider streamline and optimize warehouse operations. In addition to overcoming environmental challenges, the rugged VMTs with defroster offer a future-proof solution that can be expanded or upgraded according to specific usage requirements.
The global cold storage industry is growing rapidly. To meet this trend, Advantech has launched its latest VMTs with defroster—DLT-V72 Facelift series. Going forward, Advantech will continue to collaborate with leading cold storage solution partners to help diverse enterprises develop further intelligent solutions.