Advantech's Edge Visualization Solution Improves Digital Signage in Cambodian Shopping Mall
1/27/2022
A renowned multinational Japanese retailer implemented Advantech's edge visualization solution at its shopping mall in Cambodia to further digital transformation, improve operations and management, and enhance the customer shopping experience.
Photos provided by Shutterstock Interview with Steven Chien, Product Manager, Embedded IoT Group of Advantech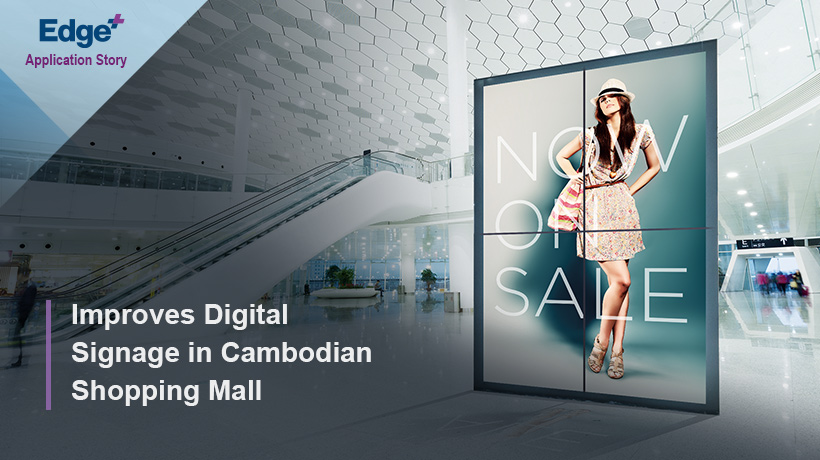 In recent years, economic growth and technological advancement have improved the quality of life in Cambodia. New large-scale malls in Phnom Penh offer increased retail space, facilitating the expansion of existing franchises in the country. To cater to current trends and enhance the shopping experience for customers, a well-known Japanese multinational retailer in Cambodia collaborated with Advantech to implement edge visualization solutions in the new Phnom Penh shopping malls. This has contributed to digital transformation efforts aimed at optimizing management and operations, while reducing costs and providing more value-added services to customers.
Comprehensive solution pushes the boundaries of digital signage
The shopping mall in this case study had a traditional digital signage system that could only support one display per signage player. The high number of signage displays required resulted in considerable implementation costs. Furthermore, because the signage system was not connected to the cloud, remote management was not possible, real-time information was unobtainable, and content management needed to be performed on site.
Overall, their digital signage system required upgrading. After some consideration, the retailer contacted Advantech to provide a comprehensive solution that supported cloud service for their digital signage needs. Steven Chien, Product Manager of Advantech's Embedded IoT Group, reports that Advantech recommended its edge visualization solution with comprehensive cloud-service ecosystem. This solution comprised Advantech's DS-082 and DS-100 signage players, EIS-S230 edge cloud server, and the WISE-PaaS/SignageCMS software platform.
The WISE-PaaS/SignageCMS software platform is designed for remote signage content management and supports multi-view display, split-screen typesetting, content scheduling, distributed playback, and various file formats. Most importantly, WISE-PaaS/SignageCMS provides cloud management functionality. Meanwhile, the EIS-S230 edge cloud server was preloaded with the SignageCMS server to act as a relay server by automatically synchronizing large audio and video files across enterprise cloud platforms. The EI-S230 server can also be connected to public clouds to support various device management and data processing functions. This allows edge clouds to be rapidly established in usage scenarios that necessitate high stability and security, low-latency processing, and a standard open architecture.
Advantech's DS-082 signage player can support up to 4 x 4K displays for real-time content playback, while the DS-100 signage player can support up to 2 x displays via the Android platform. Mr. Chien noted that both the DS-082 and DS-100 signage players can be integrated with Advantech's wide range of displays. This allows shopping mall administrators to flexible configure signage systems with specific content according to usage requirements.
Digital signage promotes smart retail development
Advantech's comprehensive edge visualization solution — from software to hardware and edge to cloud — enables a wide range of smart applications for retailers. The signage players used for this project are capable of broadcasting to multiple displays with the multi-screen playback function, enabling retailers to create an interactive multimedia shopping environment.
Moreover, with inclusion of Advantech's SignageCMS software, which supports multiview display, various types of media can be presented on a single screen, fulfilling the customer's requirement for display configuration flexibility. The WISE-PaaS/SignageCMS platform supports content management by providing a comprehensive ecosystem for enterprise cloud platforms to enable remote management and real-time control. This allows administrators to create, edit, and schedule signage content from the company headquarters in Japan or the centralized control room in Cambodia via an EIS-S230 server. Each server supports content broadcasting to up to 30 signage players, which dramatically streamlines the necessary infrastructure. With this easy-to-use intelligent digital signage and content management solution, retailers can transform digital signage into a powerful communication tool for increasing sales and enhancing the customer experience.
Mr. Chien added that Advantech's successful execution of this project will be used as a model for expanding its intelligent digital signage solutions into other Southeast Asian countries. Moving forward, Advantech aims to continue promoting and facilitating digital transformation in countries seeking to implement smart development projects.
Advantech's Solutions and Application Benefits: Advantech's edge-to-cloud software and hardware-integrated edge visualization solution is suitable for various retail spaces. The solution enhances customers' shopping experience and helps retailers create superior spaces at minimal maintenance costs while executing precision marketing.