Advantech Assists AUBO Robotics with Building Massage and Physiotherapy Robots
2/7/2022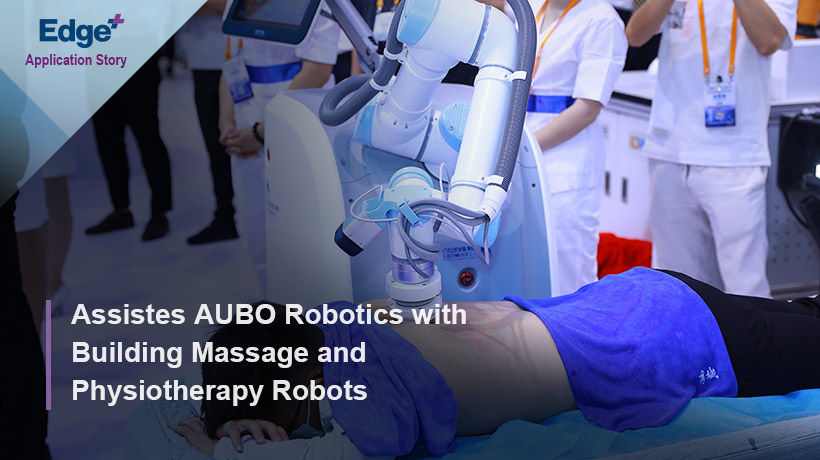 With population aging becoming a worldwide reality, caregiver shortages are expected to impact future social care strategies. As it stands, labor force shortages, in general, are expected to impact all aspects of industrial activity. Accordingly, there is an emerging demand for collaborative robots (so-called cobots) that can work with or even directly replace people. A report by ABI Research indicates that the global cobot market will reach US$8 billion by 2030, presenting massive business opportunities.
Since its establishment in 2010, AUBORobotics has been dedicated to developing cobots, eventually launching its first-generation collaborative robots in 2013. Thus far, AUBO has developed cobot models to meet the needs of specific industrial applications, such as automotive, hardware, and household appliances, as well as non-industrial applications, such as retail, healthcare, agriculture, and catering.
Physiotherapy chain in China adopts 1,000 cobots
In response to the rapidly emerging demand for collaborative robots in non-industrial sectors, AUBO has been developing various cobots for use in a range of application scenarios. Among them is a physical therapy massage robot that can help physiotherapy centers reduce human labor. More than 1,000 units have been adopted by a well-known physiotherapy service chain in China.
As pointed out by Dr. Dong Zhang, AUBO'sChief Operation Officer, a considerable amount of time is required to train a physical therapist, and training multiple people at the same time can be problematic. Considering the high staff turnover rates typical of the industry, physiotherapy centers generally have to invest substantial amounts of time and effort on staff training, to the point where this accounts for the majority of their operating costs.
In an effort to address the company's longstanding labor shortage and training cost problems, the physiotherapy chain decided to explore the possibility of employing physiotherapy robots. Consequently, they contacted AUBOand decided to adopt cobots that integrate two of AUBO's key technologies — deep learning-based visual algorithms and force control algorithms. The cobots are also equipped with an Advantech PCM-9310 embedded single board computer (ESBC) and a robotic arm fitted with a physical therapy device.
Dr. Zhang explained that the cobot works by identifying the human body using a 3D vision algorithm and obtaining torque information from the robotic arm using a force control algorithm. The data is then transmitted to the PCM-9310ESBC (which serves as the brain of the cobot)for processing and analysis to yield intelligent insights and motion commands for the robotic arm. These commands control the amount of force that the robotic arm applies to each body part, enabling it to deliver professional and comfortable massage and physiotherapy services.
Advantech and AUBO collaborate for product innovation
The creation of service robots for physiotherapy marks a new milestone in the collaboration between AUBO and Advantech. Dr.Zhang asserted, "inspired by Advantech's longstanding industrial automation prowess, AUBO has maintained close ties with Advantech overthe years." In the past, AUBO worked with otherbrands. However, the stability, computing power,and safety of their motherboards did not fullymeet AUBO's needs. After trialing Advantech's solutions, AUBO found that the PCM-9310 SBC's small-size, fanless design, low power consumption, and high computing performance met everyone of their product requirements. Accordingly, since their launch in 2013, AUBO's cobots havebeen fitted with Advantech's PCM-9310 industrial SBC. "To date, Advantech has been the best partner for AUBO in regards to the pursuit ofconstant growth and innovation," said Dr. Zhang.
Going forward, AUBO will continue to deepen its R&D of core technologies, including algorithms, real-time robotics operating systems, hollow torque servo motors, and driving systems, in order to strengthen its competitiveness and domain expertise. The company also plans to develop a wide range of intelligent robots for a variety of industries, generating new business opportunities. This will help AUBO roll out more advanced robots that deliver superior performance and support specialized functions. While working toward fulfilling these goals, AUBO will continue to cooperate with Advantech in order to bring its robots to new industries and usher in a new era of smart collaborative robots.
Advantech's embedded industrial motherboards can be installed in diverse equipment, including automobiles, farming machines, manufacturing equipment, and robotic devices. By providing a key solution for vertical industries to realize intelligent computing, Advantech products help people more quickly achieve a smart life as service-oriented robots become increasingly common in the future.